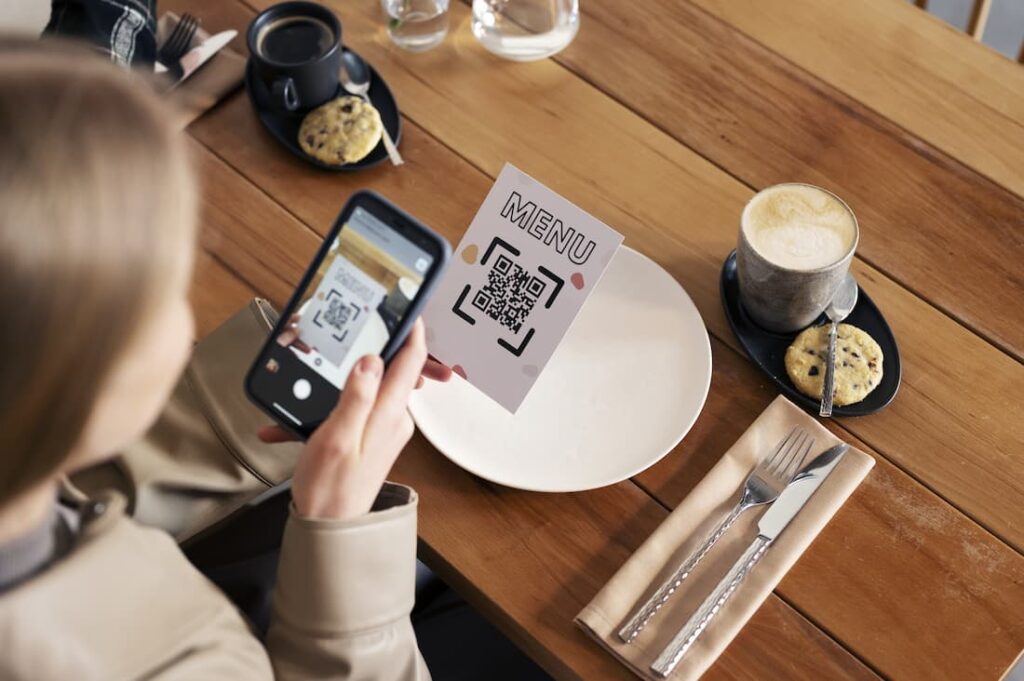 QR codes have changed the restaurant industry forever. With the post-covid new normality, restaurants have adopted QR code menus thanks to their enormous benefits. what was initially a healthy fad, is here to stay.
In today's digital age, many aspects of our lives have become more convenient and streamlined thanks to technology. One area that has seen a recent surge in technological innovation is the restaurant industry.
With the ongoing COVID-19 pandemic, restaurants have been forced to adapt and find new ways to serve customers while maintaining safety protocols.
One solution that has emerged is the use of menu QR codes. These codes allow customers to easily access menus using their smartphones, reducing the need for physical menus and minimizing contact with shared surfaces.
In this blog post, we'll explore the benefits of using menu QR codes in restaurants and how they're changing the dining experience for both customers and businesses.
Also see: QR Code Wedding Invitation: 5 Smart Uses on Your Special Day
Table of Contents
What is a Menu QR Code
Basically, a menu QR code is a type of QR code that links to a pre-designed PDF restaurant menu, an image, or a landing page. Customers view your menu after scanning the code and place the order.
When they became all the rage during the pandemic, restauranteurs could attest to the enormous advantages.
With the arrival of the new normality, hospitality businesses have taken measures to guarantee the safety and protection of their customers. They also refined staff hiring by adjusting interview questions for restaurants to find suitable personnel. In this quest, they came across QR codes.
The traditional, printed restaurant menu gave way to a digital menu via a QR code, which was also printed and placed on tables so customers could scan it and access it.
Almost 87% of respondents in the Hospitality State of the Industry Report say that the adoption of new technology —including QR code ordering— played a key role in the survival of their business.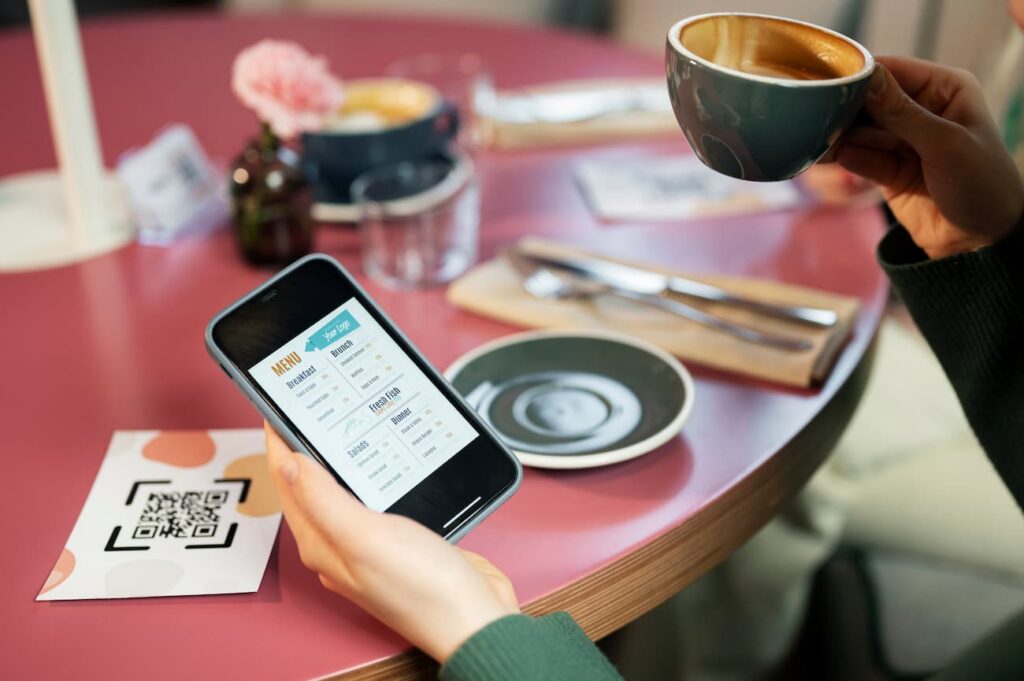 A menu QR code can be printed on a table, menu board, or another piece of signage in a restaurant. Consumers can scan the barcode with the camera on their smartphone to be taken to a website or a digital menu.
From there, clients may use the menu and place their orders without having to deal with a server or handle a real menu, which can be especially helpful during the COVID-19 pandemic.
Since they provide a contactless method for consumers to obtain menus and other information, QR codes are becoming more and more common in the restaurant business.
They can also be quickly updated, saving restaurants the trouble of printing new physical menus whenever changes need to be made.
Also see: How to Scan a Menu at a Restaurant with Your Phone
Benefits of a Menu QR Code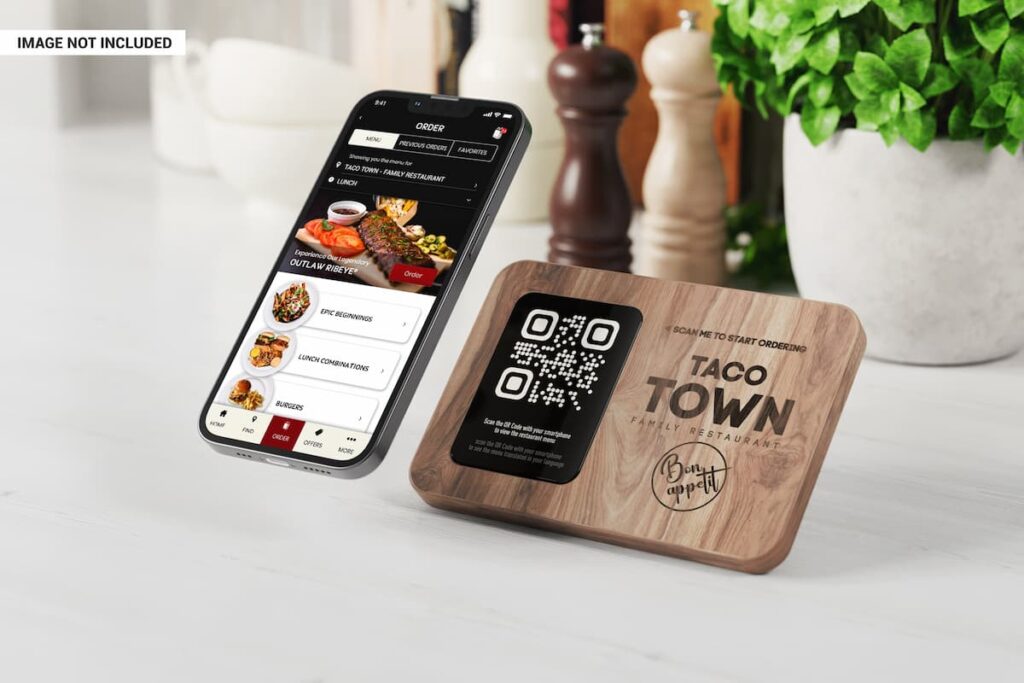 Health
Covid-19 send the world into a spin and brought health to the forefront of every activity outside the home. Going out for dinner became a worry, but QR codes were a smart walkaround that prevented customers to come in contact with possibly-infected surfaces and objects.
The contactless menu became the norm and is here to stay, as restauranteurs could support customers by giving them a menu QR code they could scan while minimizing the risk of infection.
Cost-savings
Before the digital menus or the menu QR code, printed menus required businesses to design and print the menu and several copies so they could support the service process. This, of course, comes at a cost.
Now, a contactless menu in PDF format allows business owners to design an online menu that does not require any printing. It's just as easy as embedding the PDF file in a QR code and changing it without the need to print costly material.
Further, you can also embed a link to your website containing the menu via a URL QR code. If your menu is on a social media platform, you can use a social media QR code to allow customers to find you in this space, access the menu, and also start following you.
Environment and food waste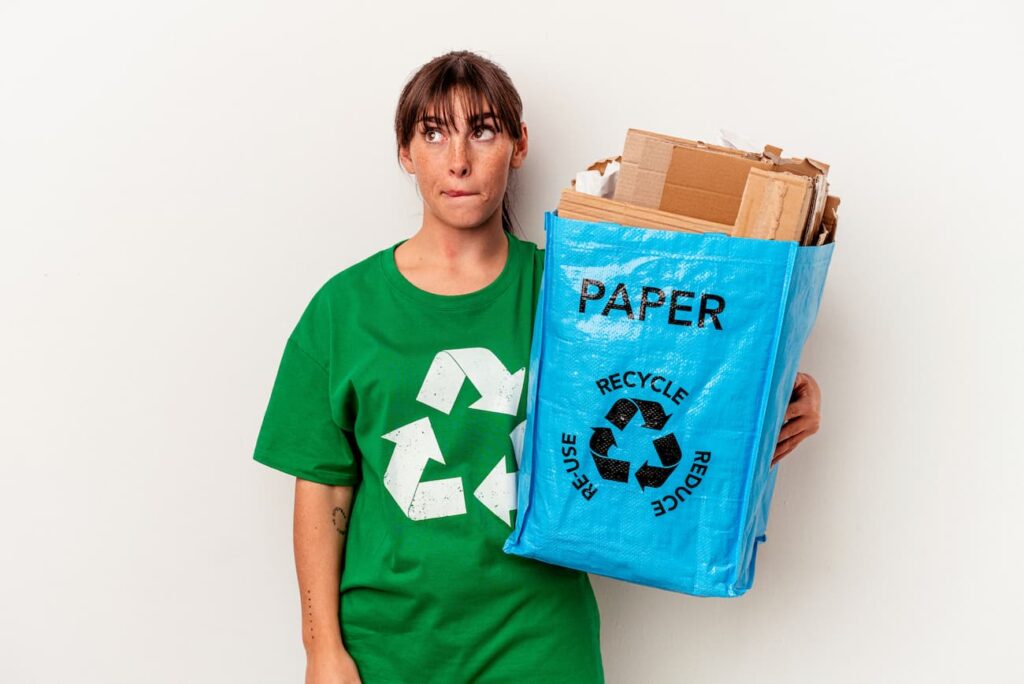 Given their digital nature, the QR code menu will spare your business kilos of waste whenever they get damaged or when you adjust your menu.
Further, since QR code menus can be updated or upgraded, you can add special dishes last minute to sell more perishable products and reduce food waste.
Streamlined ordering process
Before the QR code menu, it was common for customers to wait for the staff to come around their table with the printed menu.
With the QR code menu, it's just as easy as customers pulling out their smartphones, scanning the code, accessing the menu on PDF, landing page, or social media, and deciding on their order straight away.
This way, the staff only needs to serve your clientele when they have already made up their minds and know what to order.
If your QR code links to a food ordering platform, you can turn tables faster as customers will access the menu and order online on the spot.
Versatility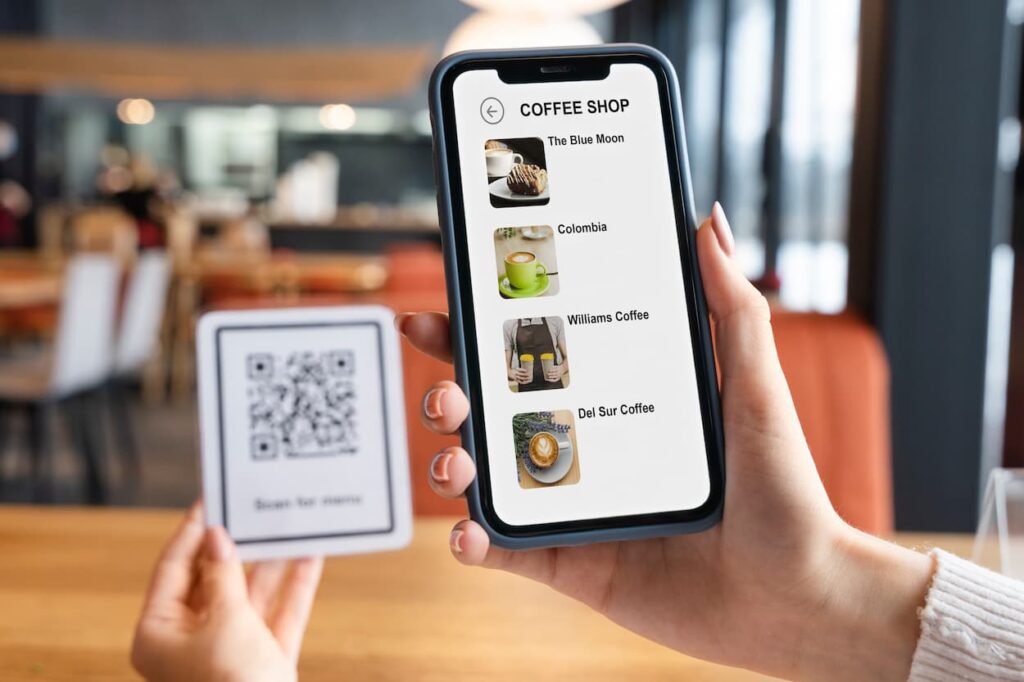 A QR code menu gives you the chance to use several QR codes for specific times during the day, depending on the type of food you're serving.
This is pretty convenient, as you can use one code for the breakfast menu, one for lunchtime, and another for dinner.
Also, you can offer a menu in multiple languages without printing extra materials. This is perfect for high-tourist locations.
Customization
Restaurant managers or owners can update or modify the digital menu quickly and easily, enabling businesses to alter their menus in response to customer demand or availability.
Analytics and insights
Businesses that use menu QR codes can monitor client behavior and preferences, including the most popular menu items and frequency of visits. The customer experience can be enhanced by using this data to inform company decisions.
How to Implement the Menu QR Code in Your Food Serving Business
Step 1. Create the menu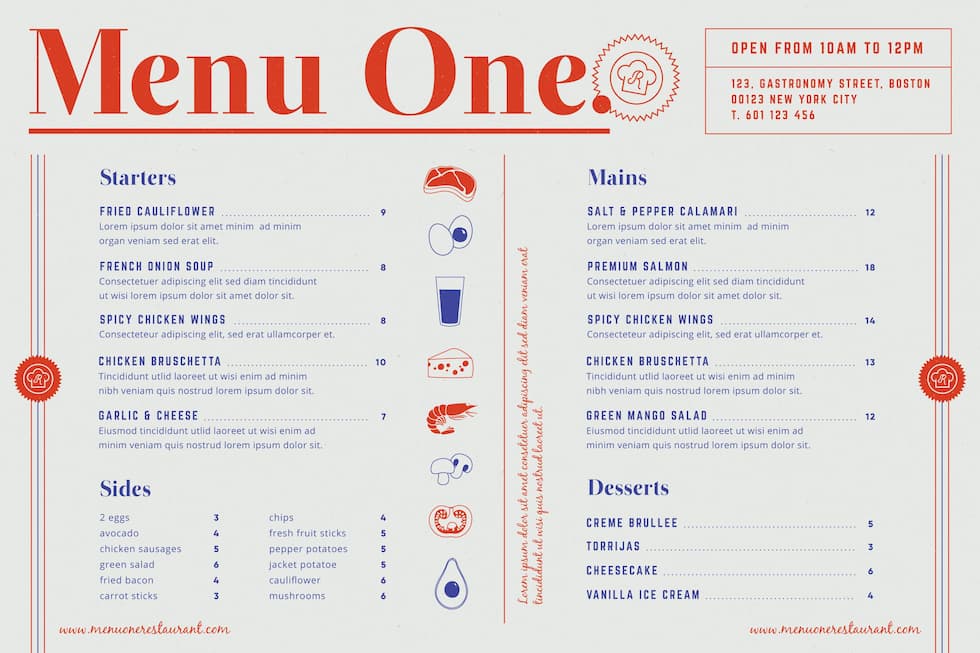 Create a menu in the shape of a PDF, an image, or a URL, and make sure the content lists all the items available for ordering. The menu should also be accurate, up-to-date, and easy to read.
Step 2. Generate the code on QR.io
Go to QR.io and select the QR code of your choice: PDF, Image, or URL. Once you've made your selection and started your creation process, upload the menu you created in the format that best fits the type of code.
It's important that you enter your restaurant logo, and customize the code so it's appealing to the customer. Also, test the code from several distances and under various light conditions to make sure it is scannable.
Step 3. Print and place your code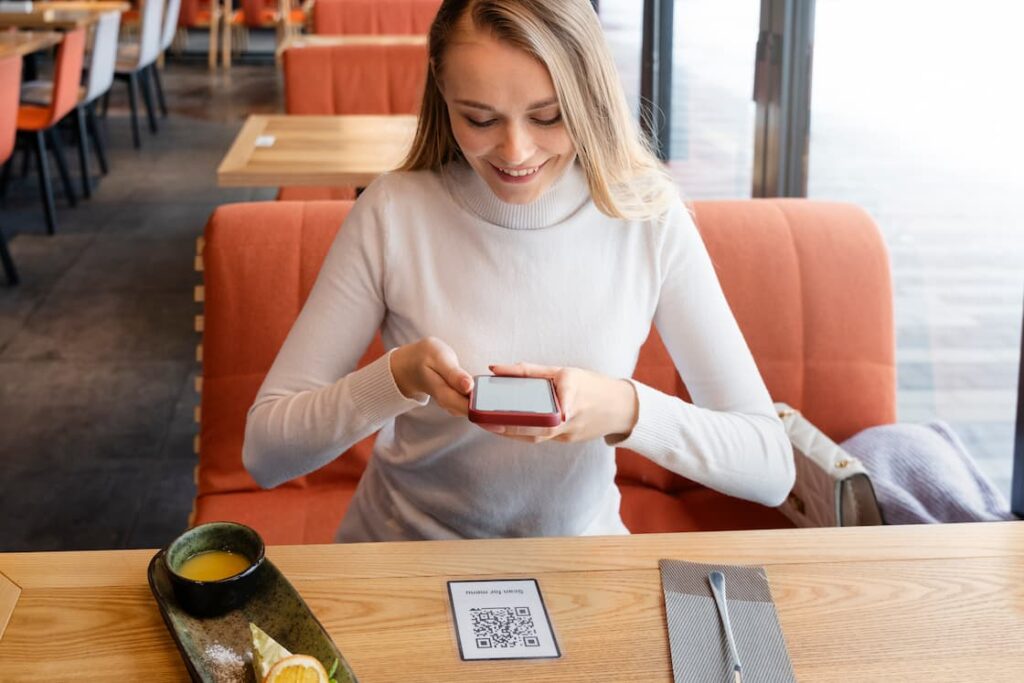 Once you have generated the QR code, print it on your physical menus, table tents, or any other signage where it will be easily visible to customers.
You can also display the QR code on your restaurant's website or social media pages so customers can place an order easily.
Step 4. Train your staff
Make sure your staff is familiar with the QR code and can help customers who need assistance accessing the digital menu.
Step 5. Encourage customer use
Encourage customers to use the QR code to access the menu by including a brief explanation on your physical menus or table tents, or by training your staff to explain the process to customers.
Step 6. Monitor usage and feedback
Monitor how often customers are using the QR code menu, and solicit feedback to ensure it is meeting their needs. Use the data and feedback to make improvements and adjustments as needed.
Static vs Dynamic
A static QR code is a type of free QR code that contains information that cannot be edited or changed —if you want to do so, you'd have to create a QR code from scratch.
On the other hand, a dynamic QR code can be edited, and QR.io gives you the possibility to create a QR code specifically for a restaurant menu with the same powerful feature.
QR.io's menu QR codes will let you create a page that contains a downloadable PDF file that customers will access to obtain information about your dishes and beverages.
Also see: Static Vs Dynamic QR Codes: When to Use Either?
How to Create QR Codes for Menus
There are two common options to create a QR code for a menu. PDF and JPEG formats.
How to create a dynamic menu QR code in PDF format
With a QR code generator like QR.io, you can create a QR code that is specific to restaurant menus in PDF. Just follow the following simple steps.
Step 1. Open an account on QR.io

To create QR code menus that can be edited as many times as you need, you'd want to open a QR.io account. Do so by clicking Sign Up on the top-right corner of the home page.
Step 2. Go to the dashboard and click + Create QR Code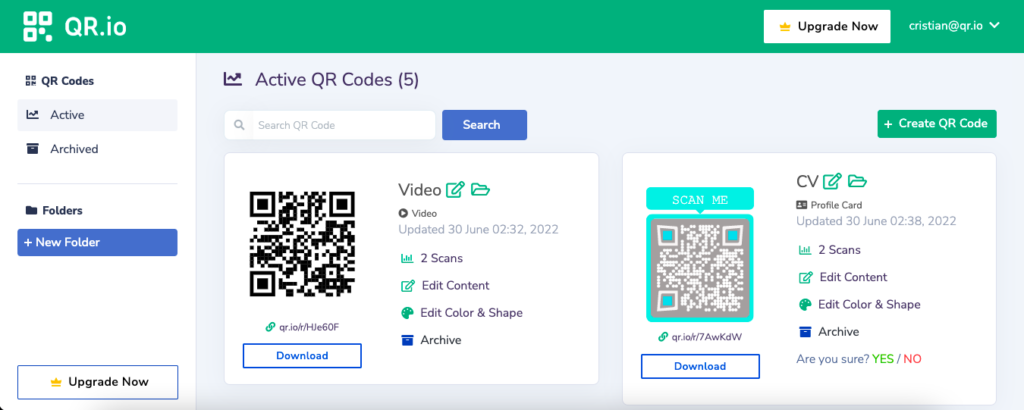 When you've finished opening your account, you'll be taken to the dashboard from where you'll start the creative process.
Step 3. Select Dynamic > Menu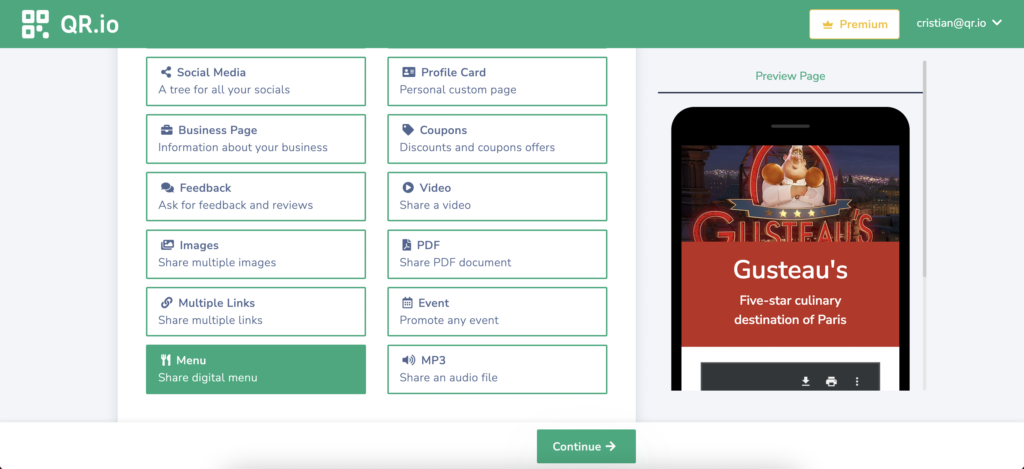 Choose Dynamic > Menu, and click Continue below.
Step 4. Enter the information and upload your PDF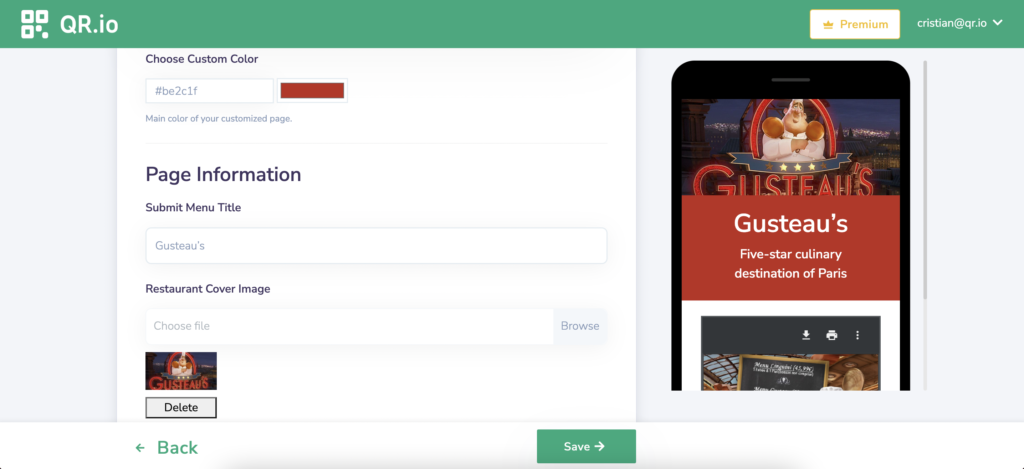 In this step, choose the page color —as it will be seen once customers scan the code— and the menu title. You can also upload a restaurant cover image or a logo, a summary —which you can use as killer copy to entice your clientele— and then finally browse the PDF.
Step 5. Customize your QR code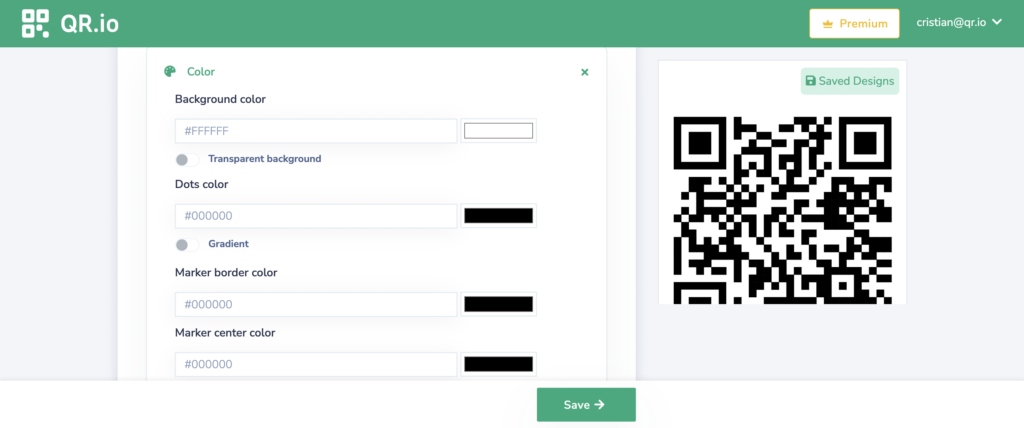 Our platform allows you to be creative. In this step, you can customize your code by selecting the background, dots, and marker border colors.
You can also include a frame and a call to action so your customers will know exactly what they will get when they scan the code.
Step 6. Download and test

A completely essential step is to test your code once it's finished. To do so, download the code in PNG or SVG formats, depending on your needs.
How to Create a QR Code Menu in JPEG Format
QR.io also gives you the possibility to create QR codes for menus that contain a JPEG file —if this is the type you prefer. Just follow these steps.
Step 1. Open an account on QR.io

To get the best out of the Image QR code functionalities, open a QR.io account.
Step 2. Go to the dashboard and click + Create QR Code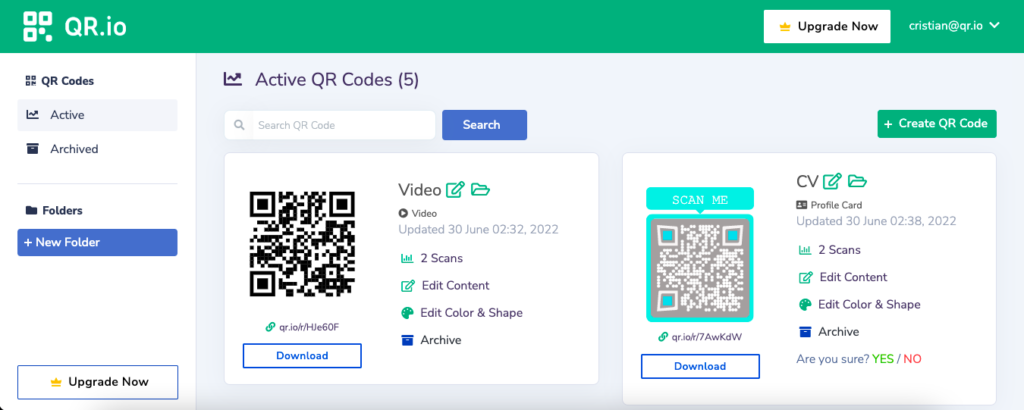 Your new dashboard will appear, from which you can start the creation process.
Step 3. Select Dynamic > Images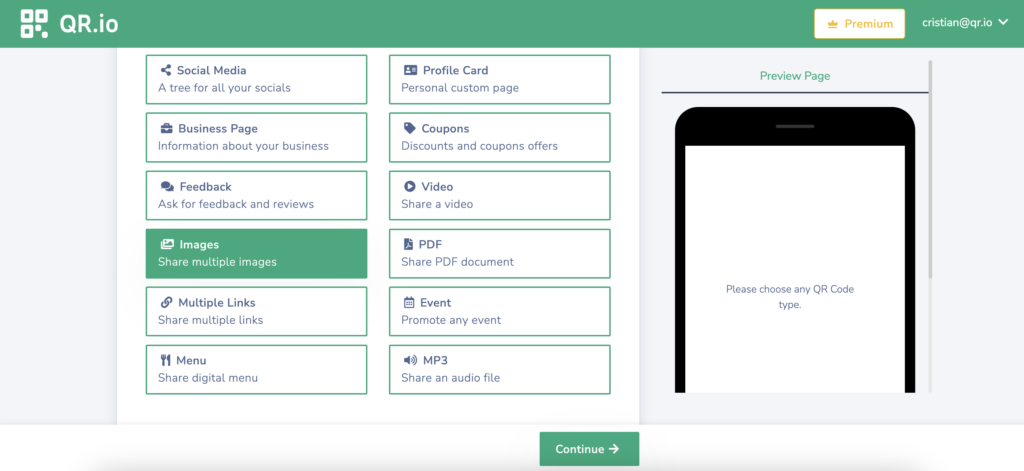 This time, instead of selecting PDF, choose Images and click Continue below. The QR code for photos lets you upload several images and create whole galleries.
This allows you to upload several menus in just one QR code so people can access them. This is particularly useful if you're serving different types of meals during the day —breakfast, lunch, dinner, etc.
Step 4. Enter the information and upload your image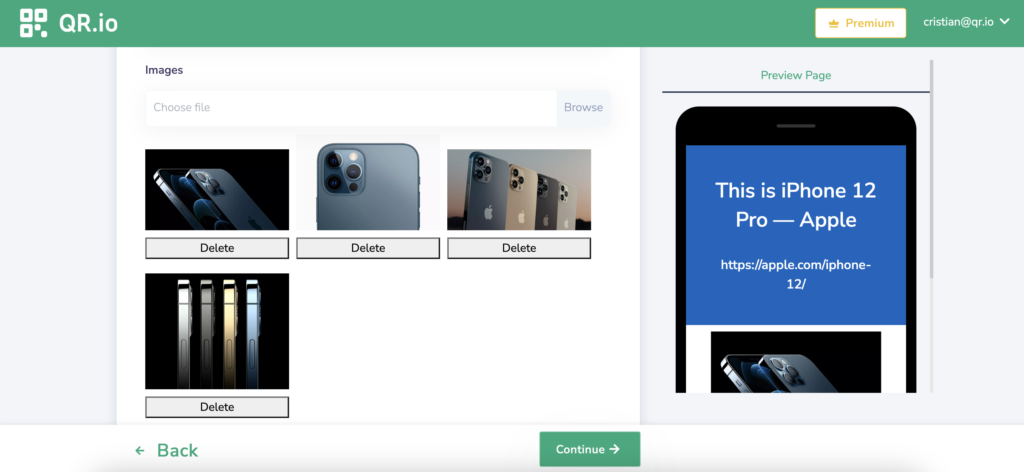 Upload your JPEG menu(s) and click Continue.
Step 5. Customize and personalize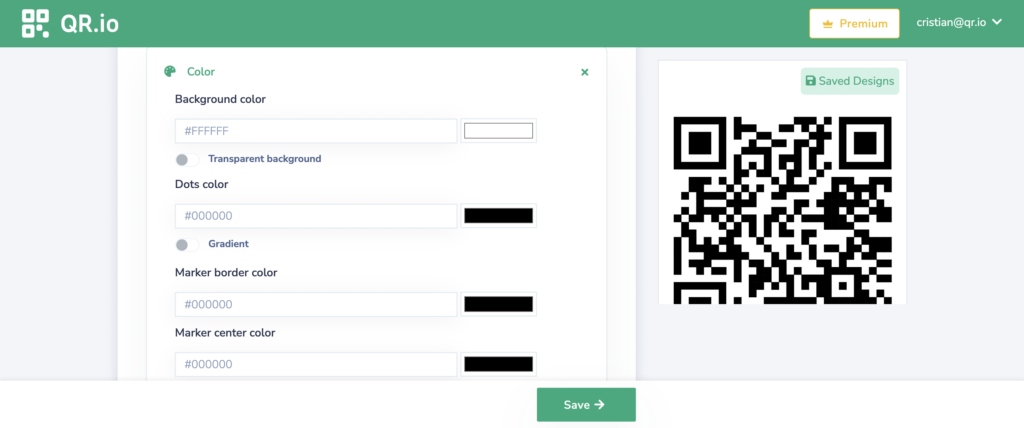 Make sure you pour all your creativity in and add your restaurant logos, colors, and select from the different shapes and enter a call to action.
Step 6. Download and test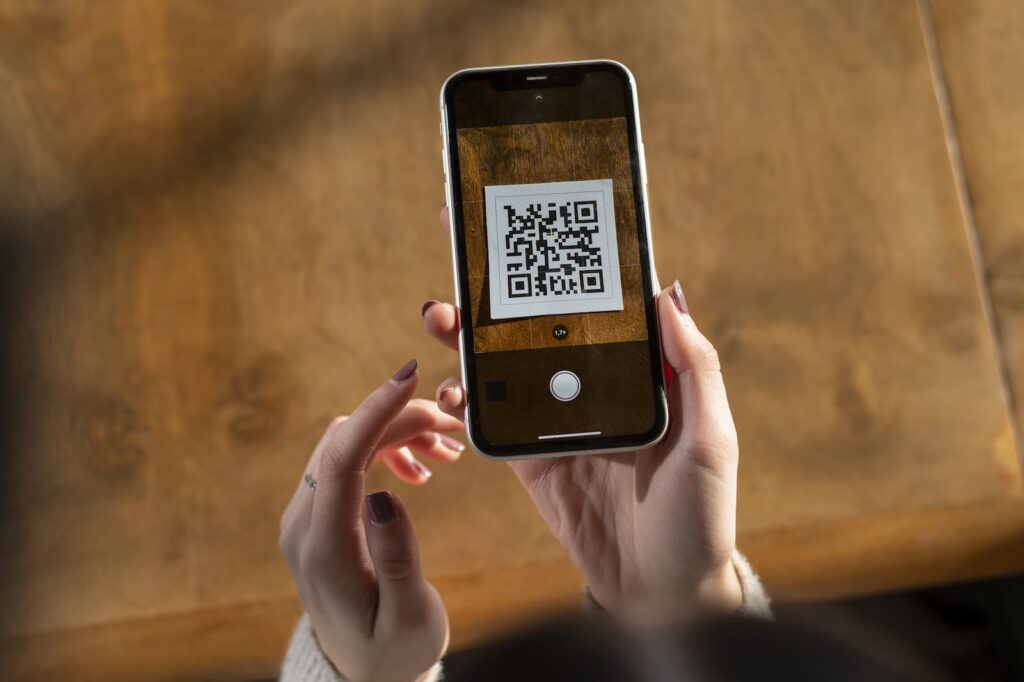 Test your QR code by scanning it from different distances and under different light conditions after exporting it in PNG format.
Where to Place a Menu QR Code in a Restaurant
On the table
One of the most common places to put a QR code menu is on the table itself. You can print a small card with the QR code on it and place it on each table for customers to scan.
On physical menus
If you still have physical menus, you can print the QR code on the menu itself. This way, customers can scan the code to view the menu on their phones without touching a shared physical menu.
Near the entrance
You can also place a sign with the QR code near the entrance of your restaurant. This way, customers can scan the code before they are even seated, giving them time to look over the menu and decide what they want to order.
On posters or flyers
You can create posters or flyers with the QR code and place them around your restaurant or in the waiting area. This can help attract customers' attention to the QR code menu and encourage them to use it.
On your website and social media
In addition to physical signage, you can also promote your QR code menu on your website and social media pages. This can help customers learn about the QR code menu before they even arrive at your restaurant.
Ultimately, the best place to put a QR code menu in your restaurant will depend on your restaurant's layout, customer flow, and overall branding. Consider experimenting with different placements to see what works best for your restaurant.
FAQs
How to create QR code menus?
To create a QR code for your restaurant menu, just follow these simple steps:
Open a QR.io account
Click + Create QR Code on the dashboard
Choose Dynamic > Menu
Enter the information and upload the PDF menu
Customize
Download and test
What if my menu is on the website?
If this is the case, you can simply create a URL QR code on QR.io, so it links to the menu section of your business website. This will also help streamline orders via the landing page as the code will link customers directly to it.
Wrap-Up
QR codes are here to stay in the restaurant business, offering great advantages in terms of convenience, streamlined orders, and health. With QR.io, you can create a fully-customized QR code that will help you save money and improve your customer experience. Open your account now!