QR code for apps is a killer way to market your apps available on Android and iOS. There are several ways to market them online, but QR codes will offer you the chance to add offline marketing tactics to the mix, which will leverage your efforts.
In this article, you will learn how QR codes can be used to promote and download your apps, how this type of QR code works, and how to create an app QR code yourself with QR.io's QR code generator.
Table of Contents
What Is an App QR Code?
App QR codes allow people to download apps on Android or iOS with just one scan. These codes can be customizable in color, shape, and much more, making them perfectly useful for marketing purposes when companies and businesses want to redirect customers or prospects to their applications online.
These QR codes have become common in specific offline-online marketing tactics since they can be printed on several deliverables such as posters, banners, and flyers, which are usually placed in check-out areas or other strategic places.
How Does an App QR Code Work?
QR codes for apps contain links to both Android and iOS stores on a landing page. When users scan these codes they are immediately redirected to a page from where they can download the embedded mobile app or update them in case they are already on their smartphones.
Advantages of App QR Codes
There are several reasons why businesses should use app QR codes.
Convenience
When marketing your business, offering this type of QR code will allow your prospects to download the app in a breeze with just one simple scan. This will spare them the cumbersome task of going to either the App Store or Google Play store on their smartphones and typing the name of the app.
Tracking features
On QR.io, QR code apps are dynamic in nature. Dynamic QR codes allow owners to track the number of scans, the location, and the device, to access valuable insights and assess user engagement.
This unique feature helps businesses make adjustments on the spot, as dynamic QR codes can also be edited. This means that you can change the links to the apps on both app stores whenever you see fit without the need to create and print another QR code.
This is especially useful in marketing campaigns as reprinting all your materials and distributing them again can be very costly!
Also see: Static Vs Dynamic QR Codes: When to Use Either?
Creating App Store QR code and Android QR code
When you create a QR code for apps, you have the chance to create one QR code for apps available on both app stores. This really opens up the possibility to connect with your customers and prospects regardless of the device or operating system they use.
App Downloads with QR Codes
With QR codes for apps, users can download any app available —from games and relaxation apps to retailers and e-commerce platforms.
QR codes have certainly offered a creative way to share apps, which could really make an impact on your marketing efforts. The unique features of a dynamic QR code will leverage the scope of your data and will contribute to more data-driven campaigns.
Benefits for Your Marketing
QR codes have become a great tool to market your business or product. They offer a bridge between the offline and the online, transitioning prospects from one realm to the other with just one scan.
The popularity of smartphones and similar camera-equipped devices has nothing but boosted the use of QR codes, an opportunity any marketer cannot miss.
There are several ways to market your app online:
Research your Audience.
Study your Competitors
Create a video
Make a Website or a Landing Page
Work SEO
Use Social Networks
Work with Influencers
Prepare a Press Kit
Get Reviews
However, one killer way to market your app is QR codes, given their offline nature. App QR codes printed on physical deliverables that are strategically placed will make an impact on your marketing efforts.
One key benefit of using QR codes to promote your app is that you can increase the number of downloads. The attention span of print media is higher than it is in the digital world —given the enormous saturation— so there is a great opportunity to leverage this aspect.
Gyms and wellness centers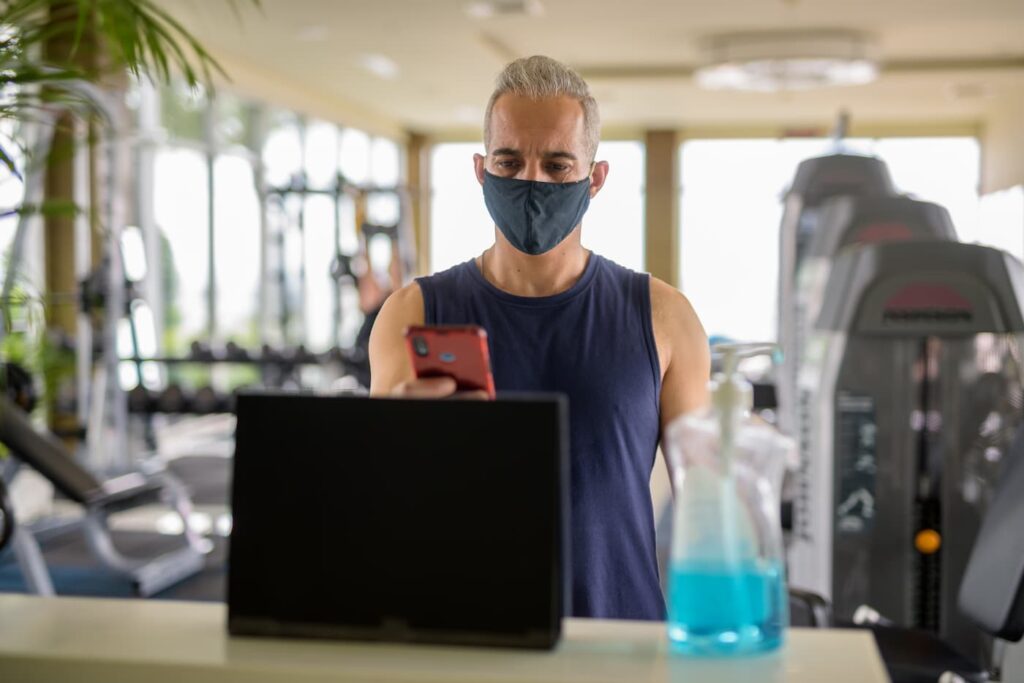 If you run a gym or a spa and have created an app to allow your customers to book time, promoting this app via a QR code in your business facilities will help them make use of it. That way, you will increase engagement.
E-commerce platforms
If you sell products online and have created an app to support your business, promoting it via a QR code is a creative way to help your sales grow. People will scan the code, download the app, and start browsing and possibly buying!
Banks
Almost every bank or financial institution has an app that clients can use to make transactions, check their balances, execute payments, and much more. Before they find your app online, you can use QR codes in strategic places inside your premises so they can scan them and access the app.
How to Create an App QR Code with a QR Code Generator
The best thing about QR codes is that you can create them yourself and use them in whichever way you see fit in your marketing campaigns.
Step 1. Open a QR.io account

To be able to create a dynamic QR code for your apps and track the number of downloads, locations, and more, you must open a QR.io account and enjoy your 7-day free trial.
Step 2. Click on + Create QR Code in your dashboard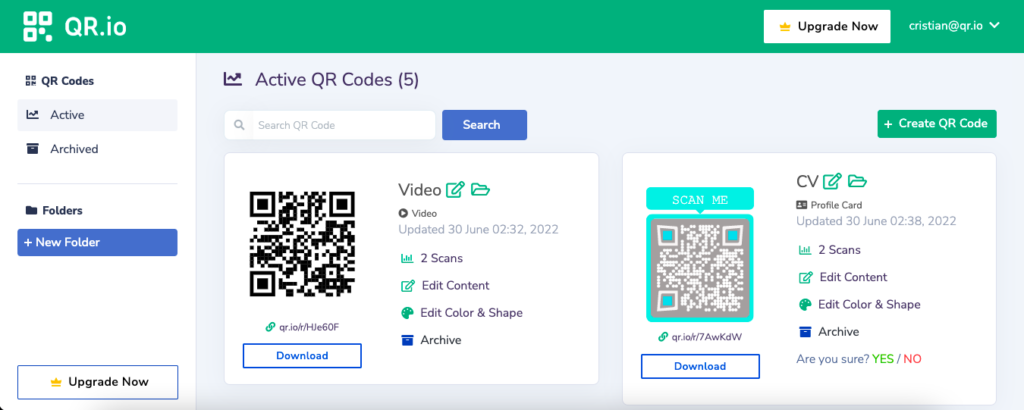 Start the process by clicking + Create QR Code at the top of the dashboard on the right-hand side.
Step 3. Choose Dynamic > App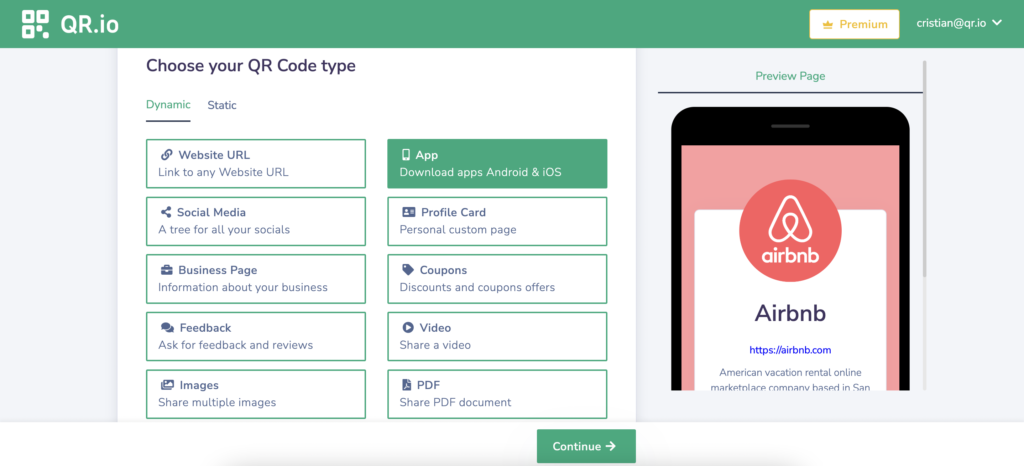 Choose Dynamic > App and click Continue below.
Step 4. Customize page color and enter the relevant app information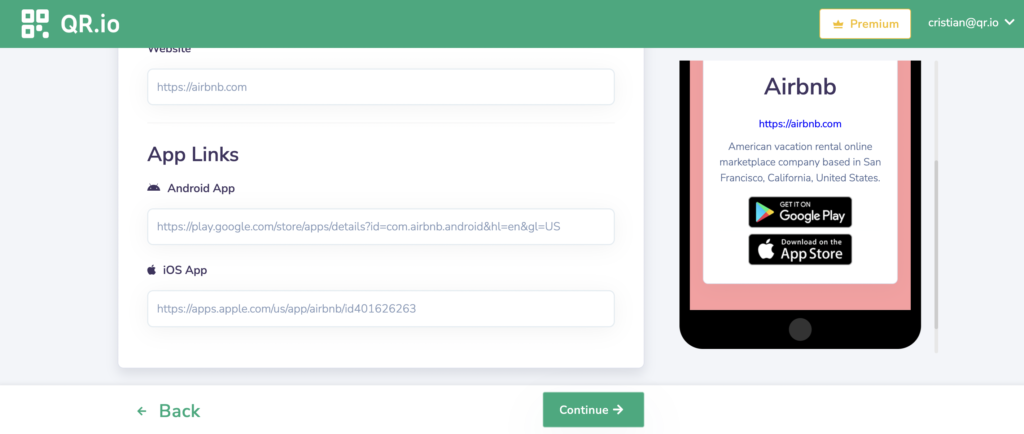 In this step, you will configure the page containing the links to the apps. Start by selecting a color for the palette, and then enter the app's name.
Also, browse the image that will appear on the page, and add a description and your company website. Then, enter the links to your apps, either on iOS or Android, or both.
Click Continue.
Step 5. Customize your code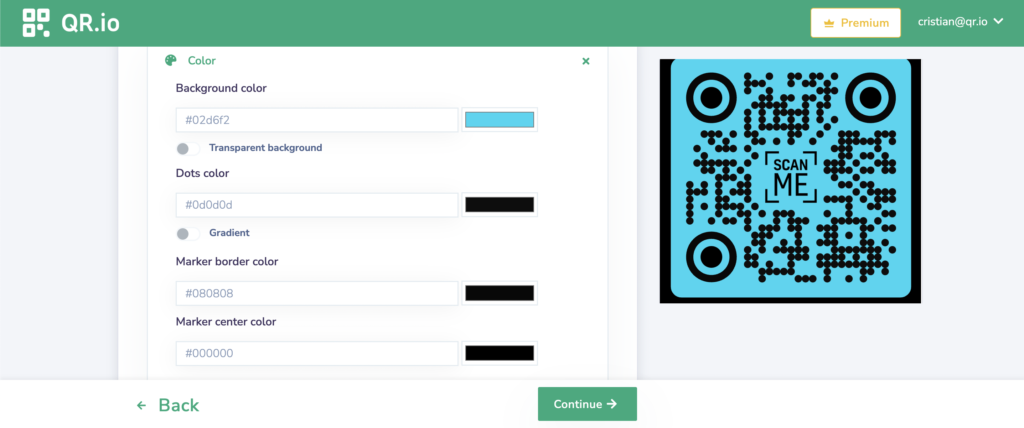 Feel free to adjust the color, the shape, and include a logo and a call-to-action so your code reflects your corporate or product identity. Be careful in this step as too much customization could affect your code's scannability.
Click Continue.
Step 6. Test your QR code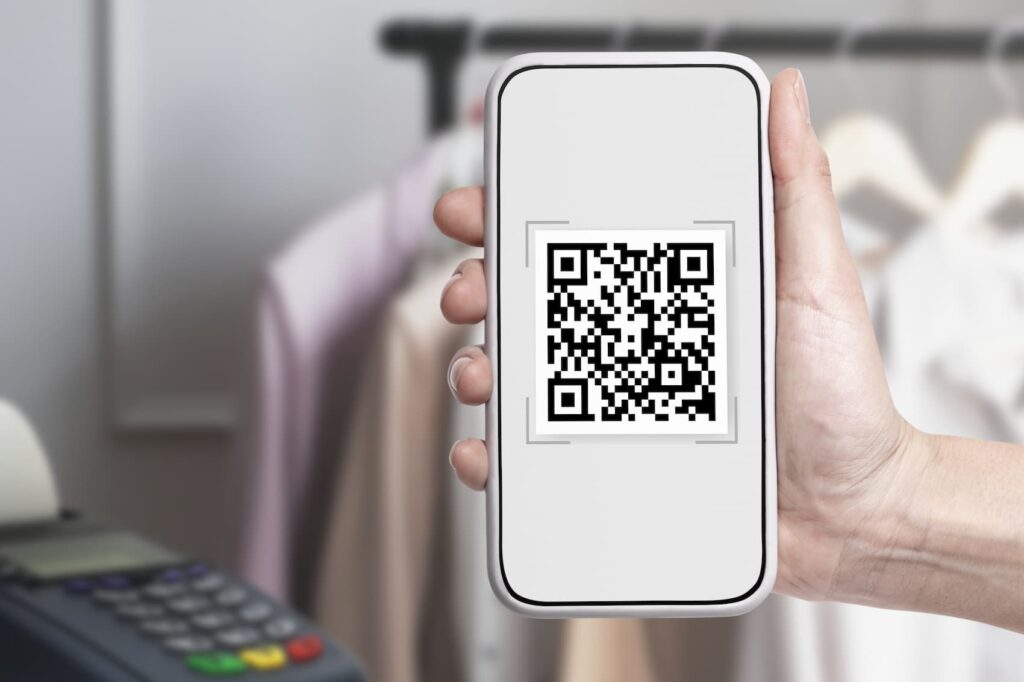 Once you've created your code, it will appear in the dashboard. There, you can export it and print it in whichever format you see fit. SVG formats will be best for large print sizes, while PNG formats can be used for smaller prints like flyers and posters.
Also see: QR Code PNG Format: How to Do It Right?
FAQs
Can I share any type of app with a QR code?
Yes, QR codes allow you to share any app, from gaming, music, and e-commerce, to payments and much more. You just have to enter the links that will redirect users to Google Play or the App Store when you create your code.
Can I create a QR code for App Store and Google Play?
Sure, you can. QR.io allows you to create one single code for an app available on both app stores, or you can also create one for each store separately. This will give you a lot of flexibility on top of the fact that you can edit the code as many times as you see fit and make it lead to any app of your choice.
Wrap-Up
Users can scan a QR code and they will immediately be taken to the app stores where they can download your app with their smartphone or a QR code scanner. Can it get easier and more convenient than that? Surely not! So, feel free to open your QR.io account and start enjoying the perks of your app QR code to start promoting your business or service!