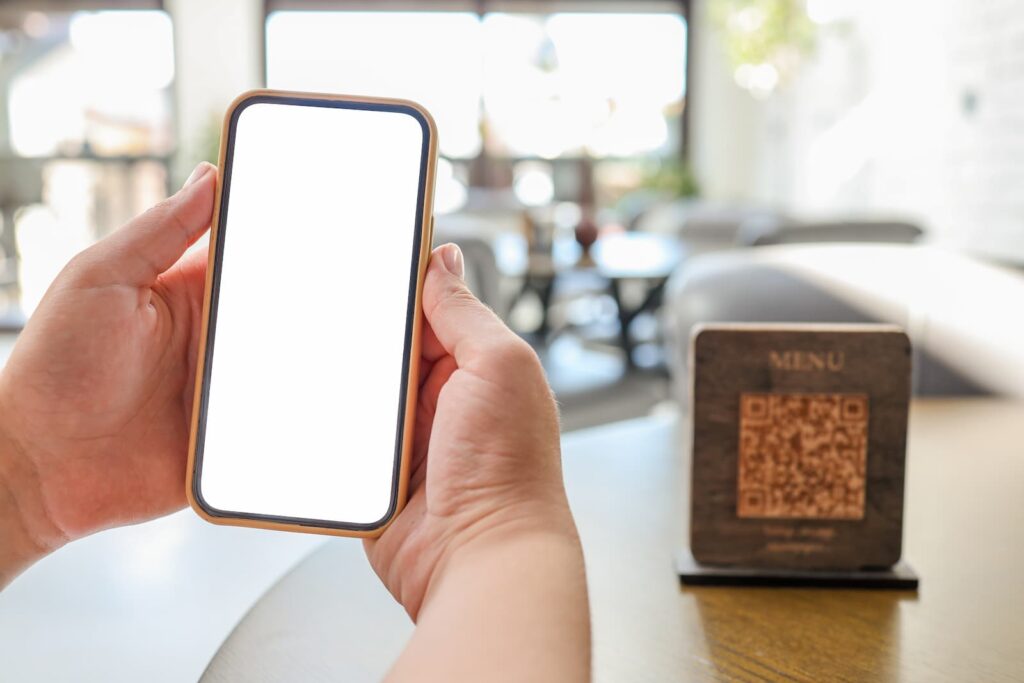 QR codes have arrived to revolutionize the traditional restaurant menu. This is how you scan a QR code menu.
QR code menus have become an everyday item whenever you walk into a restaurant or any other food service business. Covid-19 changed the way restaurant owners interact with their customers, one way being how they present their meal options and how dinners interact with them.
In this article, you will learn key tips for scanning QR code menus and how they work!
Table of Contents
What Are QR Code Menus
Restaurants are using QR codes to offer customers the chance to access a digital menu via a QR code scanner —whether it be a scanning app or a smartphone camera.
Digital menus will open on their devices as a website or a PDF file, which have become a great alternative to paper menus. Not only is this pretty convenient, but it also helps prevent diseases like the dreaded Coronavirus.
Also see: How to Create a QR Code for a Menu in 5 Steps
Advantages of QR code menus
QR code menus offer several advantages. For example, they allow customers to access menus quickly and easily through their own devices, meaning they don't have to call the waiter to order them.
They also won't have to download any apps, which can be inconvenient, especially in restaurants and cafes where dinners may be in a hurry.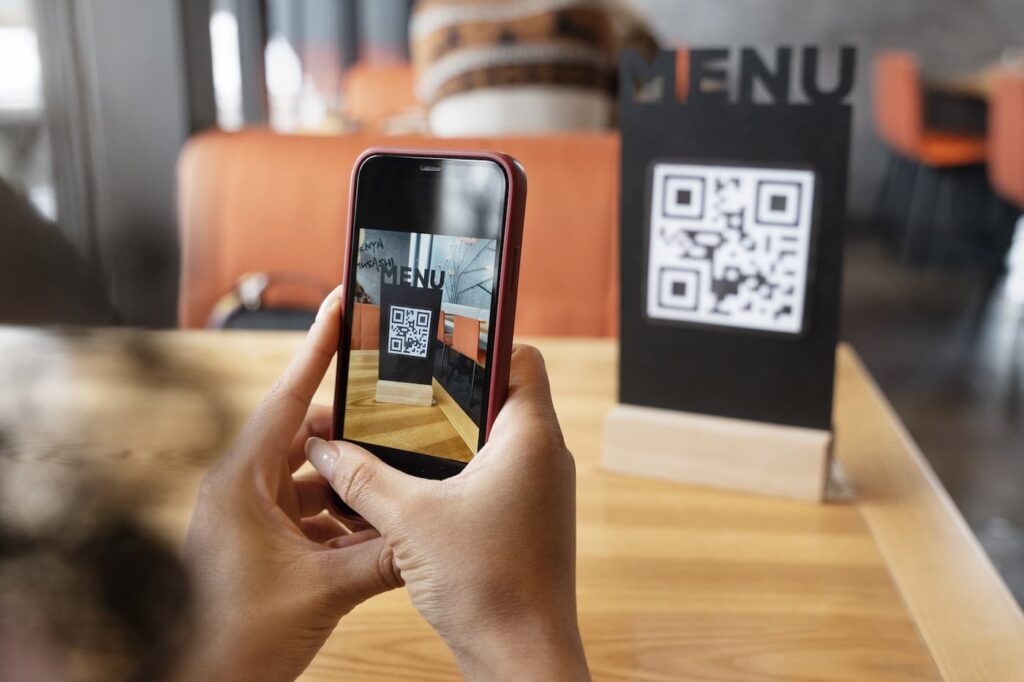 Digital menus also increase customer spending. While a waiter may not offer as many selling options, digital menus can suggest them in a natural and unobtrusive way, such as: "Add onion rings for $3.99" or "Order a larger glass of wine."
Having an online menu not only helps increase sales but also improves customer experience. Ordering via a device takes the pressure off them when they have to interact with a busy waiter, as they can take their time instead of rushing to choose items they don't like or forget to order something.
Also, if customers can order and pay on their own, staff no longer have to deal with these more administrative tasks, so they can focus on being hospitable, chatting, or checking on customers, for example.
Also see: QR Code Wedding Invitation: 5 Smart Uses on Your Special Day
How to Scan a Menu at a Restaurant
You can scan a QR code menu using your camera app, the Google Lens app, or a third-party scanner.
Scanning a QR code menu on Android
To scan QR code on any Android device, just follow these steps:
Make sure you have access to mobile data or a WiFi network.
Open the camera app.
Point the back camera or lens at the QR code making sure it's in the center.
Tap on the notification that appears on your device to access the digital menu.
iPhone or iOS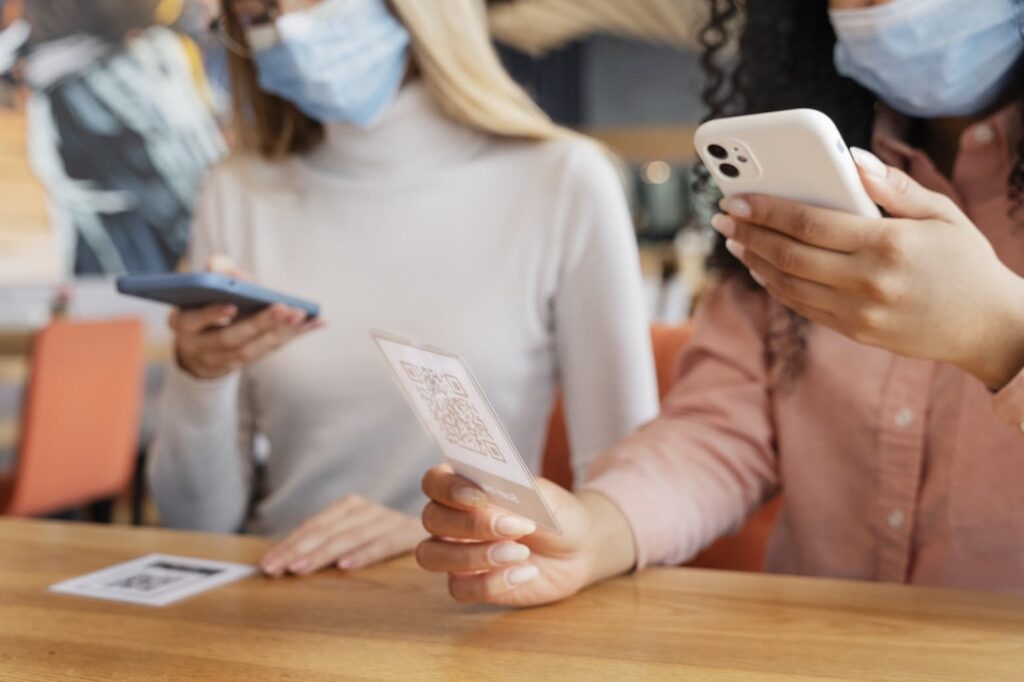 Make sure you have access to mobile data or a WiFi network.
Enable the camera app from your home screen or the Control Center.
Scan the QR code by using the camera on the back of your phone making sure the code is well centered.
Access the digital menu by tapping on the notification that appears on your device.
Google Lens
Make sure you have access to mobile data or a WiFi network.
Enable the Google Lens app.
Scan the QR code with the rear camera of your phone by placing the code at the center.
Press search or touch the redirection link.
Kaspersky
Either on Play Store or Apple Store, you can download third-party scanner apps in case your device doesn't have QR code scanning capabilities.
In this realm, Kaspersky comes to mind to scan a QR code menu. To scan the code with this app:
Open the phone's camera or the code reader you have installed.
Point the lens at the QR code. The angle does not matter too much: to read the information, it is enough to be moderately aligned.
The information will appear on the screen instantly. If the QR code contained, for example, someone's contact details, it will usually download on its own.
Also see: This Is How You Run a Proper QR Code Test
FAQs
How do I scan a menu with my phone?
Restaurant menus are meant to be scanned with a QR code scanner device that uses a camera app or a third-party app. You can use an Android or an iOS device, or a scanner app, using specific steps:
Secure internet access.
Open a scanning app.
Place the menu QR code at the center of the camera app.
Open the embedded link or PDF.
How do I scan a restaurant menu on my iPhone?
According to Apple Support:
Open the camera and place the iPhone so that the code comes up on the screen.
Tap the notification and go to the digital menu.
Also:
Go to Settings > Control Center, and tap next to Code Scanner.
Open Control Center, tap the Code Scanner, and place iPhone so that the code appears on the screen.
You can use the flashlight to add more light to scan the code.
Wrap-Up
There you have it. This his how to scan a menu at a restaurant! Digital menus are here to stay and are more popular than ever. You find them very often at restaurants, bars, and cafes, to offer more convenience to customers as they can be accessed via QR codes.