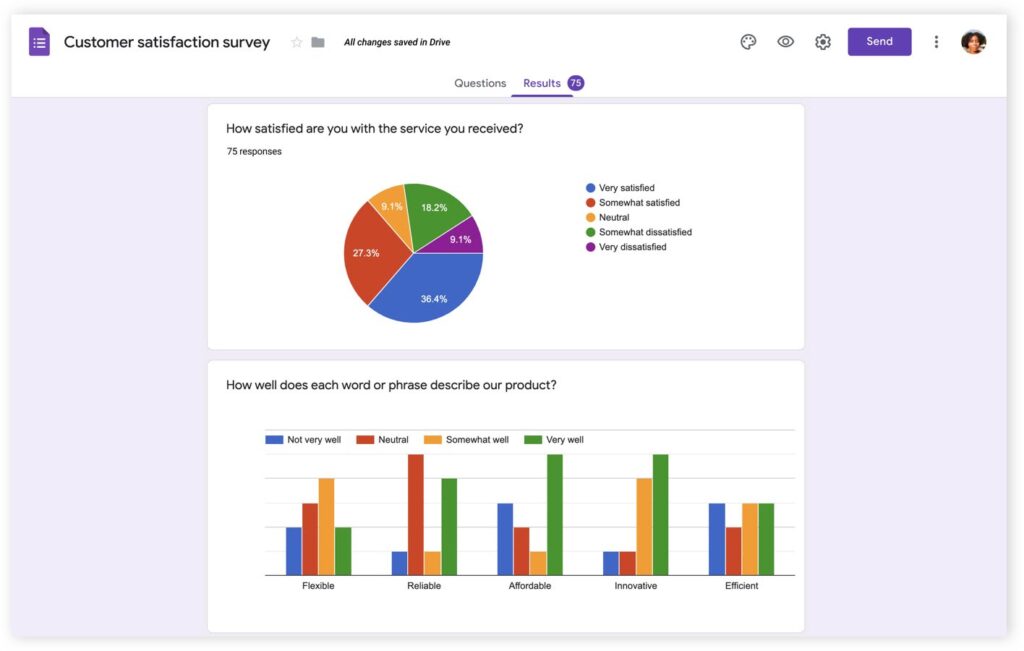 How to create a QR code for a Google Form? In this short tutorial, you'll learn how to do it and increase the reach of his fantastic Google solution.
Google Forms is a tool created by Google that brings the experience of forms closer to any user in a very accessible and educational way. Entrepreneurs or anyone who has launched a business online can create an online survey, a test, or any other data collection tactic.
Market research, data collection, and user-direct exchange are crucial. Information in online forms will guide the business's next steps and show in time what needs to be corrected based on customer feedback.
In this post, you'll learn how to make a QR code for a Google form, and the advantages of using QR code technology to share Google Form online!
Also see: QR Code for Photos: The Easiest Way to Share Your Images
Table of Contents
How to Make a QR Code for a Google – Definition
Google Forms is a free tool within Google Workspace that allows you to easily create an online form.
With a Google form, it is possible to create surveys and tests to collect specific data such as emails, telephone numbers, age, and other important data to further your project or business.
Google Forms offers customizable and complementary possibilities so that each form meets users' needs.
It is possible to create questionnaires and multiple choice questions, insert images, select answers as required, and obtain insightful data on anyone accessing and completing the Google form.
The Google Form QR code is a type of QR code that allows you to share Google forms with anyone scanning it.
Also see: Create a QR Code Tag for Your Pet and Recover It
What are the Advantages of Using Google Forms?
Google Forms is a didactic, intuitive, and easy-to-use tool that does not require any technical expertise to use. Anyone with a Google Workspace can create a form in minutes. This allows anyone with or without experience with the tool to create forms with the platform pretty easily.
In addition to being a free service, Google Forms allows you to create forms for various purposes.
Customizable
Google Forms offers a wide range of customization options, including the ability to add images, videos, and custom themes to your form. You can also choose from a variety of question types, including multiple-choice, checkboxes, and dropdowns.
By being customizable, it is possible to create a more professional-looking form with the identity of your business with just a few clicks.
Data collection
For example, Google Forms allows you to collect data and responses from your target audience in real time. The data is automatically stored in a Google Sheet, which makes it easy to analyze and organize the results.
Easy access
Google Forms can be accessed from any device with an internet connection. You can share the form via email, social media, or embed it on your website.
Collaboration
Interestingly, Google Forms allow you to collaborate with others on the same form in real time. You can also set up notifications to receive an email when someone submits a response.
Integration
You can easily integrate Google Forms with other Google apps, such as Google Sheets and Google Drive. This makes it easy to import and export data between different applications.
Also see: PayPal QR Code: Paying With Just One Scan
What Types of Forms Can You Create?
You can create several types of forms for your business, including:
Tests
Contact forms
Invitations
Surveys
Event registrations
Exams that are automatically graded
Sales or cost entry forms
Forms to enter any type of information into a Google Sheets database
You can use a Google Form to gain insight into your buyer persona, conduct market research, receive registrations for an online event, or use it as a lead magnet in your marketing campaigns.
You can print these QR codes on:
Product packaging
Billboards
Flyers
Posters
Check-out area displays
Also see: QR Code for Events: The Key to Killer Event Marketing
Dynamic QR Code vs. Static QR Code for Google Forms
Whenever you want to create a Google Form QR code, take the type of QR codes into consideration. There are two types of codes that offer specific functionalities and capabilities, and choosing wisely will allow you to unlock the real power of QR codes. Let's take a look.
Static QR codes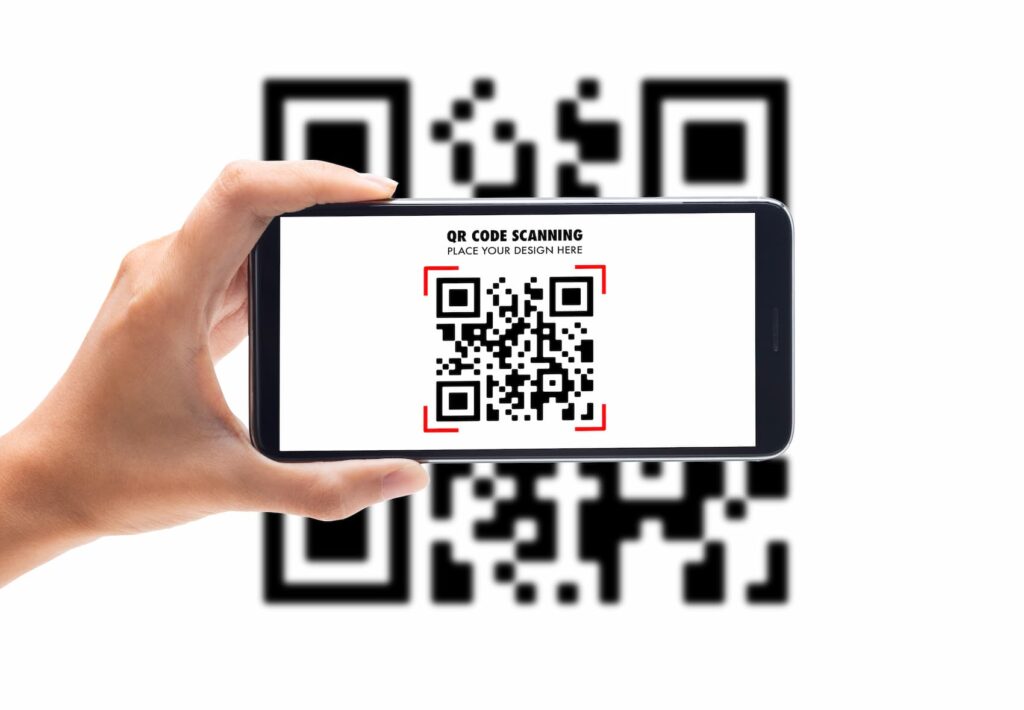 A static QR code will let you link to the Google Form but you won't be able to change the form's URL when you need to. By using a static code, you'll need to create a new QR code every time you want to link to another form.
Dynamic QR codes
A dynamic QR code will allow you to edit the URL of the Google Form as many times as you like, which is essential when conducting research without the need to create a new QR code every time.
Also, dynamic codes allow you to track the number of scans, the location, and even the device used —data that is an absolute plus for your marketing.
How to Create a QR Code for a Google Form with a QR Code Generator
You can create a Google Form QR code with an online QR code generator like QR.io. Just follow these steps.
Step 1. Create a QR.io account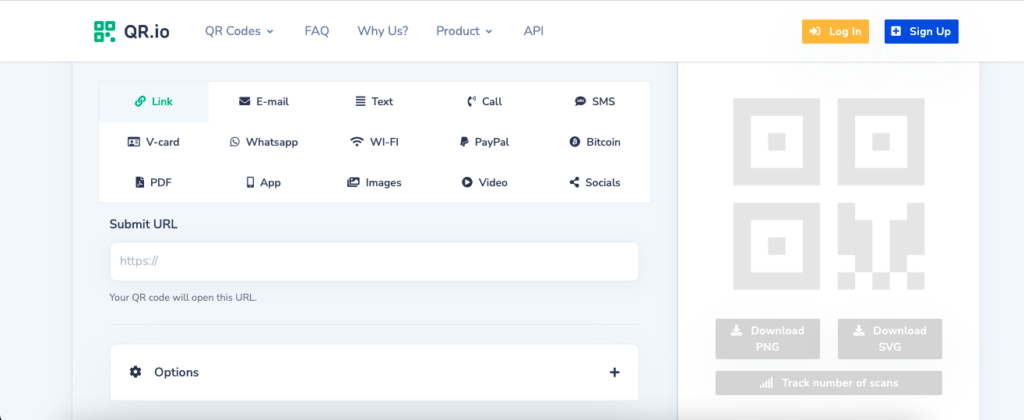 To create a dynamic code for a Google Form and enjoy the tracking and editing capabilities, you must open an account and start the 7-day trial. Just click Sign Up on the top-right side of the home page.
Step 2. Click on + Create QR Code from your dashboard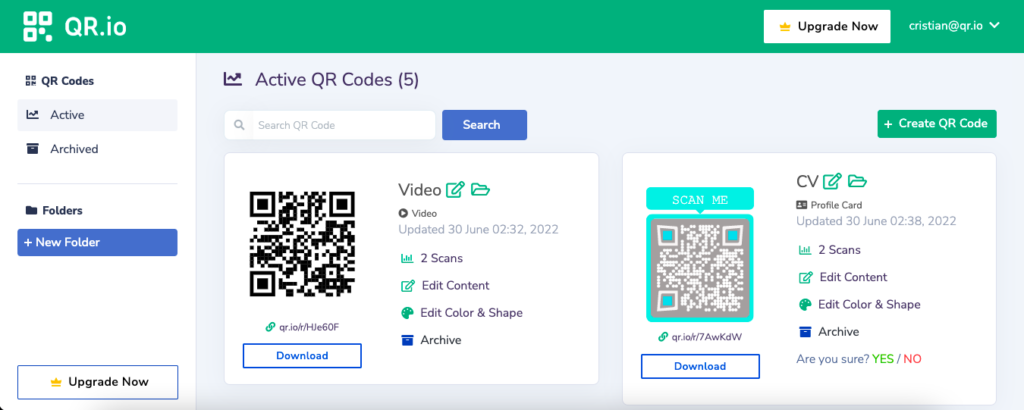 After the first step, you'll be taken to the QR.io dashboard. From there, click on the + Create QR Code button on the right-hand side to start the process.
Step 3. Select Dynamic > Website URL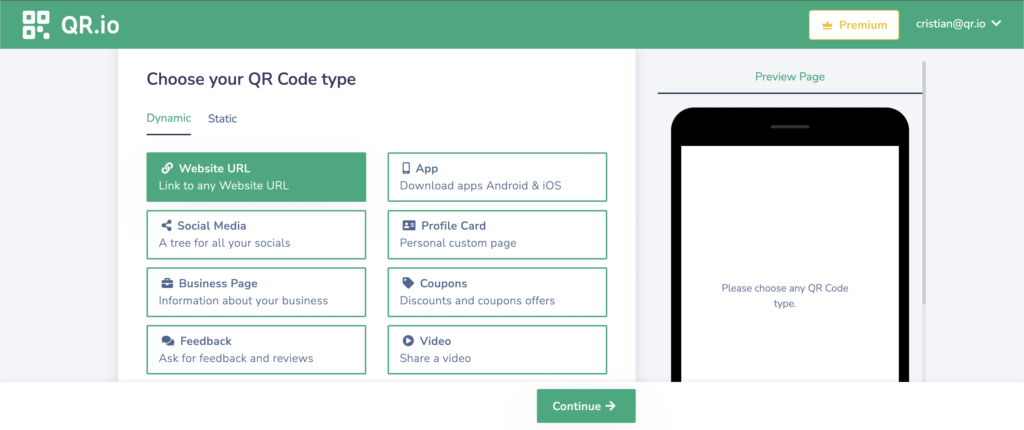 Choose Dynamic > Website URL and click on Continue below.
Step 4. Enter the Google Form link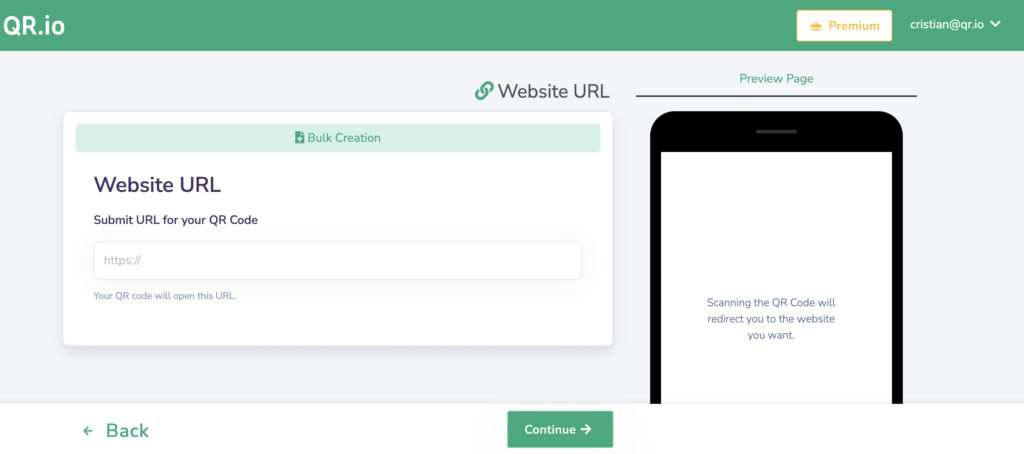 Paste the link to the Google Form and click Continue.
Step 5. Customize your code

QR.io allows you to create any custom QR code very easily. Here, you can add your brand colors, add a logo or an image, and create a call-to-action to invite your prospects to scan the code. You can change the shape and add a frame. Click Continue below.
Step 6. Download and test your code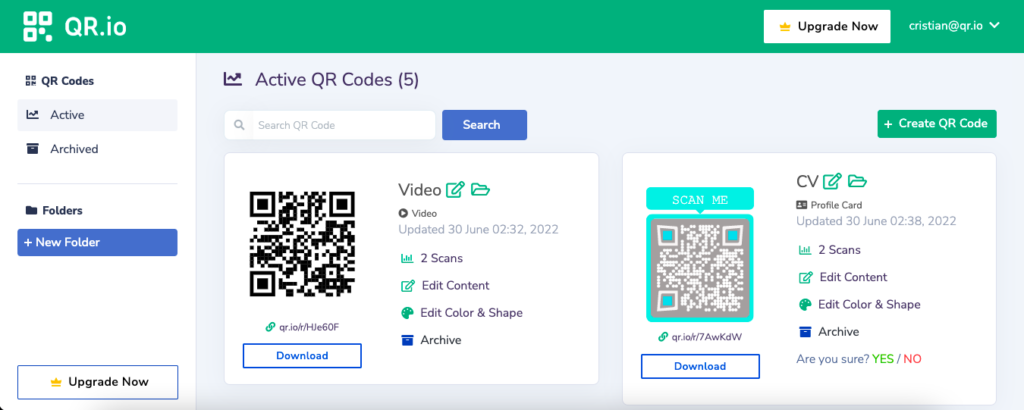 When the process is done, you'll be taken back to the dashboard where you'll see the newly created Google Form QR code —you can choose between PNG format or SVG.
Then, scan the QR code form link to make sure that it redirects to the right link, and that it is also scannable from a distance.
Also see: This Is How You Run a Proper QR Code Test
FAQs
Can you generate QR code for a Google Doc?
You can create QR codes for Google Forms with a QR code generator. Follow these steps:
Create your Google Form
Go to QR.io and open an account
Go to your dashboard and click + Create QR Code
Select Dynamic, Website URL, and press Continue
Enter the URL and customize your code
Does Google have a free QR code generator?
According to Flipped Tech Coaching, Google offers a free QR code generator called Google Charts. To use this tool, you simply need to construct a URL with the appropriate parameters to specify the content and settings of your QR code, and then insert it into an image or web page.
Here's an example of how to create a QR code using Google Charts:
Open your web browser and go to the Google Charts website here.
Enter the content that you want to encode in the QR code in the "Data" field.
Customize the size, color, error correction level, and other settings of your QR code using the available options.
Click the "Generate" button to create your QR code.
Copy the generated URL and use it to embed the QR code in an image or web page.
Note that Google Charts also offers a QR code API that allows you to generate QR codes programmatically using various programming languages, including JavaScript, Python, and PHP.
However, none of these codes are dynamic nor do they offer customizability. This means that they're not suitable for business purposes and don't offer data tracking capabilities.
How do I get a Google QR code?
Go to the page you want to share and enable the QR Code. Then, follow the instructions on the screen to share pages on the browser or download the QR Code. Also, you can use the camera to scan a QR Code from someone else's phone.
Wrap-Up
Boosting your marketing efforts or measuring your brand reputation via Google Forms is a no-brainer. But creating Google Form QR codes to increase reach and erase the gap between print and the online is the next step. Just paste the Google Form URL on QR.io and generate a QR code that will help you in your business efforts.