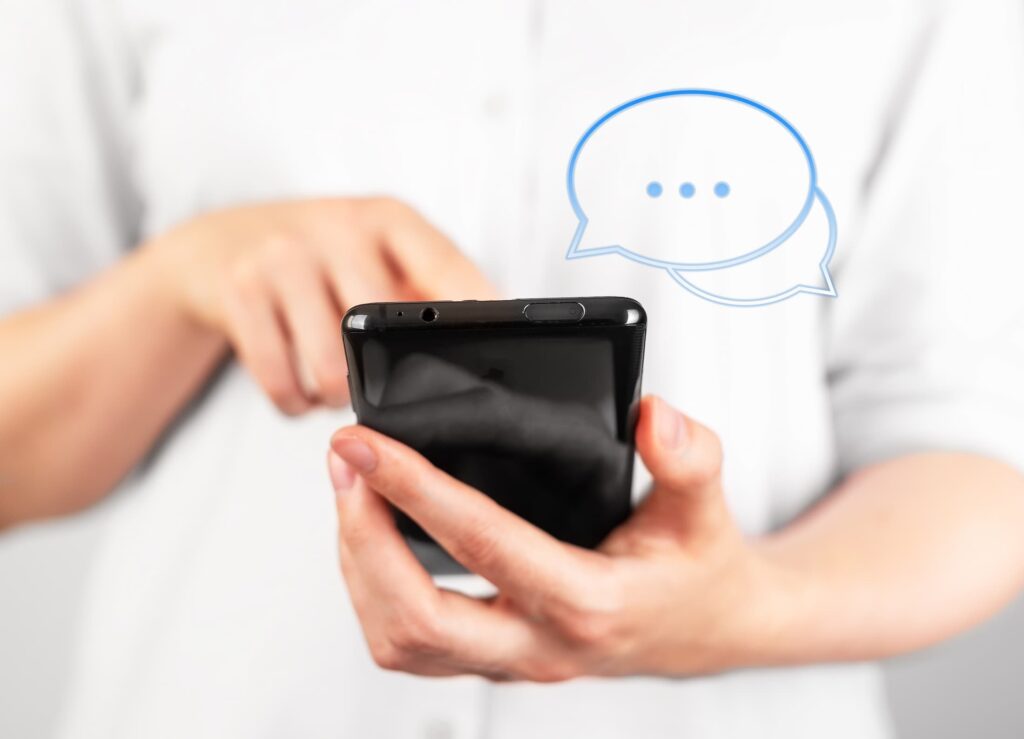 Despite the advent of messaging apps like WhatsApp, Telegram, and more, text messages are still a communication channel used by millions of people.
They are also still quite effective in marketing as, according to statistics, 61% of consumers say they want the ability to text a business back.
With QR codes, you can give your prospects the possibility to connect with you via SMS, which turns out advantageous as, unlike messaging apps or emails, text messages don't require an internet connection.
You can use QR codes for SMS to promote your business and leverage your customer service efforts. Text messages are quite effective for confirming reservations, booking appointments, and much more.
What is an SMS QR Code
SMS QR codes are a type of QR code that sends a composed message to a specific recipient, after just one scan. Anyone with a smartphone or any other QR code-reading app can send an SMS message after they scan the code.
How QR Code Messages Work
QR codes for SMS have an embedded country code and phone number. Every time people scan QR codes for text messages, the pre-set text message will appear on the text message app on their phones. Once this happens, they just have to tap Send.
Advantages of Text Message QR Codes
There are several advantages to using SMS QR codes.
Convenience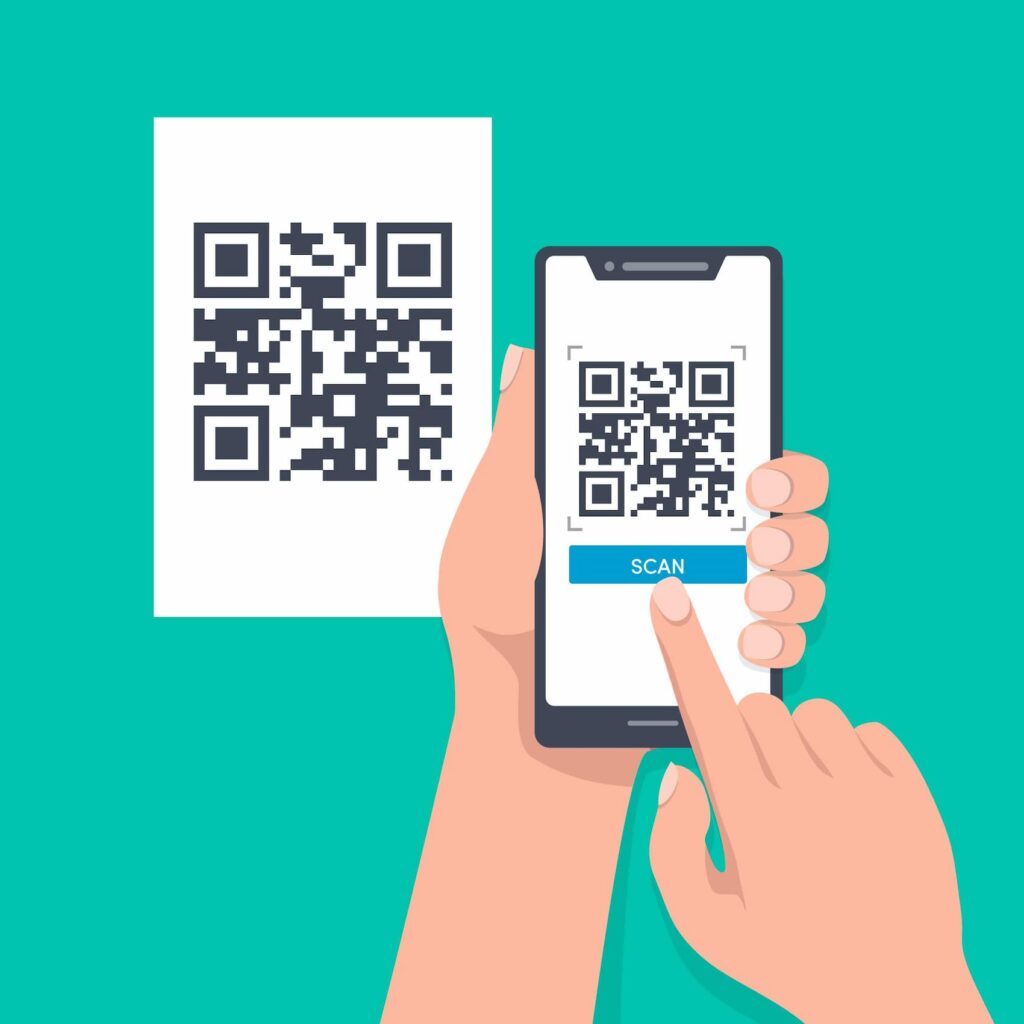 Billions of people use smartphones equipped with camera apps that can read QR codes, and this opportunity cannot be wasted. Your prospects can connect with you via just one scan without the need to enter either a phone number or a text message manually.
Also see: WhatsApp QR Code: How Can You Create One?
Privacy
Believe it or not, some people don't want to connect with a brand or a business on messaging apps if they have personal profile photos on display, or if they usually post images in their statuses —e.g., WhatsApp.
An SMS, unlike a messaging app, doesn't have any type of this content on display, which makes it more private for people to connect.
No need for an internet connection
The text message app on every phone doesn't need any internet connection to send or receive messages. This clearly is an advantage, as with messaging apps, on the other hand, users will need to have an active connection.
Also see: Why Using a QR Code for Calls
Create an SMS QR Code with a QR Code Generator
Step 1. Open a QR.io Account

To create a QR code for text messages, you must open a QR.io account and start your 7-day trial. To do this, click Sign Up on the top-right corner of the homepage and enter your personal information.
Step 2. Click on + Create QR Code from your dashboard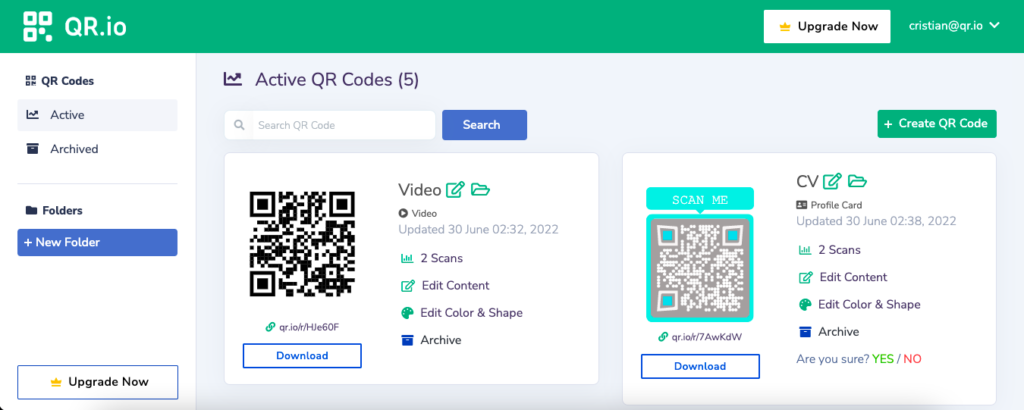 To start the creation process, click + Create QR Code on the top-right corner of your dashboard.
Step 3. Select Static > SMS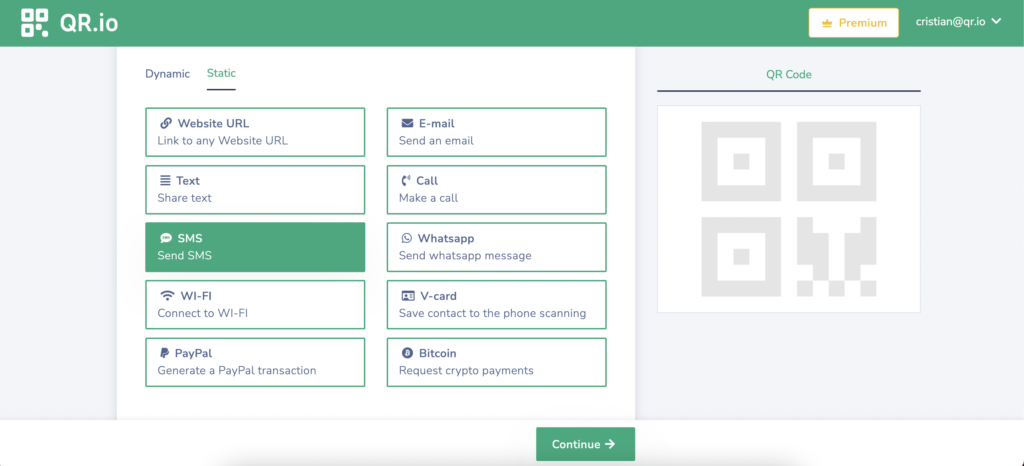 Choose Dynamic > Images and click Continue below.
Step 4. Enter the information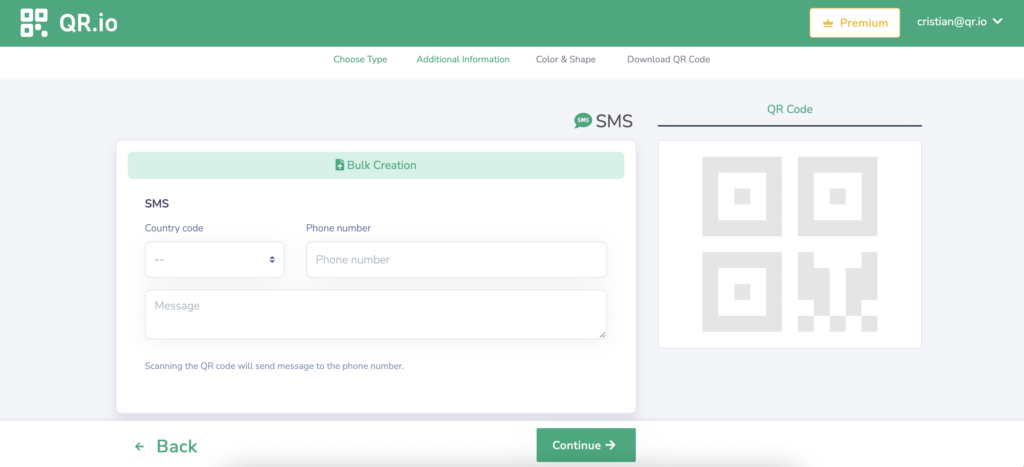 Select the country code from the list and add the telephone number to which the QR code will send the message. Also, type in the pre-selected message.
If you want to create QR codes in bulk, just select the option above and choose a file and a folder. Then click Create QR Codes.
Step 5. Customize your code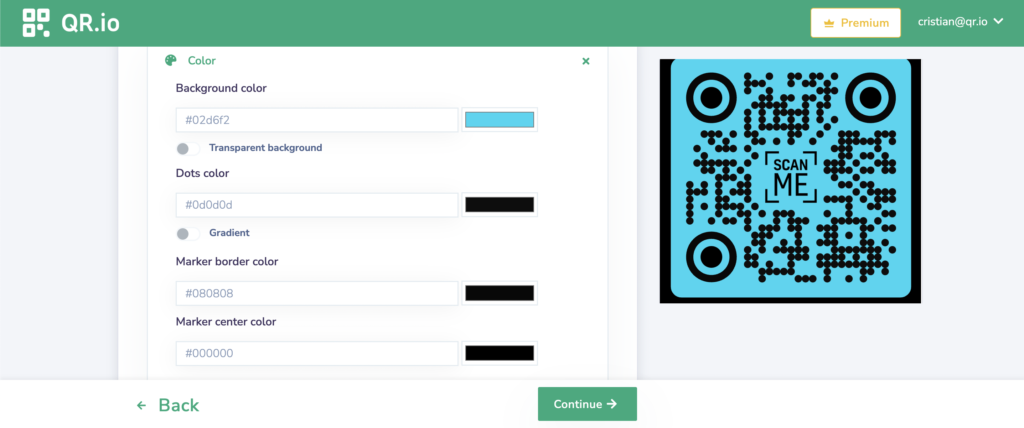 You can choose the background color, play with different shapes, and add a logo, image, and a call to action to make your code stand out.
Step 6. Test your code

It is always important to test your code from different distances to see how scannable it is. If you customize your code too much or print it in too small a size, users will find it hard to scan it.
FAQs
How to create QR code for text message?
Follow these simple steps to create a QR code for a text message:
Create an account on QR.io.
Click on + Create QR Code from the dashboard.
Select Static > SMS.
Add the country code, phone number, and message.
Customize your code.
Test it.
How to scan QR code to auto-send the SMS?
To scan an SMS QR code to send a text message, open your camera app and point it to the code keeping your phone as parallel as possible. The camera will pick it up and a notification will appear; tap this notification and the messaging app will open.
The number and the pre-selected message will appear, and you would want to tap send, and you're done!
Wrap-Up
Sending text messages via QR codes is very simple. Just scan the QR code and tap send! Offering SMS QR codes will help you connect with your customers or prospects in a flash, and offer a complementary communication channel!