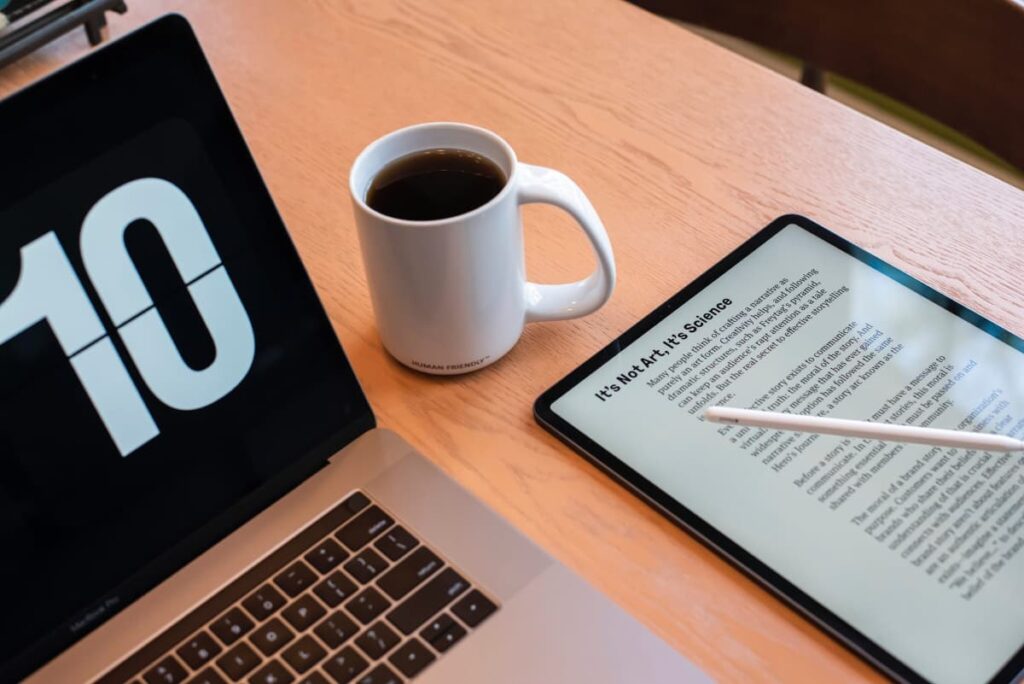 Converting a PDF to QR code is very easy and will help you boost your business opportunities, marketing campaigns, and online and offline presence.
PDF is a great format. It maintains the graphic integrity of a document, offers multi-dimensional content —you can add text, graphics, hyperlinks, buttons, and more— and can be compressed to a very usable minimum.
But what about being able to share any pdf document and all its advantages by creating a PDF QR code?
Table of Contents
How to Make a QR Code for a PDF – Definition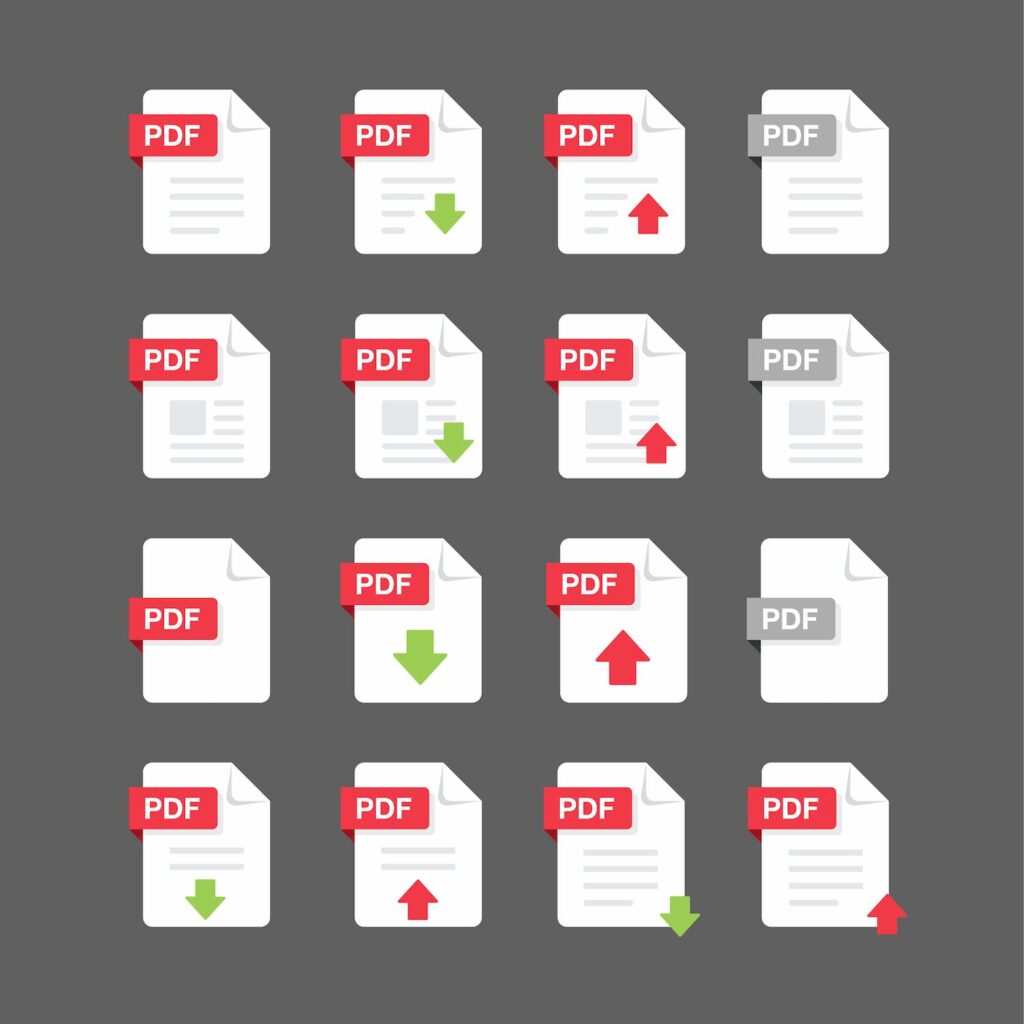 The QR code PDF links to a website URL containing a PDF file every time you scan it with a QR code reader —e.g. a smartphone camera or any mobile device. You can add any PDF file provided that it is no bigger than 9MB —whether it be a restaurant menu, your CV, or a corporate presentation— which will pop up on a browser.
PDF QR codes are the easiest way to share PDF files compared to other tools like email or Google Drive, as not only are they scannable on a screen but also on paper or a physical surface.
You can print them and place them tactically according to your needs, and they will always redirect to the same source. Today, you can also use tools such as PDF Convert to turn other file formats into PDFs and the other way around.
How Does the QR Code PDF Work?
The QR code PDF embeds a PDF file, which anyone with a QR code scanner can access. When you create the code, the QR code generator turns the uploaded PDF file into a link that leads to a document on a browser —Safari, Google Chrome, etc.
You can create a PDF QR code for personal and professional use —sharing a document in PDF form, a presentation, or a report— and depending on the type of code you generate on QR.io's PDF QR code generator, you can change the PDF file it links to.
What is a Static PDF QR Code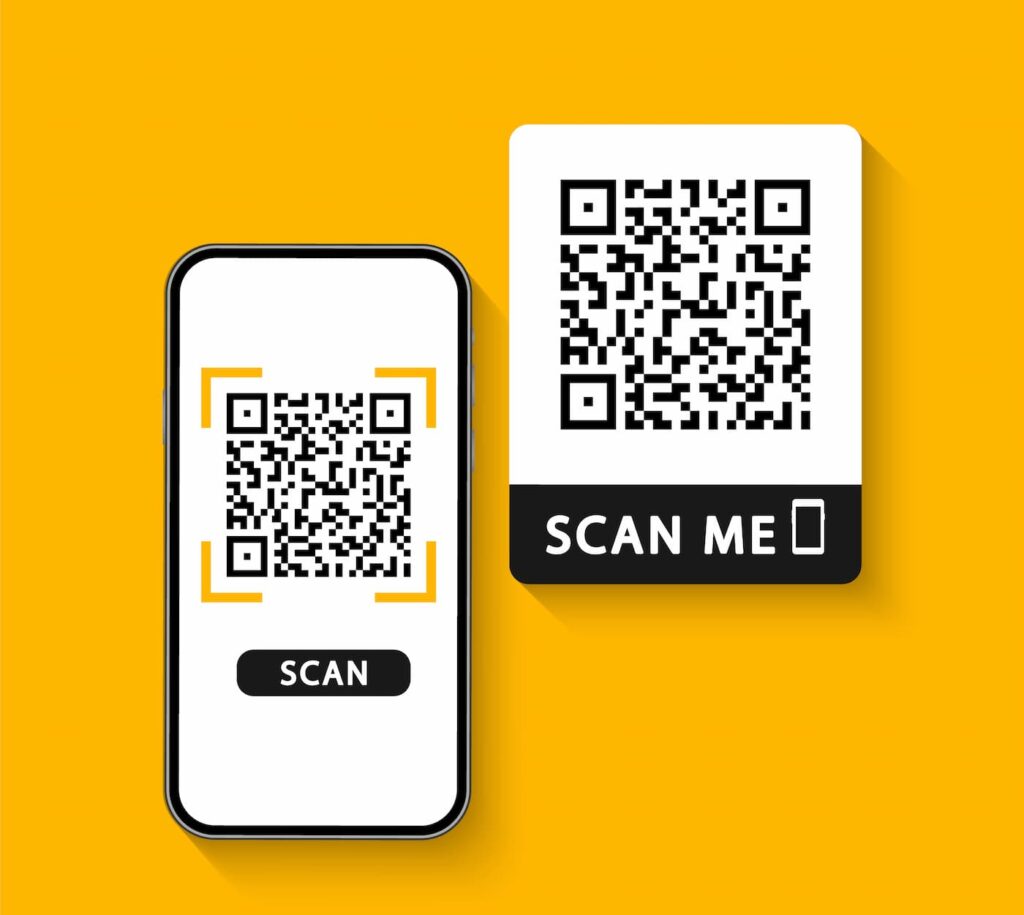 Static QR codes are the simplest, yet very effective type of QR code. If you use them for PDF purposes, they will save the information contained therein and redirect to the same source all the time.
However, this means you cannot change the source document and you will need to create a brand new static QR code every time you need to share a specific PDF. This is why QR.io offers dynamic PDF QR codes for default, so you can update the PDF document as many times as necessary without the need to generate a new code.
What is a Dynamic PDF QR Code
Dynamic QR codes sport several handy features. For PDF use, you can edit the same QR code and change the source PDF. Besides, you can track the total number of scans and unique scans in a time frame.
Better yet, you can geolocate the scans in terms of country and city, and have a clear overview of the device used —smartphone, laptop, etc.
Dynamic PDF QR codes are absolutely advantageous when you need to replace the PDF file, such as for restaurant menus, updated corporate reports, and changing statistics or updated graphs.
They are also perfect for any marketing campaign since the tracking features will give you great insight into the campaign performance, so you can adjust your strategy quickly —even by replacing the PDF file you are using.
As you can see, QR codes have become one of the most innovative marketing channels to reach your target audience.
Also see: How to Create an Instagram QR Code to Quickly Grow Your Fan Base
Advantages of Sharing a PDF Via a QR Code vs. Other Mediums
Using a PDF QR code for sharing information has great advantages over traditional and often application-focused methods.
PDF QR Code vs. Email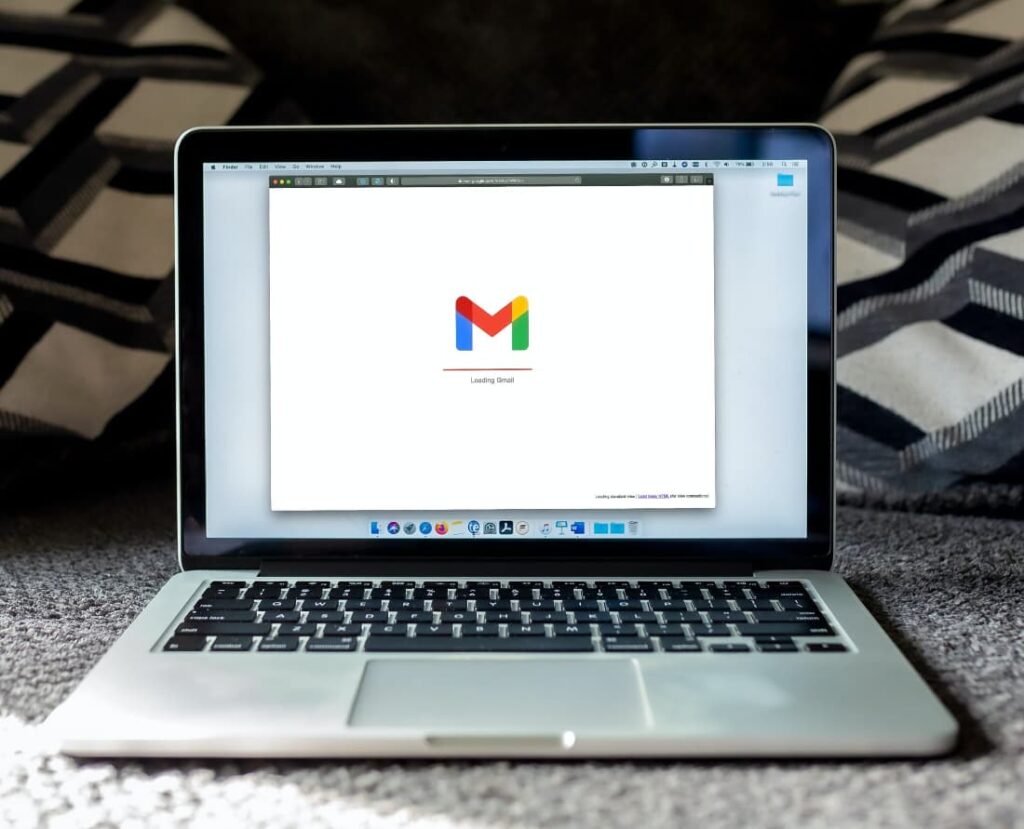 If you want to quickly share a PDF document via email, the biggest obstacle is you would need a complete mailing list. If you are at a conference or a work meeting, and you want to share the PDF presentation you just did, you would have to ask everybody for their email address.
On the other hand, placing a PDF QR code on the last slide of the PDF will prompt attendees to pull out their smartphones and point their cameras toward the QR code on-screen. A QR notification will pop up, which they will tap to easily access the file.
PDF QR Code vs. Google Drive
Google Drive is a fine cloud storage application, but it falls short when it comes to sharing PDF documents. You can add a shareable link on a presentation or print the link on a billboard or product package, but your audiences would have to type it all.
So, with a QR code PDF, they won't need to do this and will access the document immediately by using their scanning devices.
Also see: QR Codes on Products: An Innovative Way to Interact with Customers
PDF QR Code vs Amazon S3
Similar to Google Drive, Amazon S3's data storage capabilities in the cloud cannot offer the sharing convenience of PDF QR codes.
When to Use a PDF QR Code
Print media
A PDF QR code generator will allow you to bridge offline and online media. Books and magazines can display a PDF QR code on the back cover that will take the reader to a PDF version of the content, or additional information.
This way, publishers reduce printing costs, add value, and allow readers to interact in an innovative way with their editorial products.
User manuals and catalogs
User guides in PDF are the best way to introduce a customer to a product upon purchase. Printing a PDF QR code on the packaging and linking to a user manual, will let users access the document, share it, and store it in digital format.
This way your company saves packaging space and printing costs and helps consumers access handy information.
Using PDF QR codes for catalogs will also enable further purchase opportunities, as customers will conveniently come in contact with your product portfolio. Another document you can create PDF QR codes for is Terms & Conditions.
Conferences and meetings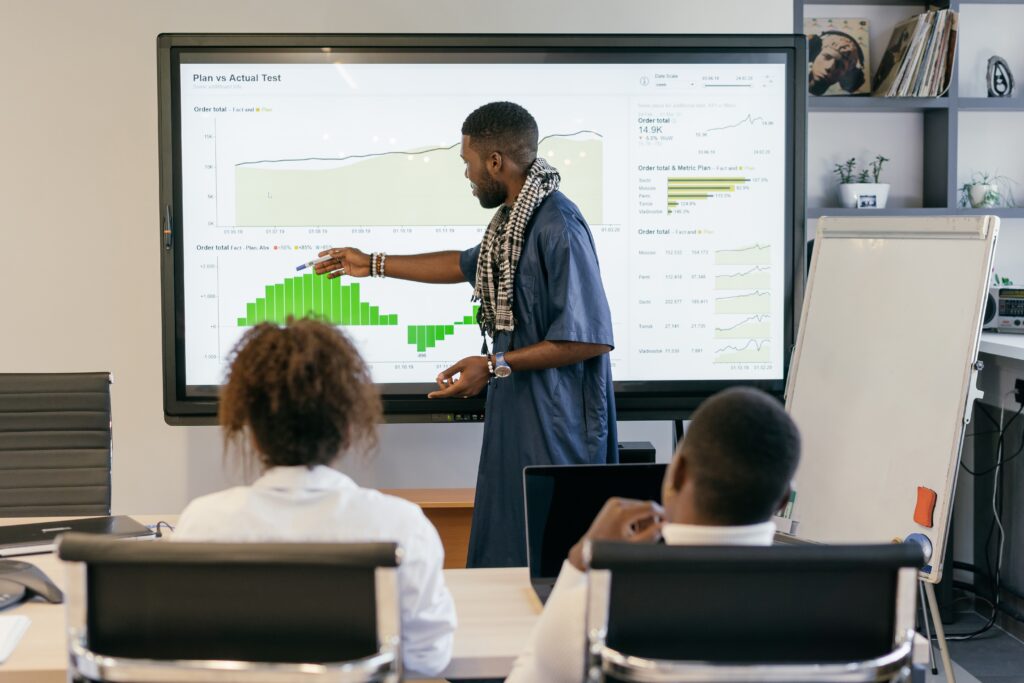 If you are presenting at an office meeting or event, QR codes are the best way to share your PDF slides or any additional information about the topic —supporting studies, additional graphs, and much more.
To do this, include a PDF QR code on any of the document's pages and your audience will only have to point their smartphone cameras at the screen to access it.
Add QR codes on printed documents —handouts, flyers, reports— to link to digital PDF versions so your audience can take the information with them.
Also see: Music QR Codes: How to Promote Your Songs
Leverage your book marketing
Publishers can create a PDF QR code to promote book releases. Printing such code on the back of the book will allow readers to scan it and have a taste of what is inside —this is particularly useful as there is very little information publishers can fit on the backboard.
A PDF QR code printed banners and other promotional material can also do just that, generating previews for the target audience.
Power up your business cards
You can create business cards on platforms like Shopify and export them to PDF files. The PDF QR code will link to the card so you can share your contact details very easily. Another option is to create a business card QR code with QR.io.
Offer restaurant menus to streamline service
Covid-19 was the main driver behind PDF QR codes in hospitality businesses, given the contactless feature and convenience. More than ever, these codes are here to stay, so creating a QR code for your PDF menu will have you covered.
Share essential gym documents
You can use the PDF QR code for gyms. The code will allow sharing with customers and prospects registration forms, dietary plans, new product catalogs, gym equipment instructions, and much more.
How to Make a QR Code for a PDF on a QR Code Generator
A dynamic QR code will let you share PDF files in a flash and edit the source document when needed. To create dynamic QR codes for PDF, you just need to have the document within reach and sign up to use a code generator.
QR.io —the best QR code generator online— allows you to create PDF codes very easily and with several customization options to make them attractive.
Step 1. Open a QR.io account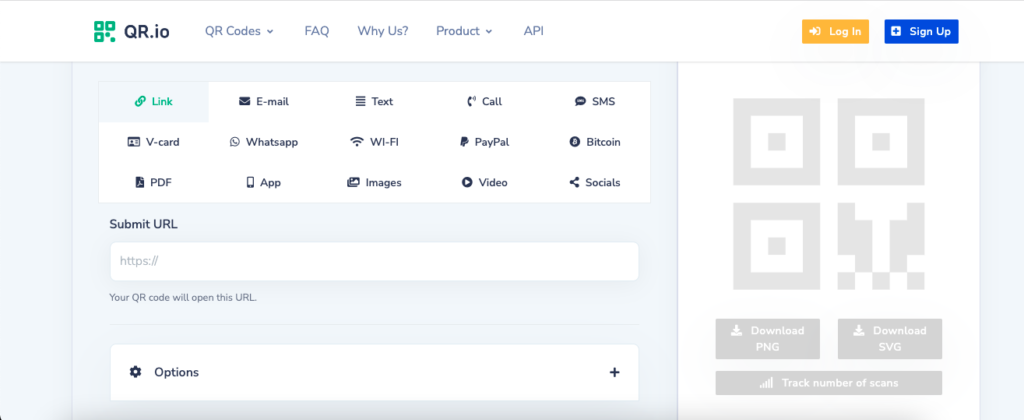 Go to the top right corner of the home page and click on Sign Up. Add your personal information when prompted to initiate your 7-day trial.
Step 2. Go to the dashboard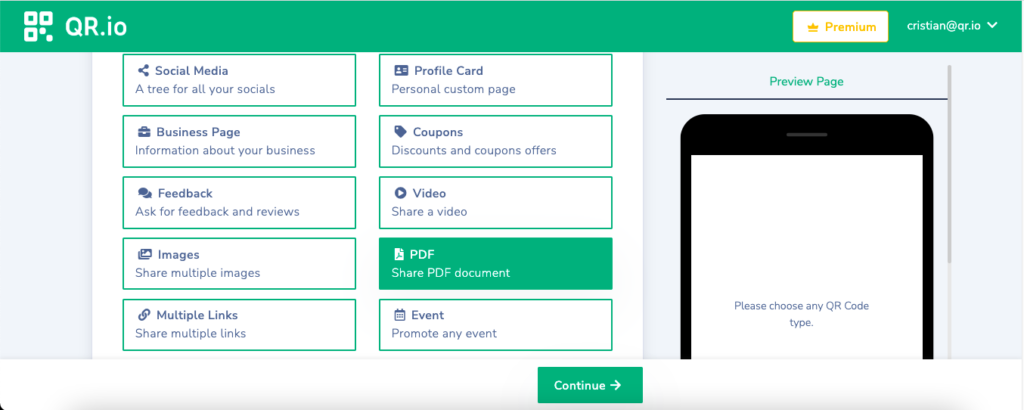 From the dashboard, click on + Create QR Code, and choose Dynamic and PDF. Then click on Continue.
Step 3. Enter information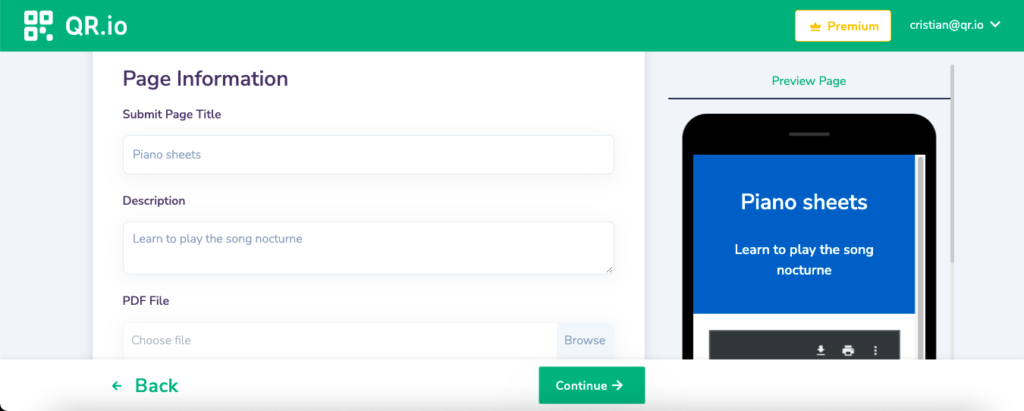 Choose the Page Color and enter the page information such as Title and Description, upload the PDF file and click Continue.
Step 4. Customize your code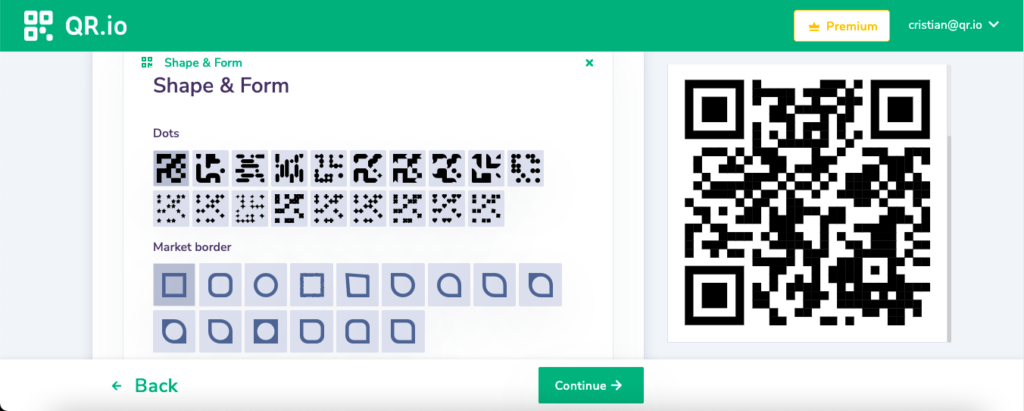 QR.io allows you to personalize the code by selecting background, dots, and marker colors, as well as different shapes and frames, and adding a PDF logo or that of your company. You can preview the page and the code itself on the right. Click Continue.
Step 5. Finish and download

Once your code is done, it will appear on the dashboard from which you can download two types of QR code format: PNG and SVG. Once you click Download, test your code.
How to Edit Your QR Code
A dynamic QR code for PDF will allow you to edit the content. However, you can make more adjustments to your code on QR.io.
Step 1. Editing the name
To edit the name, go to the dashboard, choose the PDF QR code you wish to edit, and click on the Rename icon right next to the code. Type in the new name and click out of the name field to save it automatically.
Step 2. Editing the content
To edit the actual document source, choose the PDF QR code you wish to edit on the dashboard and click on Edit Content. This will take you to the generator's section where you entered all the document information.
Step 3. Editing the design
To edit the design of your QR code, just click on Edit Color & Shape. This will take you to the customize section where you selected the color, added a logo, and changed the frame.
Tips While on the PDF QR Code Generator
Make it stand-out
PDF QR codes on QR.io allow for a lot of personalization. So, make this count. Choose the best pairing of colors from the palette, and select different forms to make it more attractive.
Add a logo or an image
Additional visual components such as an image or an icon will complement your QR code pretty well. For corporate presentations, reports, or conferences, you can add your company logo to reinforce your brand presence among stakeholders.
Include a frame and call-to-action in your QR code
A good design with a call-to-action in the frame section has more chances to attract scans. QR.io allows you to choose from different frame options with customizable text that will combine with added logos and images.
Consider the right size
Printing your PDF QR codes in a smaller size could make it difficult for people to scan them. So, in this case, size matters.
A size of at least 1 x 1 inch —2.5 x 2.5 cm— could be read by the majority of smartphone cameras. The usual size-to-scanning distance ratio is 10:1 —this is important if you want to include a code on your presentation at an event and your audience will be at a certain distance.
A clean QR code
When creating your QR code for PDF, be careful not to use too big a logo or add too many elements. It is important to keep your design attractive, personalized or customized, yet clean and clear.
Cluttered designs not only will look unattractive but could also escape the scanning devices and affect your marketing efforts.
FAQs
Can I make a QR code for a PDF file?
Yes, using a QR code generator, you can create customized PDF QR codes to share documents such as book excerpts, catalogs, presentations, corporate reports, user manuals, and much more.
QR.io gives many customization options so you can add company or product logos, and frames to include call-to-actions, change the color of the background and the dots, and make your code attractive.
How do I scan a QR code to open a PDF file?
To scan a PDF QR code, whether digital or in print, use a QR code scanner device such as a smartphone camera. Position the camera lens close to the code and wait for the objective to pick it up.
Once this happens, a browser notification will pop up on your screen, which you must tap to open the file.
Also see: How to Scan a QR Code on Samsung Devices Quickly and Effectively
How to turn a picture into a QR code?
You can save any image as a PDF. This means you can upload image PDF files on the QR code generator to create a code connecting to it.
How to turn a file into a QR code?
Besides turning a PDF into a QR code, QR.io lets you turn images and MP3 files into QR codes. To convert any of these files and many more, sign up for free and start your free trial.
Wrap-Up
PDFs are fantastically versatile and convenient, and sharing them via a PDF QR code will unlock great business opportunities —new contacts, accessibility to corporate information, and solid marketing campaigns.
To generate QR code for PDF you just have to use QR.io's code generator and start sharing PDFs in a flash.