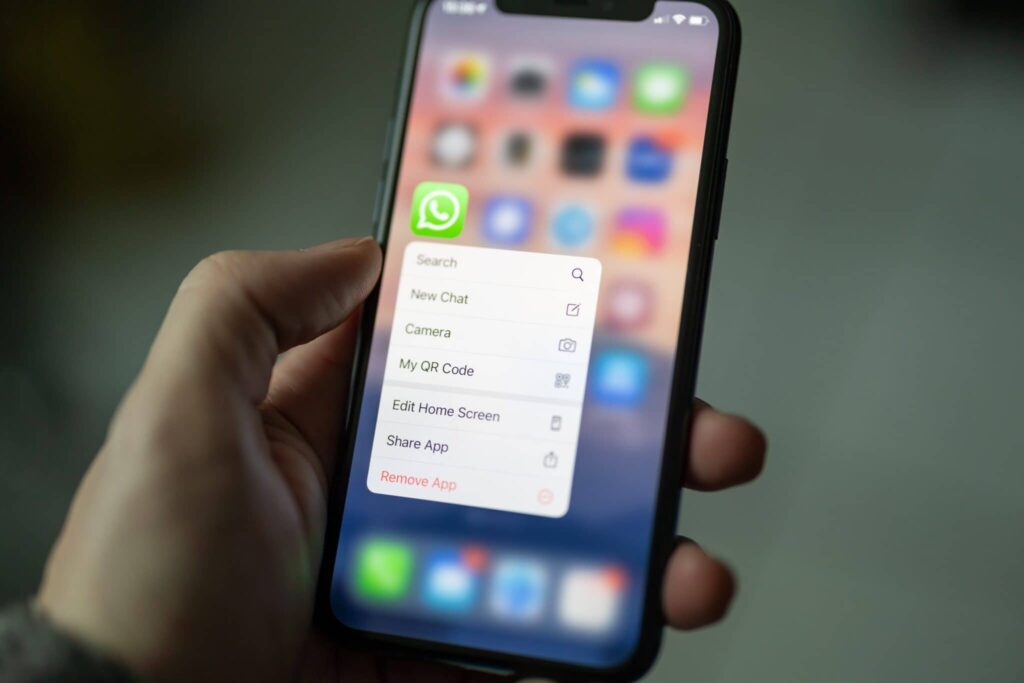 WhatsApp QR code is the best way to connect on the famous messaging app, since adding a new contact on WhatsApp is certainly a cumbersome task. You just need to scan it and add a contact in a breeze!
According to Statista, roughly 2 billion people use WhatsApp today. The app requires saving the name and phone number on your phone's contact list, opening it, and creating a new WhatsApp chat to start conversations.
Now, with a WhatsApp QR code, you can add anyone on the app in a breeze and start chatting instantly. This is how you can create fully-customized WhatsApp QR codes on QR.io's WhatsApp QR code generator!
Table of Contents
What Is a WhatsApp QR Code?
A WhatsApp QR code is part of a set of social media codes that help connect people and companies very easily via a QR code. It enables users to communicate with someone on WhatsApp fast and effortlessly.
The QR code has a special link that, when scanned with a smartphone camera, takes the user to a WhatsApp chat with the associated phone number.
Anyone with a smartphone camera or a QR scanning device can scan the WhatsApp QR code and add contacts to start conversations immediately.
Also see: LinkedIn QR Code: How to Easily Create a Customized Version
How Does a Whatsapp QR Code Work?
The WhatsApp QR code contains the phone number and country code data of a WhatsApp account or number.
So, when you scan a WhatsApp QR code via the WhatsApp camera or your Smartphone's main camera, you can add a new contact and start a Whatsapp chat.
What Are the Advantages of Creating a Customized QR Code for WhatsApp?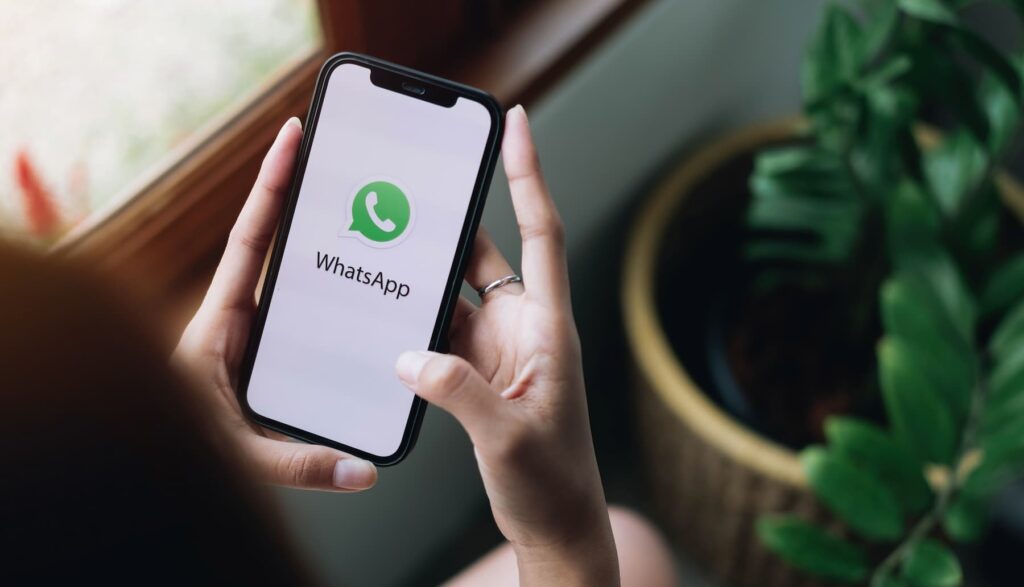 QR codes provide several advantages for WhatsApp, regardless if it's for personal or business use. Let's take a look.
Easy Contact Sharing
With a QR code, you can quickly share your WhatsApp contact details with others. By scanning the QR code, users can instantly add you to their WhatsApp contacts without manually entering your phone number.
This simplifies the process of connecting with new people and eliminates the possibility of errors while typing.
Quick Joining of Groups
You can use WhatsApp QR codes to join groups effortlessly. Group administrators can generate a QR code for their group, and anyone who scans the code will be automatically added to the group.
This feature is particularly useful for events, organizations, or businesses that want to quickly onboard new members or customers.
Business Promotion and Marketing
Companies can utilize WhatsApp QR codes to promote their presence in the space. By printing QR codes on marketing materials, product packaging, or advertisements, customers can scan the code to initiate a conversation with the business on WhatsApp.
The code provides a convenient way for customers to engage with the business, ask questions, or seek assistance.
Secure and Private Communication
WhatsApp uses end-to-end encryption to ensure the privacy and security of messages. When someone scans your WhatsApp QR code, the communication between you and that person is protected by the same encryption technology. It helps in maintaining the confidentiality of your conversations.
Time-Saving and Convenient
QR codes eliminate the need for manual data entry, which can be time-consuming and prone to errors. By scanning a QR code, users can quickly access WhatsApp features, add contacts, or join groups. It streamlines the process and provides a seamless user experience.
Cross-Platform Compatibility
QR codes can be scanned by any device with a camera and a QR code scanning app. WhatsApp QR codes work across different operating systems, including iOS, Android, and others, making them universally accessible.
Overall, WhatsApp QR codes simplify contact sharing, group joining, business interactions, and enhance the user experience by saving time and ensuring security.
How to Scan WhatsApp QR Codes?
There are several ways you can scan a WhatsApp QR code.
From WhatsApp Settings
Open WhatsApp and go to Settings
Tap on the QR icon next to your username
Tap Scan Code, then OK
Place your smartphone over the QR Code to scan
The new chat window will pop up and the contact will automatically be saved in your contact list
Using WhatsApp Camera
Open WhatsApp and activate Camera
Position your smartphone over the QR Code image to scan
Tap Add to Contacts On iPhone 6S models and newer, just tap and hold the WhatsApp icon on the home screen to display the menu, and then tap the Camera icon to activate the WhatsApp camera.
Scanning a WhatsApp QR Code from Photos
Open WhatsApp and go to Settings
Tap on the QR Code icon next to your username
Tap Scan Code and then click on the Photos icon at the bottom of the screen
Select the WhatsApp QR Code from your photos
Tap on Add to Contacts
Scanning a WhatsApp QR Code From the Contact Screen
Open WhatsApp and select New Chat
Tap New Contact and Add via QR Code
Position your phone over the Whatsapp QR Code to scan or tap the Photos icon at the bottom of the screen and pick the WhatsApp QR Code from your Photos
Tap Add to Contacts
Scanning a WhatsApp QR Code in a chat window
Open WhatsApp and select a group or individual chat
Activate the Camera
Tap the Photos icon at the bottom of the screen
Pick the WhatsApp QR Code from your photos
Tap Add to Contacts
WhatsApp Code Uses
Making Purchases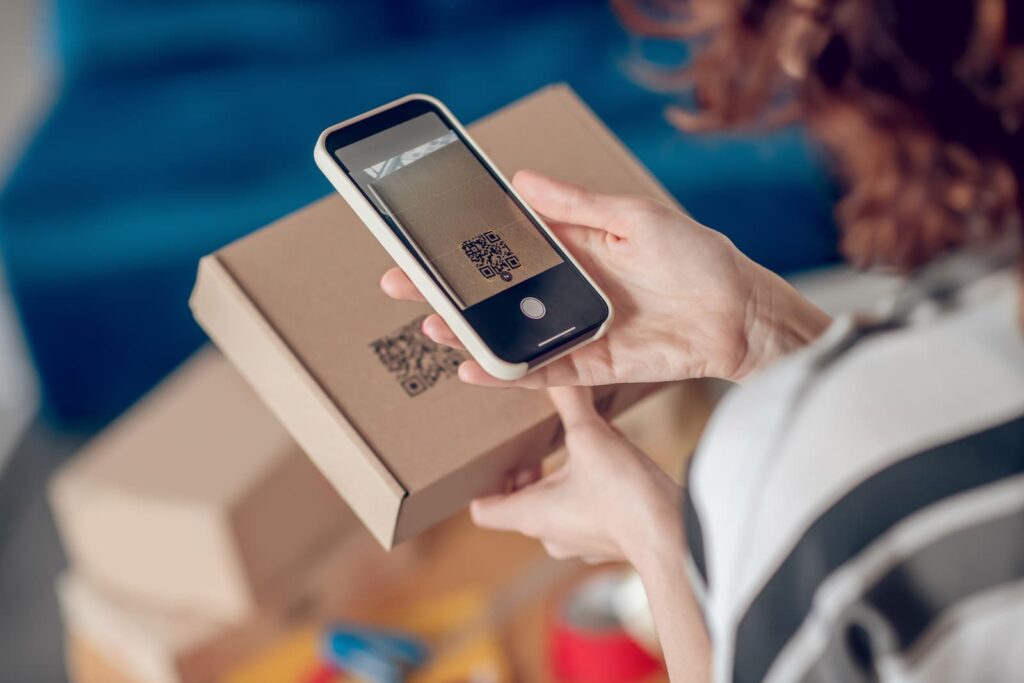 Before placing an order or paying for a service, customers would want to enquire about prices and delivery conditions.
Using WhatsApp QR codes on printed mediums —receipts, packaging, or posters— that connect to your WhatsApp Business account will give them the opportunity to start a conversation with your business.
Food Service
Placing WhatsApp QR codes on food packaging in delivery services will allow clients to scan the code and contact your business. They can save your contact details and place orders, besides tracking delivery status and more.
Small and Medium Enterprises
Small businesses can greatly benefit from WhatsApp QR codes as they will allow you to connect directly with your client and offer stellar customer support.
Besides placing orders or enquiring about a service, you can get customer feedback via your WhatsApp Business account.
Lodging
Allow guests to connect with customer service or make reservations through WhatsApp QR codes online. You can pair this with a WiFi QR code to allow guests to easily connect to the internet during their stint.
E-commerce
E-commerce companies can offer greater customer support via WhatsApp QR codes. The code will allow them to connect with your brand easily, raise tickets, track their orders, or follow up on complaints.
How to Retrieve Your WhatsApp QR Code
You can view your WhatsApp QR Code by following specific steps depending on your phone's operating system.
Android
Open WhatsApp, tap More Options, and go to Settings
Tap the QR Code next to your username
iOS
Open WhatsApp and go to Settings
Tap the QR Code next to your username
WhatsApp Web QR Code Scanner on Your Mobile Device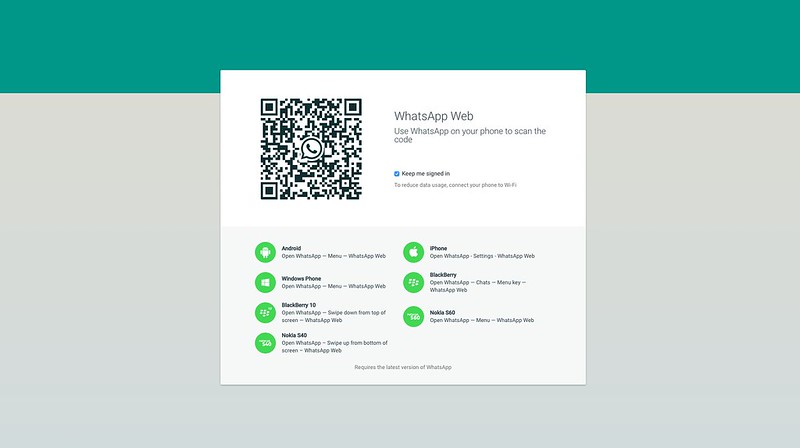 A WhatsApp Web QR code is a specific type of QR code that is used to establish a connection between the WhatsApp application on your mobile device and the WhatsApp Web interface on a computer or other devices.
It acts as a temporary WhatsApp link that allows you to mirror your WhatsApp account on a larger screen.
The WhatsApp Web QR code is essential to activate your WhatsApp Web on your PC or laptop. Just follow these steps:
Go to web.whatsapp.com
Activate WhatsApp on your smartphone
Tap the three-dot menu and tap Linked devices
Click on Link a device
Place your camera facing the screen to scan
How to Create a WhatsApp Code with a WhatsApp QR Code Generator
A WhatsApp QR Code Generator will allow you to create dynamic QR codes as well as static QR codes for the messaging app. This is how to create a WhatsApp QR code with QR.io.
Step 1. Open a QR.io Account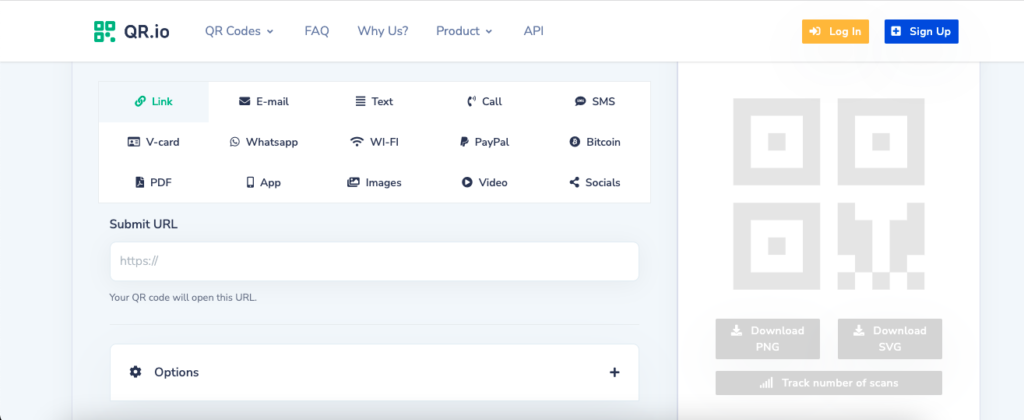 Go to the top right corner of the home page and click on Sign Up. Enter your personal information when prompted to initiate your 7-day trial.

Step 2. Go to Dashboard

Once you've created your account, go to the dashboard and click on + Create QR Code to start the creation process.
Step 3. Select WhatsApp QR Code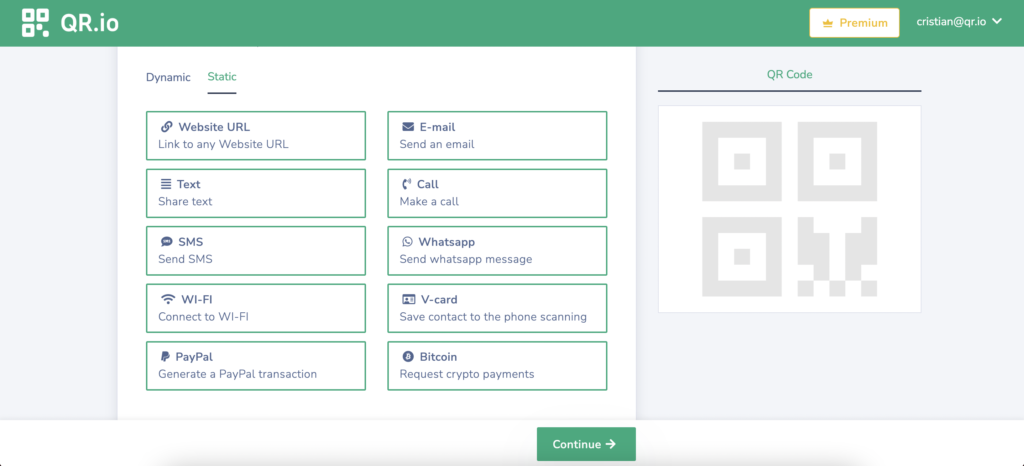 In this section, you'll be able to choose between a dynamic QR code and a static QR code among the different types. So, select Static > WhatsApp, and then click Continue.

Step 4. Enter the information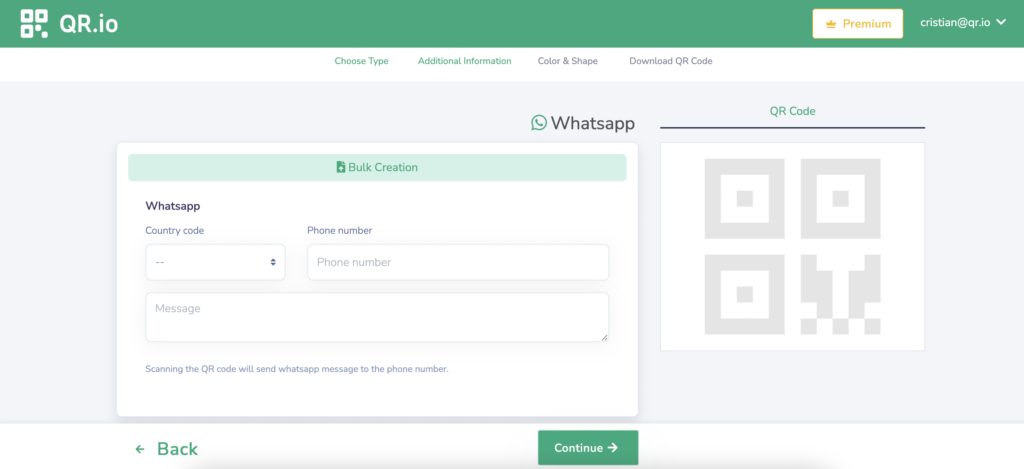 Enter the country code, the phone number, and the message you want to send.
Step 5. Customize Your Code

When creating a WhatsApp QR code on QR.io, you have the chance to personalize the design by changing the color of the dots and adding a frame and a logo. Then click Generate Code.
Step 6. Download Your QR Code for WhatsApp

Once the code has been created, click on download below the newly-created code —you have the option of downloading a PNG or an SVG version.
The Dashboard containing all your codes will appear so can complete the process.
Also see: This Is How You Run a Proper QR Code Test
FAQs
What is the use of a WhatsApp QR code?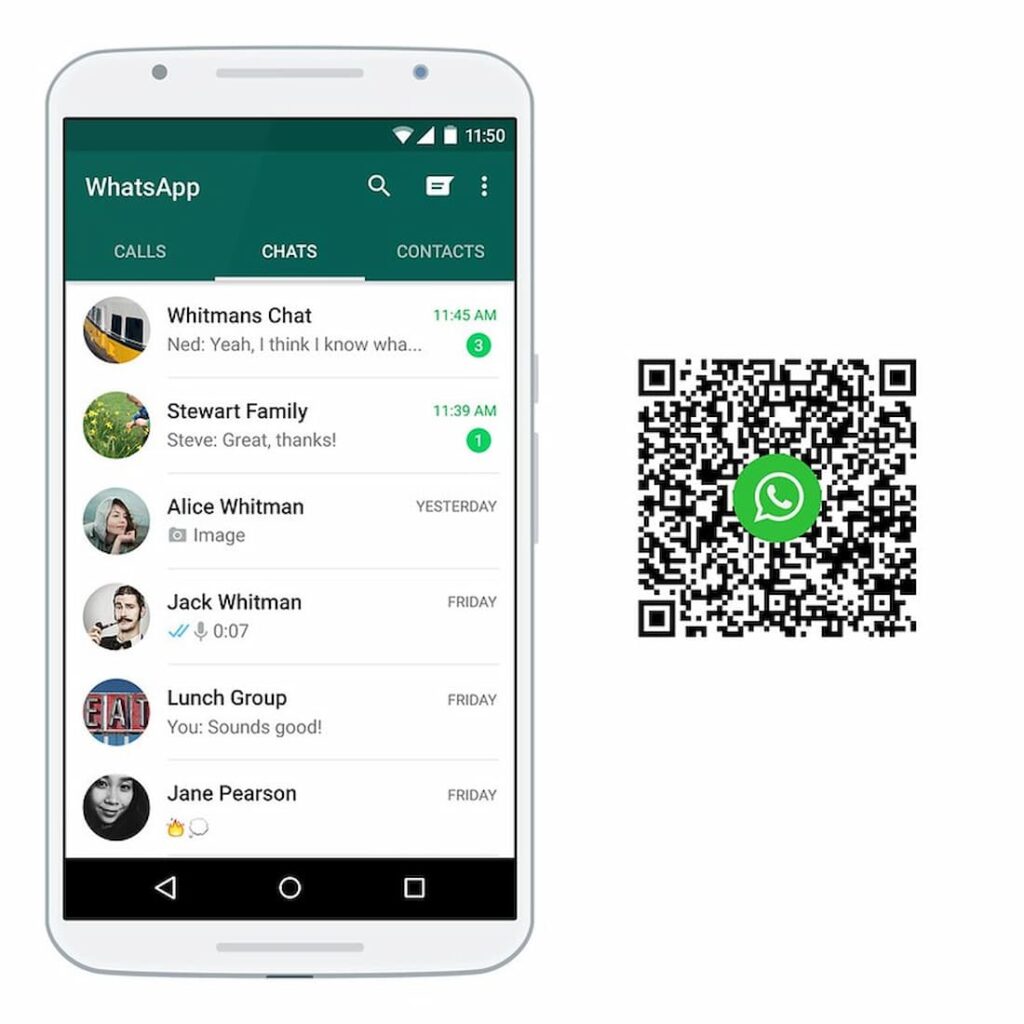 WhatsApp QR codes that you generate on QR.io allow you to add contacts and start conversations instantly after scanning the code.
This is a most convenient shortcut that spares you the task of saving the contact in your phone's contact list, then opening WhatsApp and looking for your new contact.
Is it safe to share a WhatsApp QR code?
Sharing a WhatsApp QR code is perfectly safe. The code will connect to a WhatsApp link –account or contact— and will help you initiate a conversion in a breeze.
My WhatsApp QR code cannot be scanned: Why?
The camera of your smartphone must support QR Code scanning. If so, place the QR Code at a straight angle and scan it under good light.
You can also download a third-party QR code scanner in case your smartphone is not equipped with QR code scanning abilities.
How do I create a QR Code for my WhatsApp?
Go to QR.io's QR Code generator
Open an account for free
Select the WhatsApp QR code option on the generator
Enter the country and phone number, and write a quick message
Customize your WhatsApp code.
Click on Generate QR Code
Download and test your code
Whatsapp Web QR Code generator Vs. a Whatsapp QR Code generator
A WhatsApp Web QR code generator and a WhatsApp QR code generator work pretty much the same when you have the app installed on your smartphone.
Still, if you don't have the app installed on your device, the WhatsApp Web QR code will send you to a web page on which you'll have to log in to WhatsApp Web or install the app.
This is very convenient and has become a solution that many non-users of the WhatsApp app find favorable.
Wrap-Up
WhatsApp QR codes can make a big difference when it comes to connecting seamlessly with users or business accounts on the biggest messaging app today. With QR.io, you can generate customized WhatsApp QR codes that are safe and convenient.