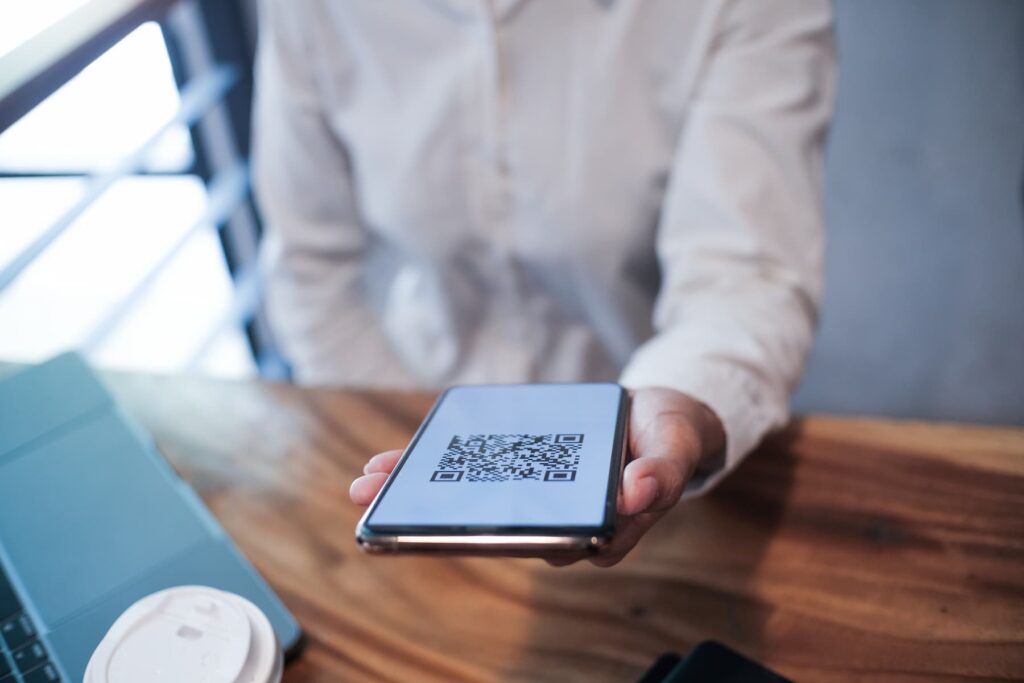 You can trust a QR code generator to create WiFi QR codes to share your internet at your local business. Customers will connect in a flash. special characters
WiFi credentials are the perfect thing to forget. Clients get to your local, desperately gasping for some internet megabytes, and they have to ask around what the network name and password are.
However, be worried no longer. We will show you how easy it is to create a WiFi QR code so you can share your internet in the most convenient way. With a Wi Fi QR code, you can offer clients the instant internet connection they expect at a top place.
Numerous businesses have started employing Wi-Fi QR codes to streamline the procedure. By just scanning a QR code with their smartphone camera, users can connect to Wi-Fi.
In this post, you'll learn about WiFi QR codes, what they are, how they operate, and how they may help both consumers and companies. You'll also learn how to make one on QR.io.
Table of Contents
How Does A WiFi QR Code Work?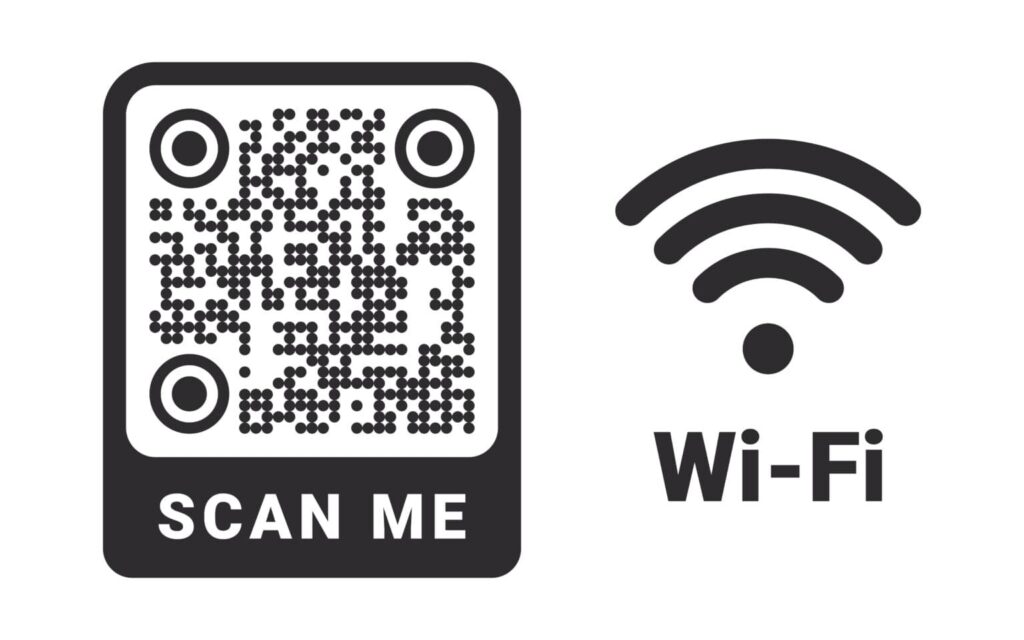 WiFi QR codes will help you share your WiFi credentials instantly and guarantee an immediate and effective connection.
A WiFi QR code contains the login data —network name and password— and any customer with a smartphone or a QR code scanner app will be able to access it in a flash.
A QR code generator like QR.io will let you create a Wi Fi QR code for your internet network, which you can print and place strategically in common areas of your premises. QR codes are one of the most convenient sharing and connecting devices ever —thank you, Denso Wave Incorporated.
How Can You Use WiFi QR Codes
If you're running a business that is customer-focused, offering your clientele a WiFi QR code to connect easily to your internet will give your business the ultimate customer-friendly touch.
Offering Instant Connection at a Restaurant, Bar, or Bistro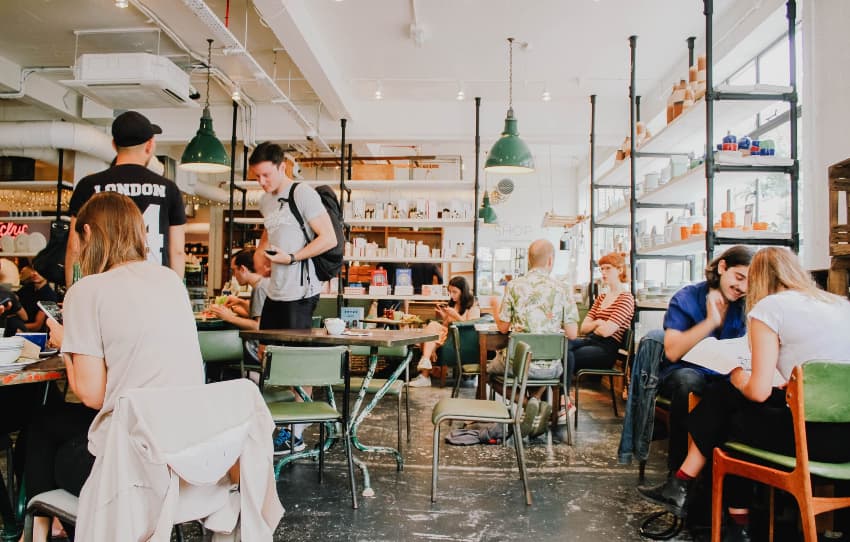 Using a QR code generator to create a WiFi QR code for your food service business can greatly impact your service. Clients won't have to ask around for the WiFi password —instead, they can scan the code and connect immediately.
By placing QR codes on the menu, on the tabletop, on the main entrance door, and even on walls, you'll offer dinners the convenience of connecting to your network straightaway through a QR code scanner.
By offering internet access via a QR code, you'll have greater chances to upsell.
Allowing Guests to Access WiFi at a Hotel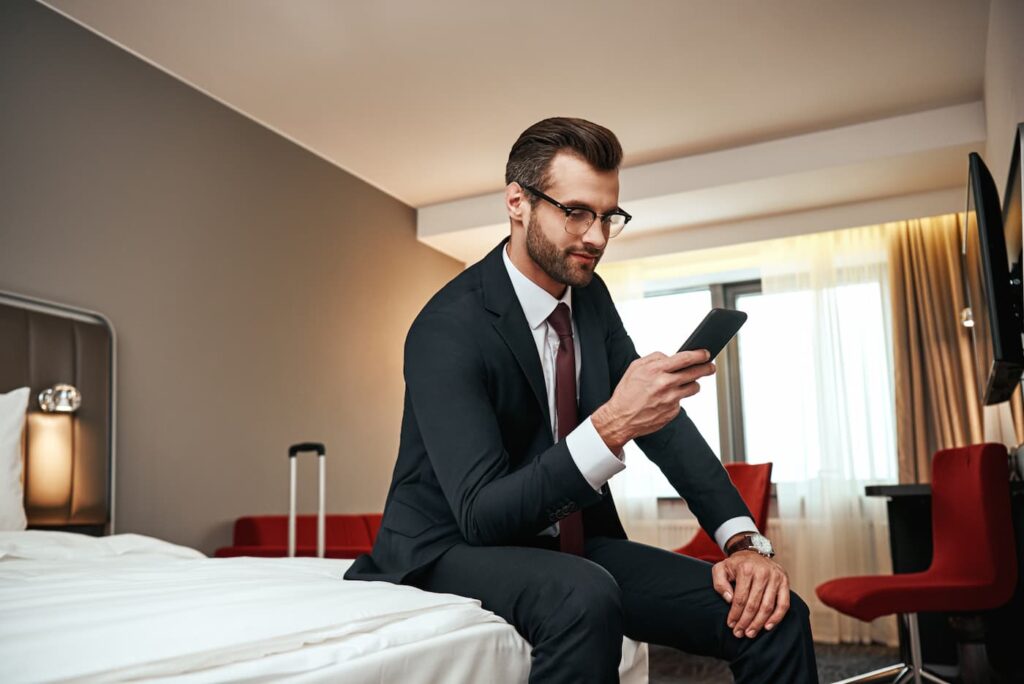 Offering free, high-speed internet in the room is one of hotels' most important amenities nowadays, just like shampoo and toiletries. Several studies identify WiFi access as a critical service, so a WiFi QR code will do nothing but facilitate it for your guests.
So, instead of having them pick up the phone and call reception asking for the WiFi credentials —or giving them out on a small card they will certainly lose— scatter several QR codes for WiFi inside the room, at the hotel's reception, on the way to restrooms, and more.
Offering WiFi to Employees and Guests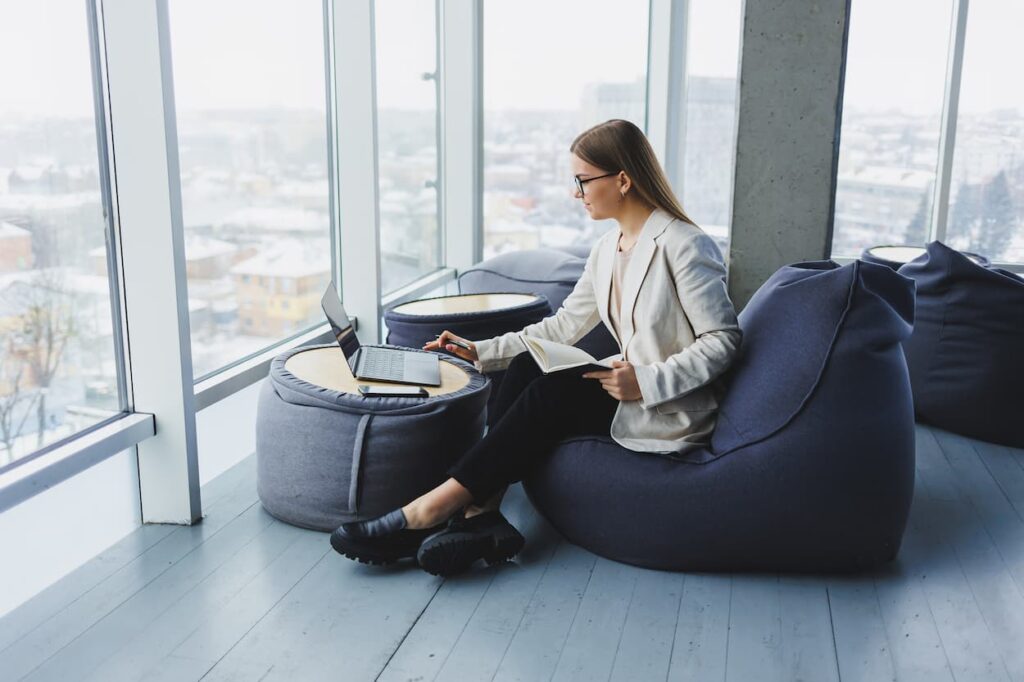 Office spaces are becoming high-tech and no one is a fan of chasing the person in charge of the WiFi to ask them for the network and password. Placing WiFi QR codes in specific areas such as the cafeteria, the reception, and the meeting rooms will help your staff and guests stay connected.
If your company changes credentials often, you can create dynamic QR codes whose information can be edited at will —more on this further down.
Allowing Tourists to Connect in Public Places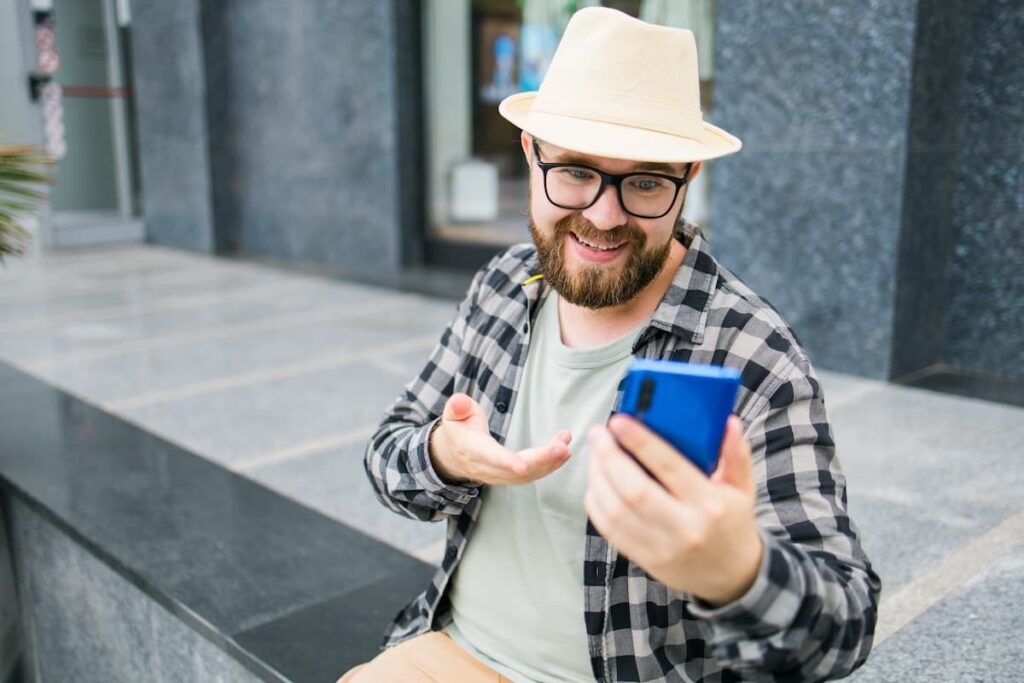 Free city WiFi is a welcoming gesture to thousands of tourists who flock to the hottest destinations. Some local authorities utilize WiFi QR codes in places of interest —museums, main squares, and more— to give travelers internet access.
All they need to do is scan the code and connect to the network. Users must be careful of scanning any random QR codes, as some criminals rely on phishing and quishing to supplant legit QR codes and steal people's financial information.
How to Connect to a WiFi Network on Android?
If you have an Android phone connected to a WiFi network via a QR code is very easy. Just follow the next steps as there are two ways:
Go to Android Settings
Swipe down on your Android smartphone notifications to find your WiFi connection. You can also go to Setting, Network, and then WiFi.
Scroll down and click on the QR Code next to the Add Network option.
Scan the WiFi QR code.
Enable Camera
Activate the camera app on the smartphone.
Position the camera on the QR code to scan the code.
Tap on the notification banner to connect.
How to Connect to a WiFi Network on iOS?
Activate the camera app.
Place the camera on the WiFi QR code to scan it.
Tap on the notification banner to connect.
Customizing Your WiFi QR Code with a Logo
With QR.io, you can create a personalized WiFi QR code with a logo, an image, and an icon, as well as establish distinctive borders and color patterns to make your QR code more eye-catching.
Adding a logo to a QR code can have several benefits. Here are a few:
Brand recognition
By adding your company logo to the QR code, you increase brand recognition and make it easier for customers to identify your brand. This can help to build trust and loyalty.
Aesthetics
Adding a logo to a QR code can make it more visually appealing and stand out. This can increase the chances of customers scanning the code.
Credibility
A branded QR code can lend credibility to your marketing efforts. It shows that you are serious about your brand and are investing in its promotion.
Differentiation
In a sea of plain black and white QR codes, a branded QR code can help you differentiate yourself from competitors. This can make your marketing efforts more memorable and effective.
Increased scanning
Studies have shown that branded QR codes are more likely to be scanned than plain ones. This is because customers are more likely to trust a code that is associated with a recognizable brand.
Overall, adding a logo to a QR code can be a simple yet effective way to enhance your marketing efforts and increase brand recognition.
Also see: How to Easily Create a Custom QR Code with Logo
How to Create a WiFi QR Code with QR.io
With QR.io, you can generate custom WiFi QR codes for your customers —either dynamic QR codes or a static QR code.
Step 1. Open a QR.io account

To unlock the premium features of a static or dynamic code for WiFi, you must sign up for a QR.io account. Just go to the top right corner of the home page and click on Sign Up. Enter your personal information when prompted —this will initiate your 7-day trial.
Step 2. Go to the QR code generator and choose WiFi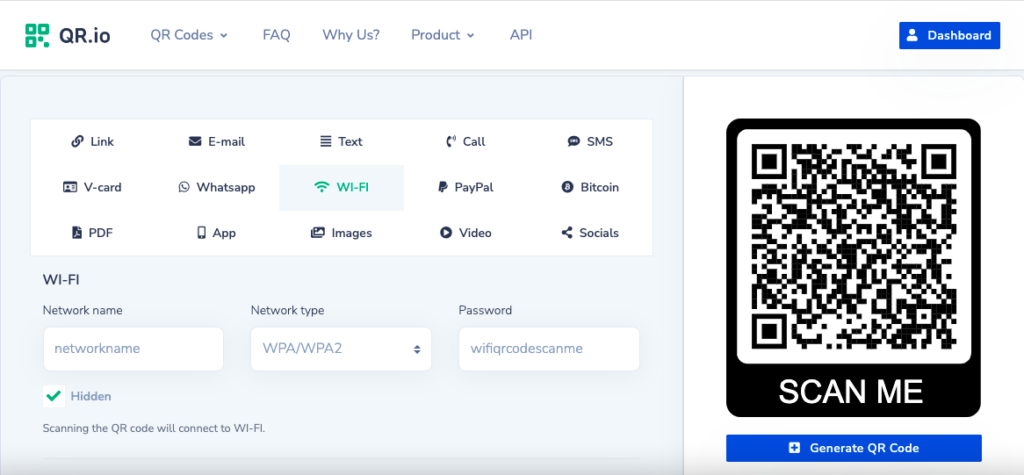 Once there, also enter the network name, encryption type, the password, and check the box below whether it is a hidden network.
Step 3. Modify the color and the frame, and ad a logo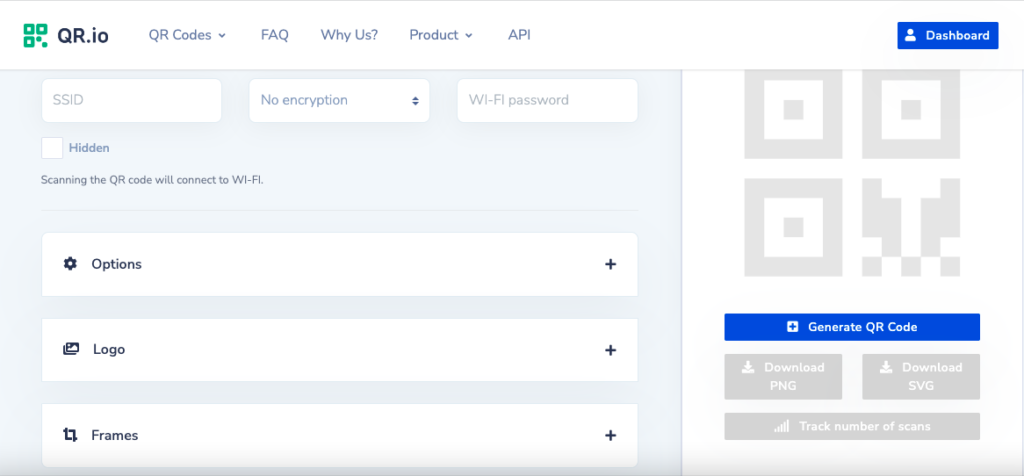 To create custom QR codes for WiFi sharing, you can adjust the color and add a frame with unique fonts and colors to make it unique. Check the preview on the right and click on Generate QR Code.
Step 4. Download the WiFi QR code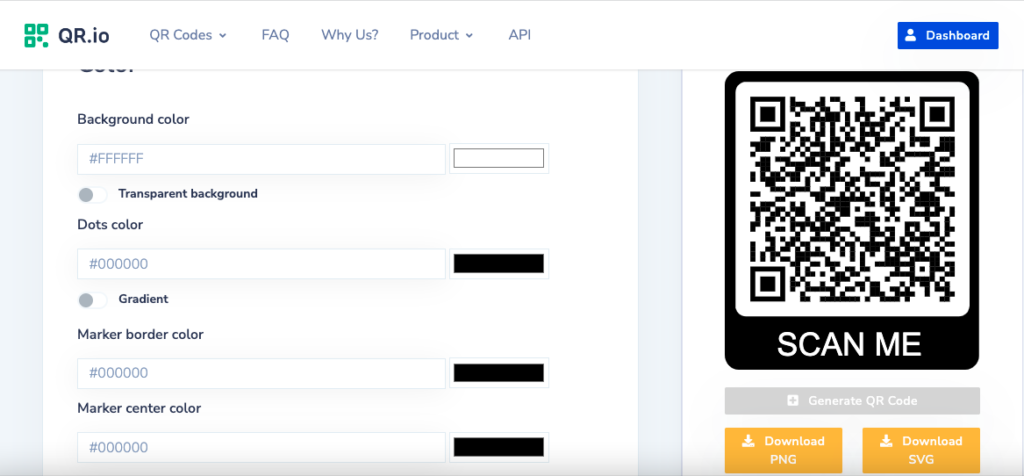 You can download your freshly-created code in PNG or SVG formats, and print it to later place it where your customers might need them most.
FAQs
Is it safe to use a QR code generator to create WiFi QR codes?
It is safe in every way, especially if you use QR.io. You can check the hidden network box when creating a WiFi QR code.
Does a WiFi QR code expire?
No, a static WiFi QR code won't expire, but a dynamic code will let you edit the WiFi credentials as many times as you want. This is especially useful when you are accustomed to changing your network name or password often.
Is it safe to connect to a WiFi network via a QR code?
We always recommend checking before scanning any QR code. For more information about this, click here.
Wrap-Up
Is there a safest, most convenient way to share your WiFi credentials to your customers than a QR code? WiFi QR codes will add up to your customer-centric business, and help you leverage customer service so your clientele feels at home.
Start your free trial with QR.io now!