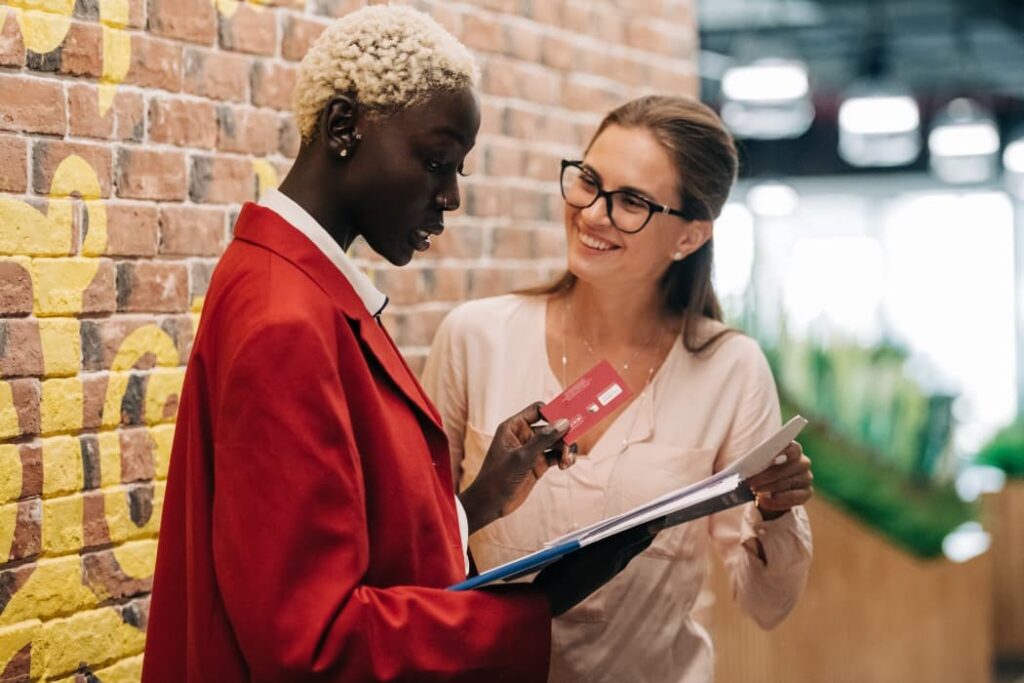 Covid-19 has changed networking forever, and the vCard QR code has come to fill in for traditional cards. This is how to get the best out of this new way of networking.
The vCard QR code —or business card QR code– is becoming the new normal as it has inserted itself into everyday networking. Although physical cards are still used, the future is undoubtedly digital and you must not lag behind.
With the vCard QR code, you can improve your networking. If you print QR codes on business cards, you'll come across as modern and trendy to your business contacts. You just need a QR generator and your prospects a mobile device!
In this post, you'll learn what a vCard QR code is and how to create a QR code that will undoubtedly help you further your business!
Table of Contents
What Is a vCard QR Code?
QR codes connect users to a website URL, an MP3 file, a social media platform, and much more. But what about any other genius uses? Enter vCard QR codes.
vCard QR codes —or business card QR codes— are QR codes that help you save contact details very easily to your phone's contact list.
As digital business cards, the vCard QR code contains all the business information of a person such as full name, company name, job title, phone number, mobile number, email, web page, social media channels, and more.
To access and store these contact details, people need to scan the vCard QR code with a QR code reader —e.g. a smartphone or tablet camera.
QR code business cards have arrived to replace physical business cards that professionals and business people exchange at events, meetings, and other networking opportunities. The benefits are limitless.
Also See Venmo QR Code: Transfer Money Very Easily on Your Smartphone
Dynamic QR code vs Static QR code
You can choose between dynamic and static when creating your QR code business cards on a QR code generator like QR.io. Dynamic QR codes have unique characteristics in comparison to the static vCard QR code:
Dynamic QR codes offer scan tracking and analytics, collecting data on the location and device used.
They can be edited as many times as you want to change the data and contents.
They store more information
How Do Business Card QR Codes Work?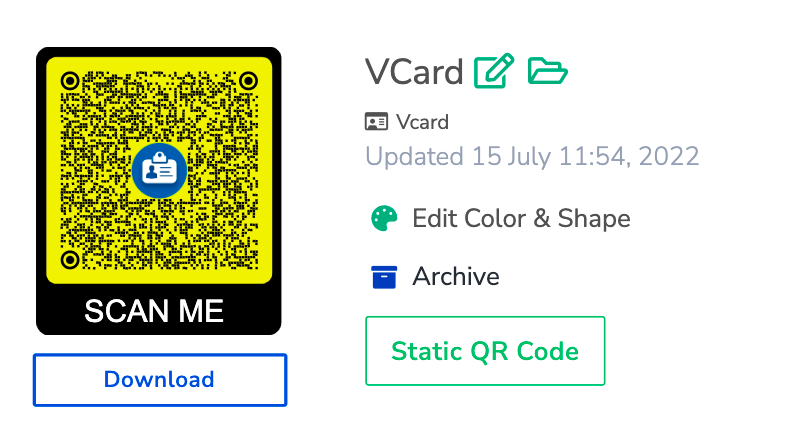 The card QR code embeds the contact details that can later be transferred to your mobile devices or any other scanning device. When you scan the code with a QR code scanner, a contact QR code notification will pop up on the upper side of your screen.
Tapping this notification will enable your Contacts app, which automatically will fill in the contact information and give you the option to save it, unlike the WhatsApp QR code, which will save the details automatically.
Benefits of the vCard QR Code
There are several benefits when using business card QR codes as opposed to traditional business cards.
Cost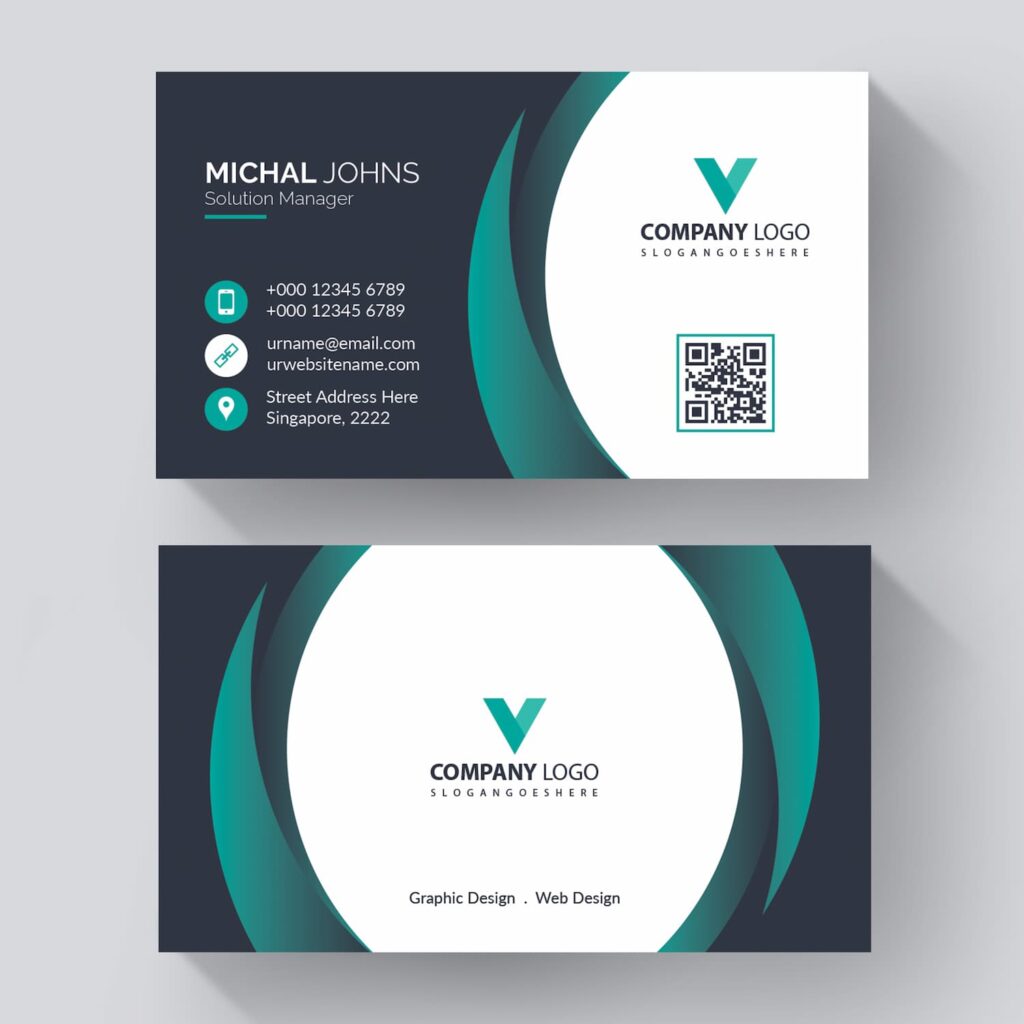 Physical business cards are little, expensive items. According to Expresta, 300 units sized 90x50mm in matt paper (0.38mm) and color, duplex, and variable printing with round edges could cost over $2,000.
On the other hand, business card QR codes offer a costless alternative. You just need a trusted QR code generator to create your card codes and your smartphone or any other scanning device.
Transportation
Besides the cost, printed business cards are bulky to carry around. They can also get spoiled if not packed or protected properly, which would give a bad impression on a networking occasion.
This is not an issue with business card QR codes as they are completely virtual. If it's printed, you just need to ensure the code is scannable and in good condition.
Health Concerns
With Covid-19 came the fear of infection, to the point where events became virtual and networking changed completely. Out of the adjustment to the new reality, business card QR codes came to offer touchless features that fit the pandemic period perfectly.
Limited in Number
Have you run out of physical business cards at an event or any other networking occasion? This is another big main problem business card QR codes solve as, by being virtual, they are absolutely limitless.
vCard QR Code Uses
There are several uses for card codes, but some really stand out and make a big difference.
Conferences and Events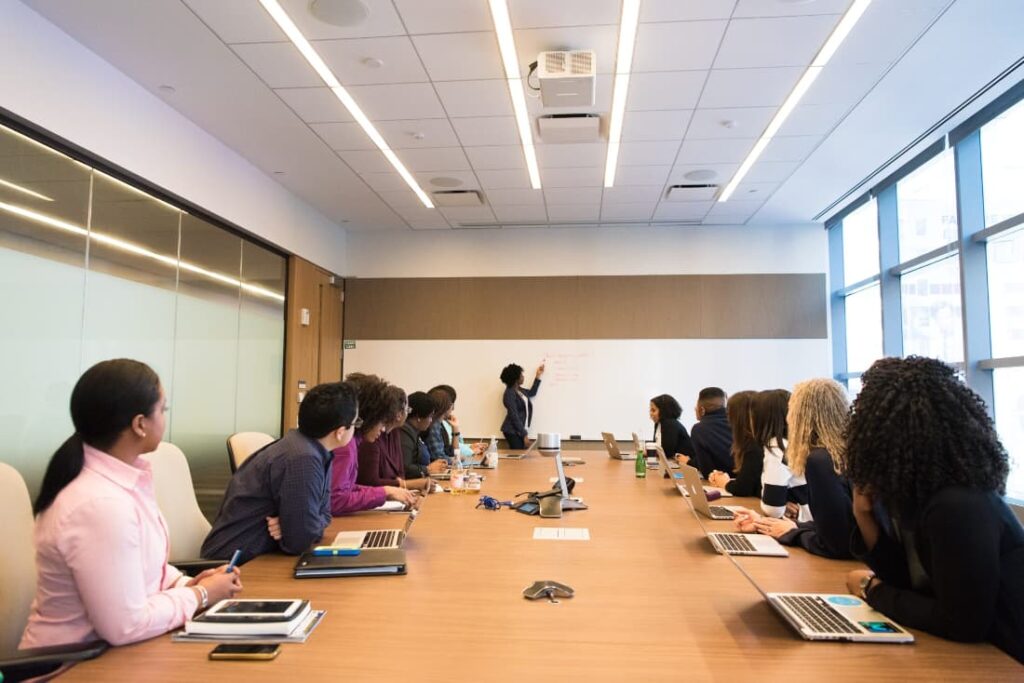 Sharing your business information at a conference via a card QR code will add style and convenience to your networking endeavors.
Imagine approaching an important business prospect, brandishing a customized card QR code on your smartphone's screen, with your company logo and a nice frame containing a call-to-action —people will find this completely innovative and stylish.
In these Covid-19 days when people are still wary of an infection, virtual business cards that you can share via a QR code are the way to go.
Business Cards
Yes, business card QR codes on physical business cards are the best way to digitalize the information and add further details you cannot fit into paper. The code makes your business information easy to share.
Resumes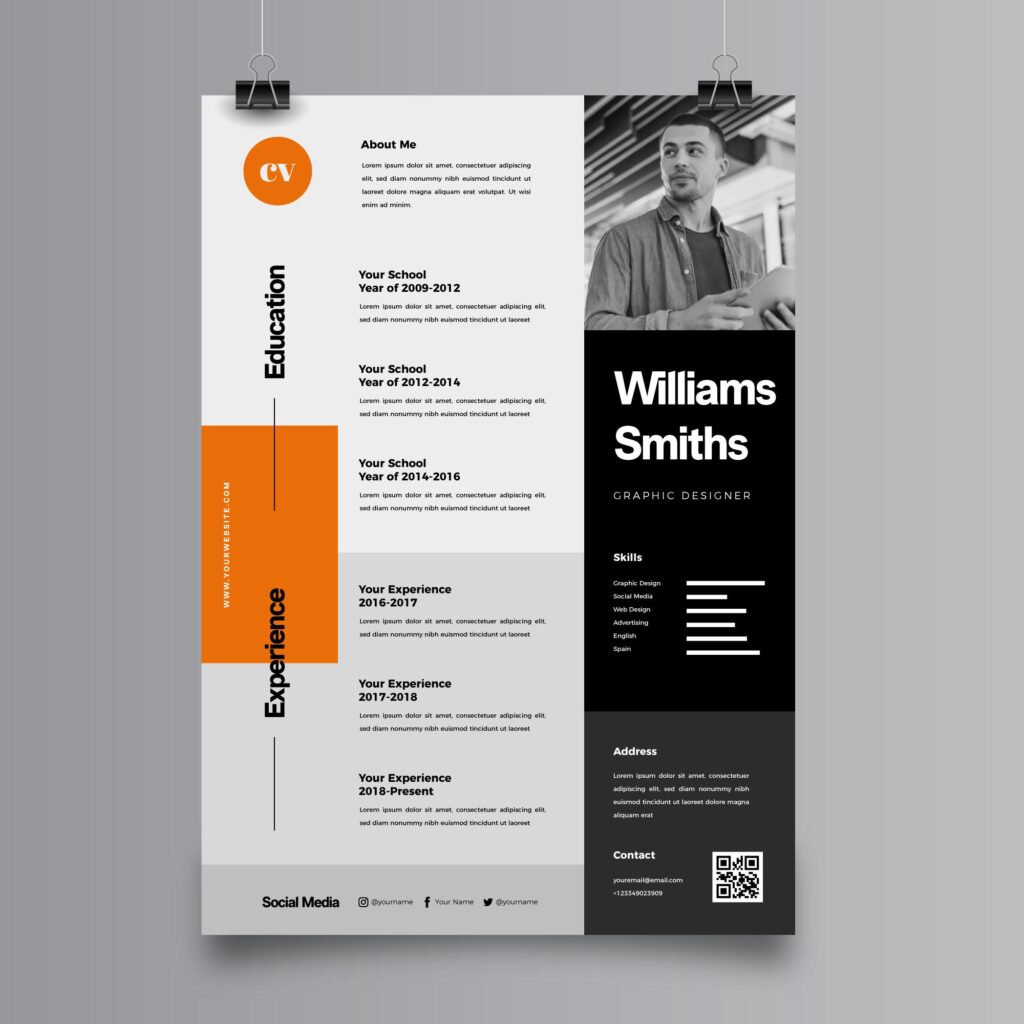 If you want to stand out over other candidates for a job, adding a card QR code is a nice touch, so recruiters save your contact details on the spot and contact you more quickly and conveniently.
Besides the basic information, include a link to your clippings or other samples of your work or a link to your LinkedIn profile. This would engage recruiters and improve your chances of being contacted.
Also see: LinkedIn QR Code: How to Easily Create a Customized Version
Websites
Adding a vCard QR code to your website will allow contacts or recruiters to get in touch more easily. Adding a code on your e-commerce site will prompt buyers to add your contact details so you can create more selling opportunities.
Email Signatures
Including a card QR code in your email signature will make it easy for your contacts to add you to their phone's contact lists. This will be more convenient than saving your details manually from your email signature.
How to Create a Dynamic vCard QR Code?
With QR.io, you can create a custom QR code that works as a QR business card to share your business details. You can also create any free QR code on our homepage.
Step 1. Open a QR.io Account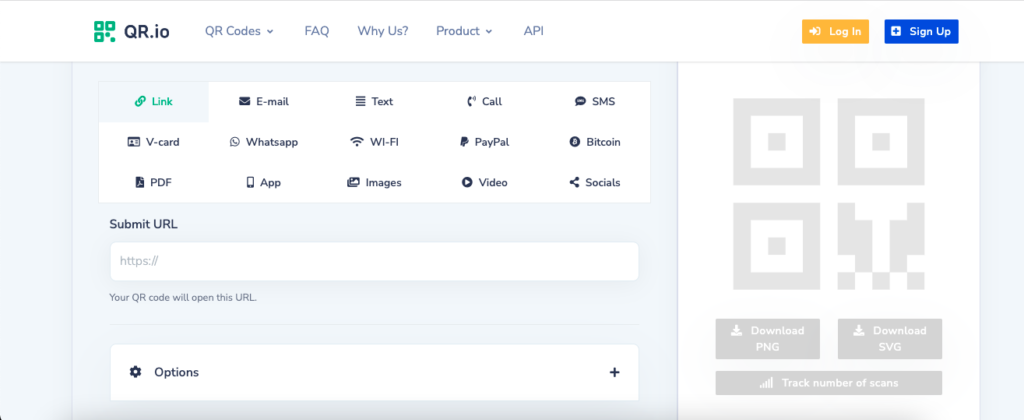 To create vCard QR codes, sign up for free and enjoy the 7-day free trial. Just click on Sign Up on the right.
Step 2. Click on +Create QR Code from your dashboard


From your dashboard, click on +Create QR Code to start the process.
Step 3. Select vCard


On the QR code generator, select Static, then V-card, and click on Continue.
Step 4. Enter your contact details


Add all the key contact information such as name and last name, and don't forget your company website.
QR.io allows you to enter all the key information you would add to a traditional business card. Once you're done, click Continue.
Step 5. Create in bulk (optional)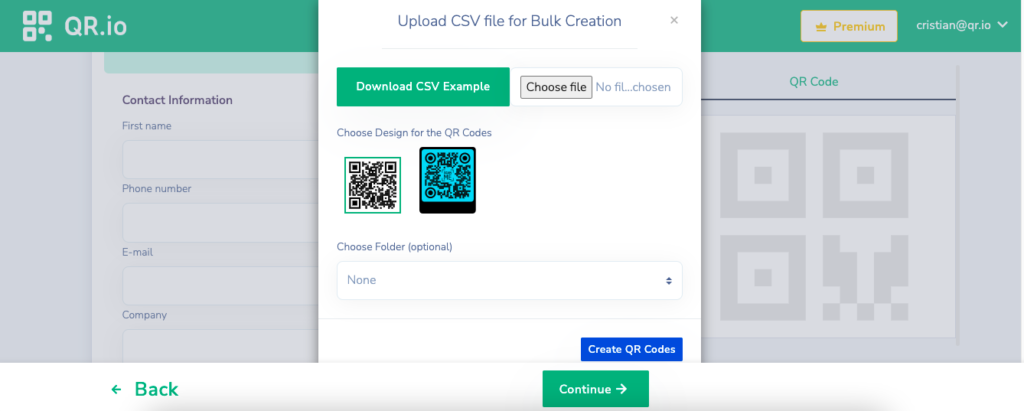 To create dynamic vCard QR codes in bulk, just click on Bulk Creation above your contact details in the previous step, and upload a CSV file from your device.
Then, select from your saved designs the type of customization you want and choose a folder if necessary. Click on Create QR Codes.
Step. 6 Customize your code

To give a good impression, add your company logo and a call-to-action, and change the color, frame, and dot pattern. You can preview your design on the right.
When you're done, click on Continue.
Step 7. Download the code


Once your card code is fully customized and created, click on Download below the preview the QR code image on the dashboard. You can choose between the PNG or SVG file format.
Step 8. Test your code
Testing your code will let you know if the information you entered is correct. On a networking occasion, you don't want to share the wrong details.
How to Edit a vCard QR Code
With our QR code generator, you can edit the design of your card QR code as many times as you want. You can select from the wide array of custom colors and much more.
Step 1. Go to the dashboard
Log into your account to access the dashboard containing all your generated QR codes.
Step 2. Select the QR code
Once you find the card QR code you want to edit, click on Rename right next to your design. If you want to change the logo or any other visual aspect, click on Edit Color & Shape, and once you're done click on Save at the bottom of the page.
Step 3. Test after making changes
Once you're done with the changes, download the new version of the code and test it.
FAQs
How can I store business cards digitally?
Traditional business cards seem a way of the past. With Covid-19 and a more digital world, sharing contact details in a business context has become the new normal in which QR codes play a central part.
Creating a digital business card will replace your printed one and allows you to share your business details in a flash. With your name, last name, company or organization, as well as your mobile number and website, opportunities will arise
How to create a QR Code with your contact information that adds this info to a smartphone?
To create a card QR code so all the details can be stored in a smartphone, go to QR.io and follow the instructions provided above.
How can I add a contact to an iPhone using QR codes?
The best way to do this is via business card QR codes. Just scan a card QR code with your smartphone or tablet, and tap the notification that comes up on the screen. This will take you to the Contacts app, where all the information will appear included.
Can I add a vCard QR Code to my email signature on Gmail?
Sure you can. This is a fantastic way to let recipients add you to their phones in a flash. Once you create the code, go to Settings, See all settings, scroll down to Signature, open the editor and create one if this is the case. Then, add the QR code as an image.
Should I put a vCard QR Code on my business card?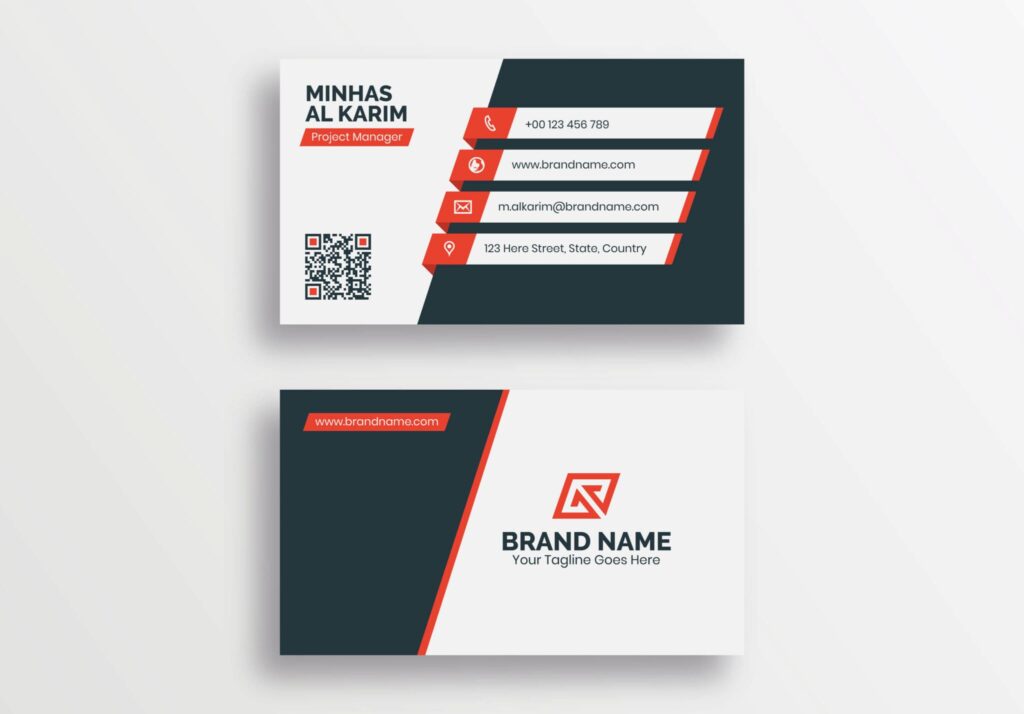 Yes. This is a great way to save your business information digitally. When you present your card, anyone with a smartphone will be able to scan the code printed on it, which will allow them to save your contact details.
If you cannot fit all the information on the physical card that you consider important, a QR code printed on it is a great way to complement it.
Wrap-Up
The vCard QR code is the new way of networking. It has come to complement and even replace the physical cards you normally use. The fact that you can share and store business contact details in a breeze without expensive printing and costly designs has built a case for custom QR codes for cards!
Start your free trial with QR.io, the best QR code maker, and start networking in style!