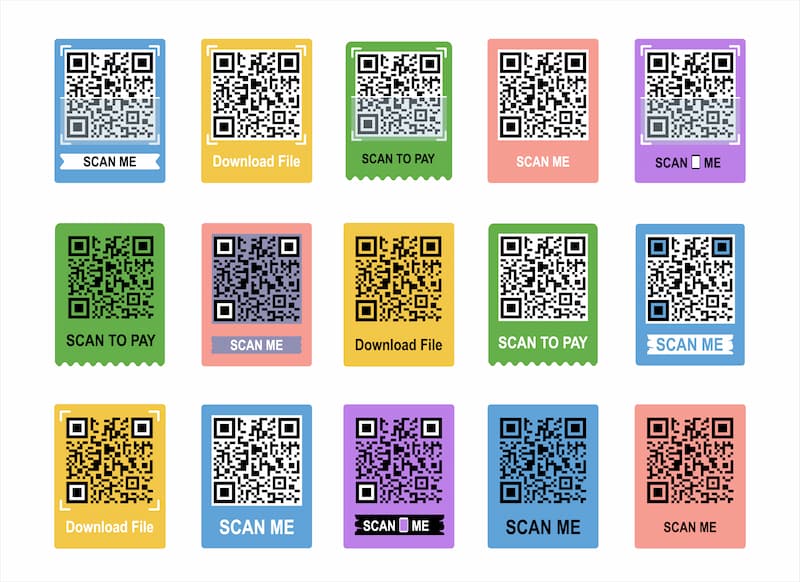 The color of a QR code is a crucial aspect when creating one on a QR code generator. Can you make colored QR codes on QR.io? Are there any principles in QR code design you should follow?
Thanks to QR code generators such as QR.io, you can create various QR codes with different functions and designs.
When doing so, however, you face several questions as to what is the best color combination to make it attractive and increase scans.
In this post, we'll go about the role color plays when designing your own QR code, why color is important, how to customize your code on QR.io, and a few tips to get it right. So, buckle up!
Table of Contents
Why Color Over Black and White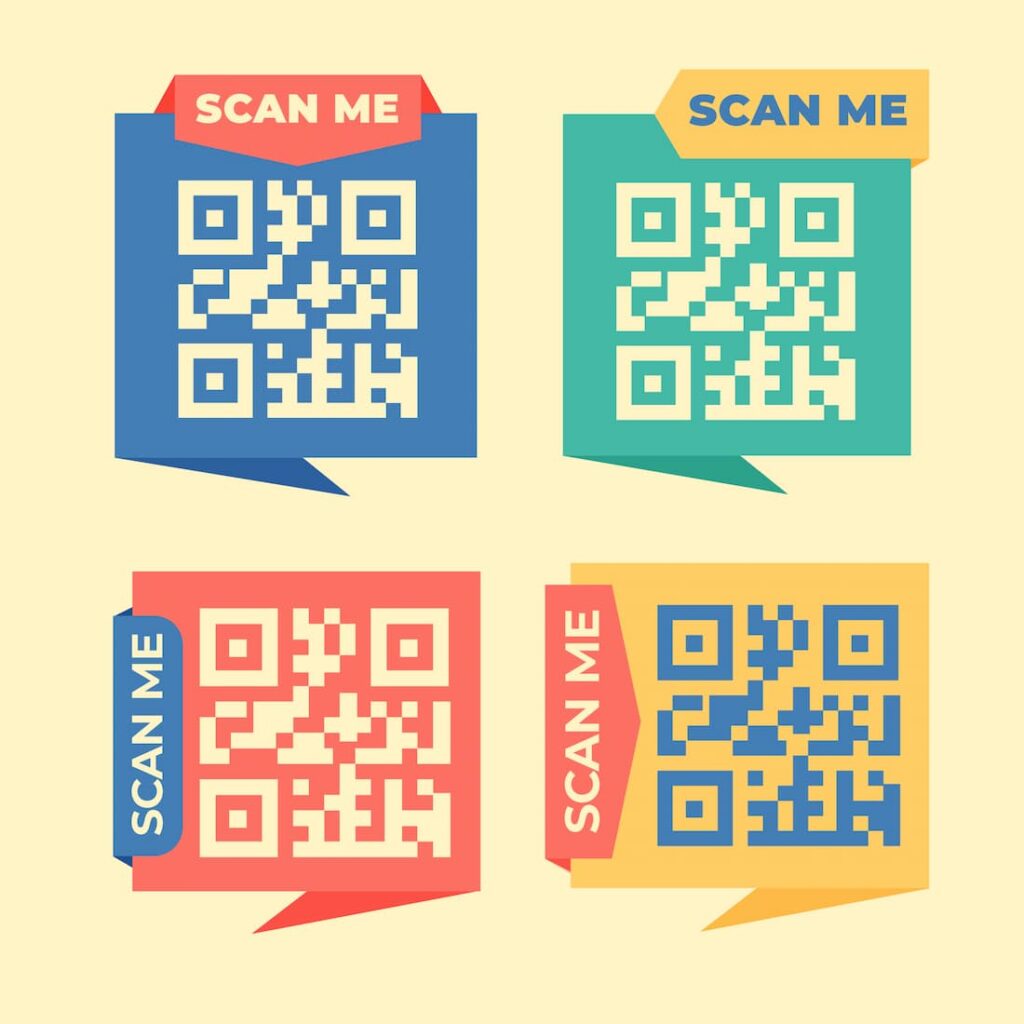 Most QR codes in the past used to be black and white. This means, a black foreground against a white background/transparent background to create contrast and hence allow the code to be easily scannable.
However, QR.io and its QR code generator allow you to create a custom QR code in hundreds of color combinations to make them unique. Do colored QR codes offer any advantage over black-and-white ones?
Colored QR codes drive more engagement than black-and-white ones
Customized QR codes with color can have up to 18% more scans than those in black and white. This is because they are more attractive to the eye.
Colored QR codes can sport the colors of your brand
You can customize your QR codes on QR.io in a way that they contain the color of your company logo —and the actual logo. This is very effective when printing your code on banners so it perfectly merges with your brand identity.
Why Is It Important to Customize Color QR Codes?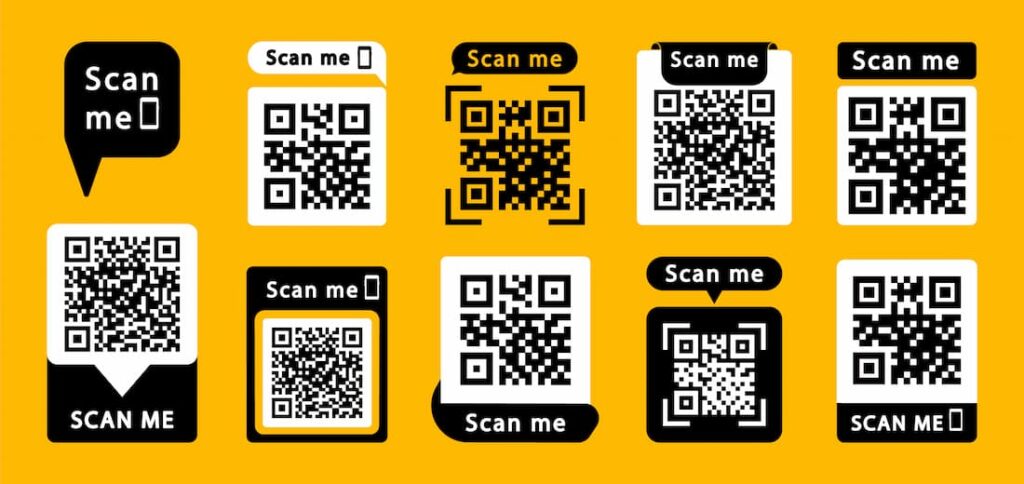 Colored QR codes are more attractive, drive more engagement, and can be your brand ambassador. But besides color, you can add other elements to spice them up, such as a frame, an image, and a call-to-action with QR.io's generator.
A frame will help your QR code stand out from the background, and will give you the opportunity to add a call to action. This way, people scanning the code will know exactly what they'll get.
Adding an image will open up a myriad of opportunities for QR code customization: From a company or a product logo to any image you see fit.
Stand Out From the Competition
A QR code with your brand's color scheme will trigger associations among prospects and customers and drive more scans. Black-and-white codes are generic, so the QR code industry has evolved to offer really attractive options for you to choose from.
Coloring Dynamic QR Codes and Static QR Codes
QR.io allows you to customize both dynamic and static QR codes. Once you open your QR.io account and access the generator, you can adjust the following during the creative process:
Background color
Dots color (data pattern)
Marker border color
Marker center color
The generator also lets you save your design for future codes, so you don't need to start all over again in case you want to reuse it.
Also, as a premium member, you can come back any time and edit the color and the design of your QR code, without the need to create a new one altogether. The generator will also keep the embedded information untouched.
How to Create a Colored QR Code Using QR.io
Step 1. Open your QR.io account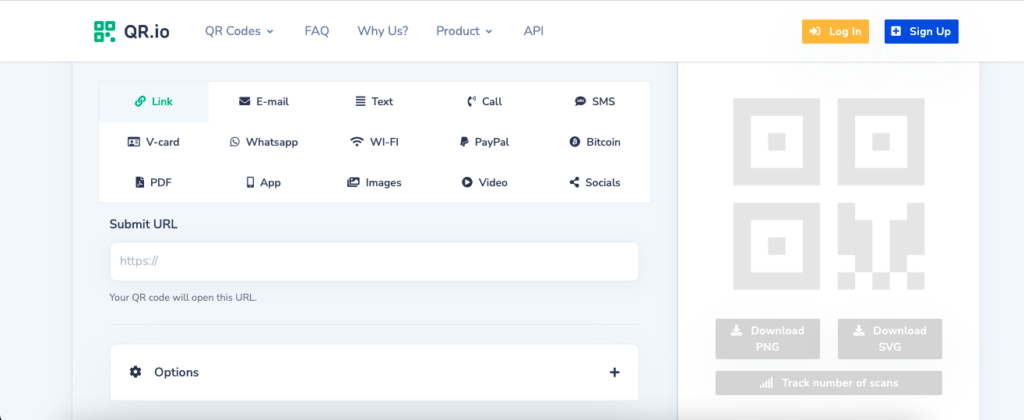 Go to QR.io and create your account by clicking Sign Up in the top-right corner, and enter your email.
Step 2. Go to the dashboard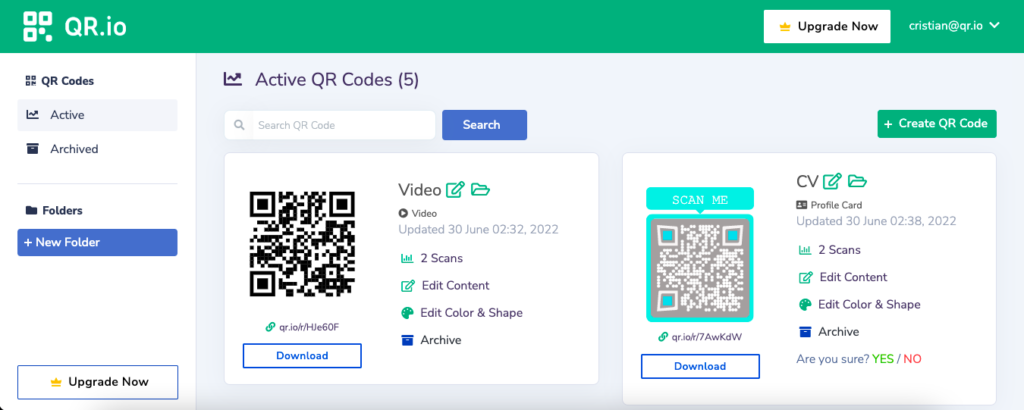 Once you've created your account, you'll be taken to the dashboard from where you can start the creative process. Click + Create QR Code.
Step 3. Choose the code of your needs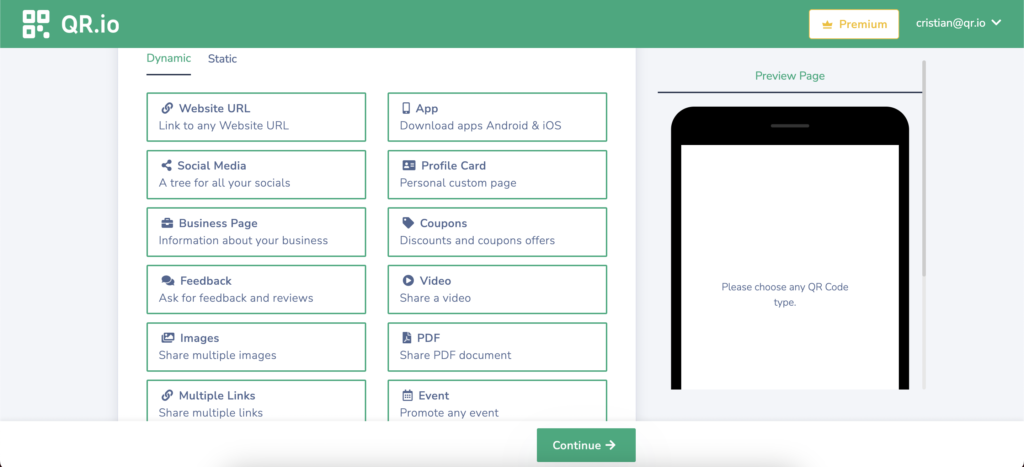 QR.io offers you a myriad of options within dynamic and static QR codes. You just have to select the type of code and click Continue.
Step 4. Choose page color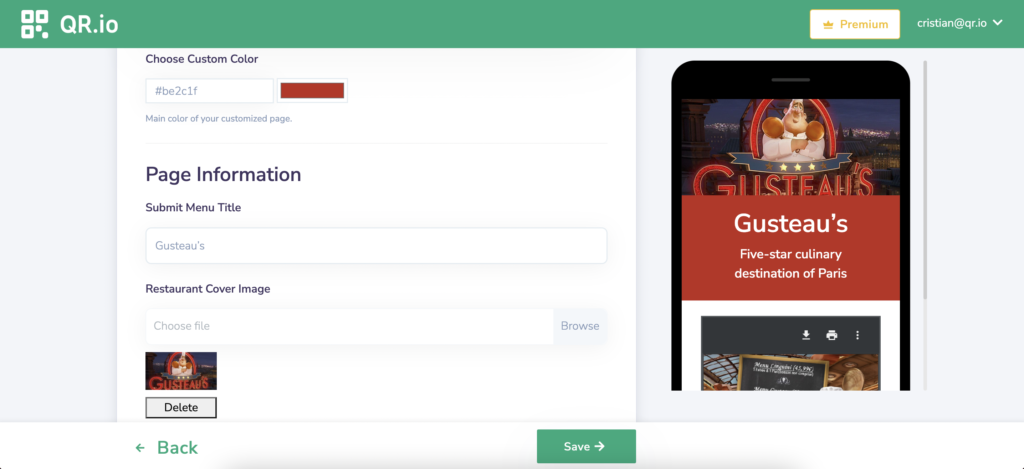 Select the color you want the embedded page to have and click Continue.
Step 5. Color your QR code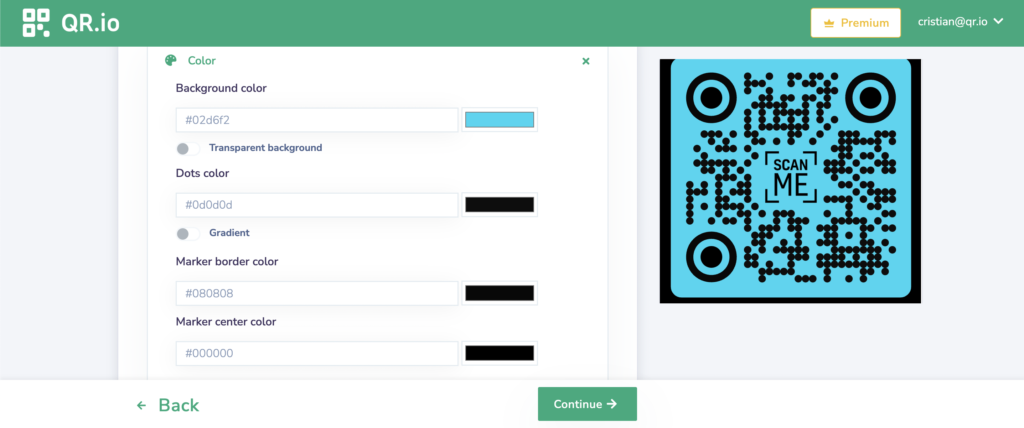 From the data pattern to the marker and dots, get creative and pour some life onto your creation! Also, save your newly-created design so you can reuse it for other codes.
This is especially useful for brands that want to create several codes for different uses while maintaining the brand's image.
Tips to Create a Colored QR Code
Avoid an inverted QR code
An inverted QR code in terms of color means a code whose background is darker than the foreground. A dark background will affect the QR code's scannability.
The QR code's foreground must be darker at all times to improve the code's readability by QR scanning apps.
Use contrasting colors
Custom QR codes must have contrasting colors that facilitate a scanning app to pick it up. Try to use color combinations that follow this principle, while maintaining the right aesthetic.
Use a contrasting frame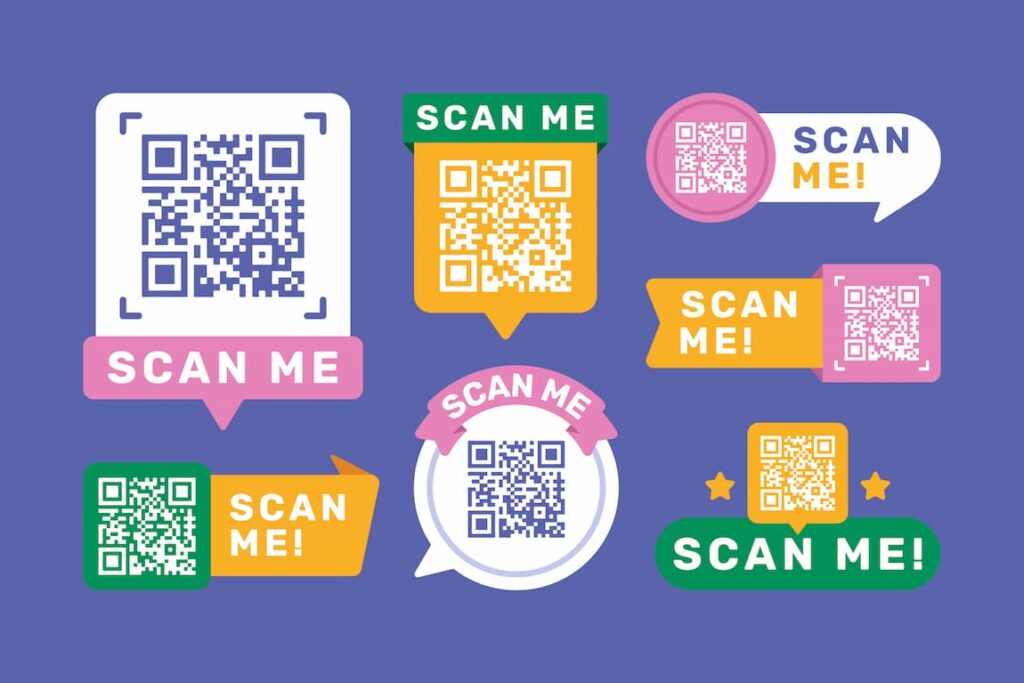 If you want to add a frame to your code, make sure it is a different color from that of the background. Also, the CTA you want to add in the frame must contrast heavily with the frame so users can read it.
Use high-definition images
If you want to spice up your code with an image or a logo, make sure it is high-resolution and of the same ratio.
FAQs
Can I edit the color of my created QR code?
QR.io allows you to edit the design of your QR code —the color, the shape, and the form— as many times as needed.
Just go to the dashboard and click Edit Color & Shape. You can also use any of the previous designs you've saved.
How can I create a colored QR code?
To create a colored QR code, just go to QR.io and follow these steps:
Open an account
Go to your dashboard and click + Create QR Code
Select the code of your choice
Enter the information
Customize the color
Wrap-Up
Choose any QR code color and spice up your designs! The black-and-white QR code is a great option for starters but adding color opens up further user engagement and branding.
Open your QR.io account —the best QR code generator– and start the free trial to unlock a world of design possibilities now!